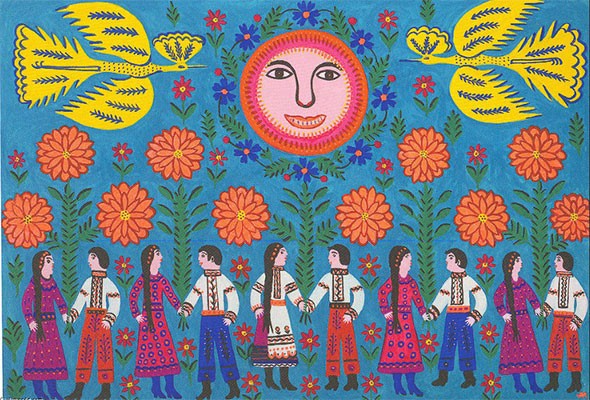 12 January is the birthday anniversary of Mariya Prymachenko, a legendary Ukrainian folk painter. The artist was born in 1909 and lived her whole life, until 1997, in Ukraine. She is known as an icon of Naïve Art in Ukraine. Her mystical beasts have become emblematic of the whole Ukrainian folk tradition, which surrounded Prymachenko in her childhood: her mother embroidered, father was a talented carpenter, grandmother painted Easter eggs.
"It all started so,— the painter recollected.— Once near the house, over the river on a bloomy meadow I was pasturing geese. On the sand I was painting various flowers that I had seen. And then I saw the bluish silt. I picked it to the shroud and painted our house…"
Everyone came to see this wonder, made by the girl's hands. People praised. The neighbors asked to decorate their houses. Prymachenko's talent was noticed, and prior to WWI, she lives in Kyiv, takes part in experimental workshops. Her works  won the diploma of first degree in a USSR exhibition of national art in 1936, and were successfully exhibited in Paris, Warsaw, Sofia, Montreal, and Prague. In 1937, Mariya Prymachenko received the gold medal at the world exhibition in Paris. Then followed the hard years of WWII, the death of her husband, and many years of creative work in her native village.
UNESCO announced 2009 as the Year of Ukrainian Artist Mariya Prymachenko.
These fantastic animals are creations of painter's genius imagination. Such animals do not exist in the nature. "Wild snapper" – from the word "snap" – such a name Prymachenko gives to one of her animals, focusing attention on its pads which can break through alder's thicket. In general, her "animal series" were a unique occurrence that has analogue neither in national nor in world art.
For her birthday anniversary, we brought the animals to life in this animation by Ganna Naronina:
Some more are inside the gallery.
A bit faster, if you prefer!
Tags: Art in Ukraine, Prymachenko