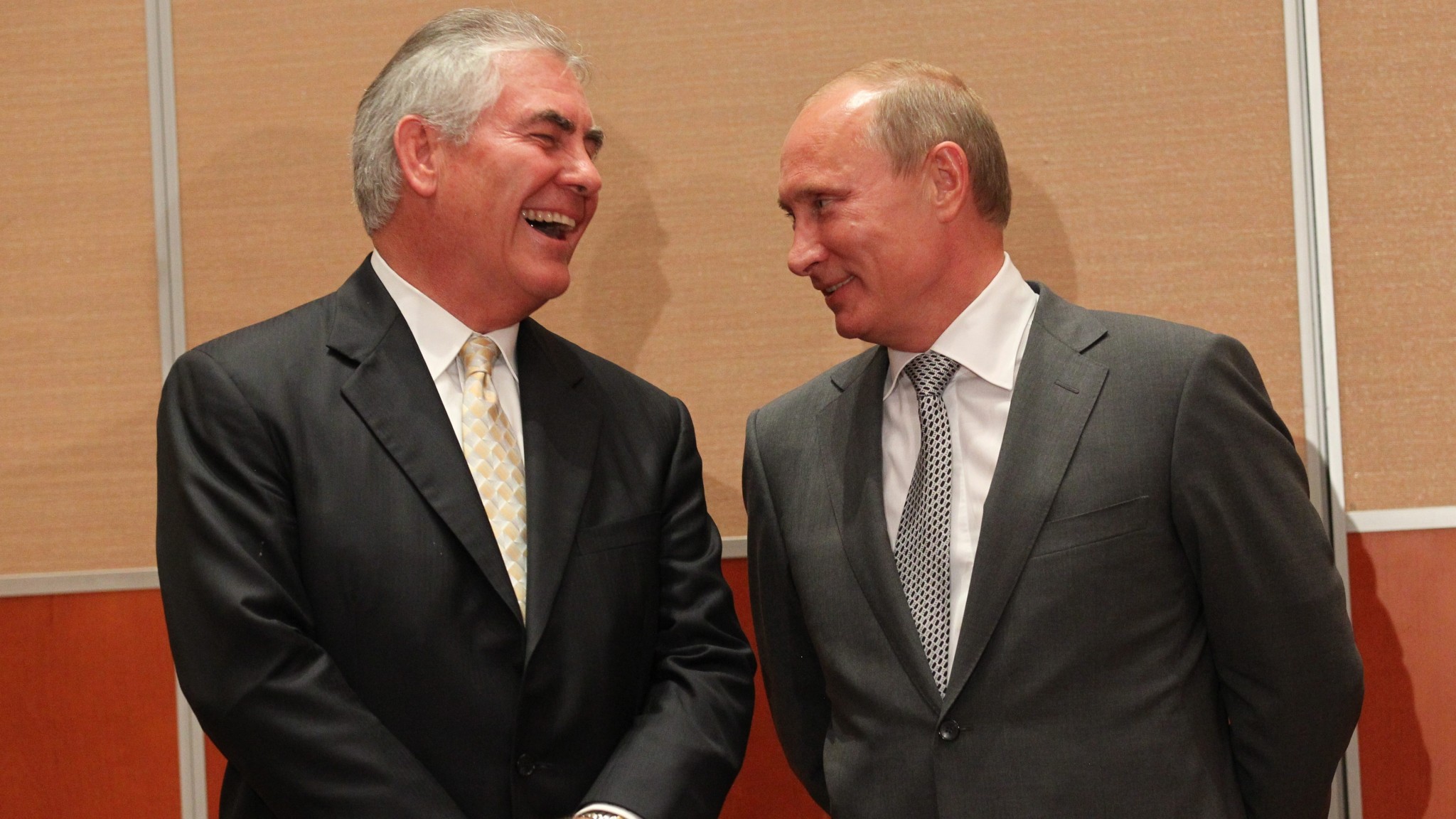 Sharing a laugh: Vladimir Putin with ExxonMobil CEO Rex Tillerson, Donald Trump's pick for US secretary of state, the nation's highest diplomatic post. (Image: Getty Images/Sasha Mordovets) 
US President-elect Donald Trump hasn't assumed office and his Electoral College vote has yet to be officially confirmed by the Congress, though he has already come into conflict with other branches of government regarding two important issues. One concerns his nominee for Secretary of State, Rex Tillerson, longtime president of Exxon-Mobil.
As noted by Voice of America, Tillerson has never concealed his ties with Russia. Speaking at the University of Texas at the beginning of this year, he admitted that he has known Vladimir Putin for more than 15 years, and that they have "a very close relationship."
In 2011, Exxon and Russia's gas giant "Rosneft" signed an agreement to jointly develop deposits on the Arctic shelf and in Siberia. The transaction is worth an estimated $300 billion. According to the Washington Post, the head of "Rosneft" Igor Sechin and Tillerson celebrated the massive deal with a black caviar dinner in the luxurious New York restaurant "Per Se." Two years later, the Exxon president was awarded the Kremlin "Order of Friendship." In 2014 the grateful American admitted to reporters in Texas that he is lobbying for the lifting of sanctions on Russia for violating international law in Ukraine and the annexation of Crimea.
Democratic members of the Senate Foreign Relations Committee, which will consider the nomination of the new Secretary of State before the full Senate takes up the nomination, have already announced that they are prepared to block Rex Tillerson's appointment. Influential Republicans senators Marco Rubio, Lindsey Graham and John McCain have also expressed concern.
The second conflict Trump has with the members of the federal government concerns the CIA's conclusion that Russian hackers interfered with the 2016 US election not merely to undermine the credibility of American democracy, but to deliberately harm Hillary Clinton and assist in electing Donald Trump. Bipartisan US leaders have called for a more detailed investigation of Russian cyber-attacks, while Trump, on the other hand, called the findings of the CIA "ridiculous" and declared them "another excuse" for Democrats' electoral defeat.
CIA veterans have expressed serious concerns about such a dismissive attitude toward the work of the intelligence community on the part of the country's future leader.
"Trump's comments are alarming, and certainly in the short term will have a definite psychological impact," senior CIA officer John Sipher, who has nearly 30 years of investigative experience, told Euromaidan Press:
However, I doubt that they will impact the effectiveness of the intelligence community. The CIA is used to working in a politicized environment, and the Agency has experienced periods when presidents have not paid attention to intelligence reports. There's even a saying in the CIA about this: "You can lead a politician to an intelligence report, but you cannot make him think." If Mr. Trump does not particularly like the information he receives, it will be a shame, but it won't be able to damage the intelligence community. However, if the new administration puts pressure on the CIA to provide political or partisan support for their preconceived ideas, it can lead to long-term damage.
According to John Sipher, there are two possible explanations for Trump's unfortunate comments which reveal his ignorance:
The most likely explanation is that he still does not understand that the CIA is not a biased mouthpiece of the administration. Trump instinctively reacts to the unspoken assumption that Mrs. Clinton lost the election because of Russia's intervention. I think Trump is still in campaign mode and sees the information leak in a partisan manner as a means of delegitimating his victory. Once he realizes the truth about the CIA, and is persuaded that there is no threat to his presidency, he will likely put this unpleasant situation behind him. However, if he tries to cover up his connections with Russia and scare the CIA and the FBI, it will end very badly.
The CIA veteran stresses that the Agency is absolutely free from politics and, quite the contrary, is proud of its non-partisan culture and professionalism:
The CIA are working professionals, and the director, as a rule, is the only political appointee. Intelligence officers avoid anything that smacks of partisanship. Unfortunately, Mr. Trump's comments, on the other hand, are completely biased in nature. It's understandable that he would prefer that information about Russia's intervention did not correspond to reality. However, what is clear is that he has no independent grounds for challenging this information. Wishing something were true or false, and coming up with unfounded claims, this is the exact opposite of what intelligence professionals do every day.  Intelligence officers are especially proud that they follow the intelligence wherever it might lead, even if the facts happen to be uncomfortable for some.
The CIA veteran does not consider it useful to discuss which of the candidates is most advantageous for the Russians:
They would have attacked our country in any case. But this in fact raises another serious issue: how will the US government respond to cyber attacks? What are they: war, terrorism, espionage? There is no doubt that Putin wants to be the leader of the anti-Western movement. He also needs a boogeyman in the form of the United States, which helps him retain power. Thus, relations with the US are unlikely to change fundamentally. Of course, we can expect a public detente, but in the end, basic and very strong differences between us will become clear. 'Active measures' are nothing new, though they have been largely focused on Europe. The Russians see them as a form of political warfare: disinformation, propaganda, murder, forgery and sometimes even terrorism. In the words of Russian defector General Kalugin, subversion is the heart and soul of Russian intelligence, not actually gathering intelligence. Many Americans are convinced that Russia should be an ally. They do not realize that Russians actually see it differently.
Former diplomat and intelligence analyst James Bruno is also concerned about Trump's reaction. In an interview with Euromaidan Press, he recounts instances when shortsighted politicians neglected intelligence data which led to disastrous consequences for the United States:
For example, in 1929, Secretary of State Henry Stimson shut down the Cipher Bureau, which had great successes in cracking the Japanese communication code only a few years earlier. stating naively that 'Gentlemen do not read each others' mail.' It was one of the biggest blunders in American foreign policy. As a result, the United States failed to predict and effectively resist the Japanese attack on Pearl Harbor in December 1941. Years later, another president's lack of attention to key intelligence resulted in an enemy attack on a scale larger than Pearl Harbor. President George W. Bush and his National Security Advisor, Condoleezza Rice, ignored a warning from intelligence agencies of an imminent Al-Qaeda attack against the United States. The August 6, 2001 Presidential Daily Briefing warned, "Bin Ladin Determined To Strike in US" America and the world paid a heavy price for the White House's failure to heed this key intelligence. President-elect Trump continues to decline daily intelligence briefings, stating, "I'm, like, a smart person. I don't have to be told the same thing in the same words every single day for the next eight years…I don't need that." For his part, President Obama commented, "It doesn't matter how smart you are. You have to have the best information possible to make the best decisions possible. Without them [briefings], you're flying blind. When he assumes office in January, President Donald Trump jeopardizes the security of the nation if he continues to insist on "flying blind."
Tags: CIA (Central Intelligence Agency), cyber attacks, espionage, Hillary Clinton, Information war, International, Russian interference, Russian meddling, Subversion, Trump, Ukrainian national security