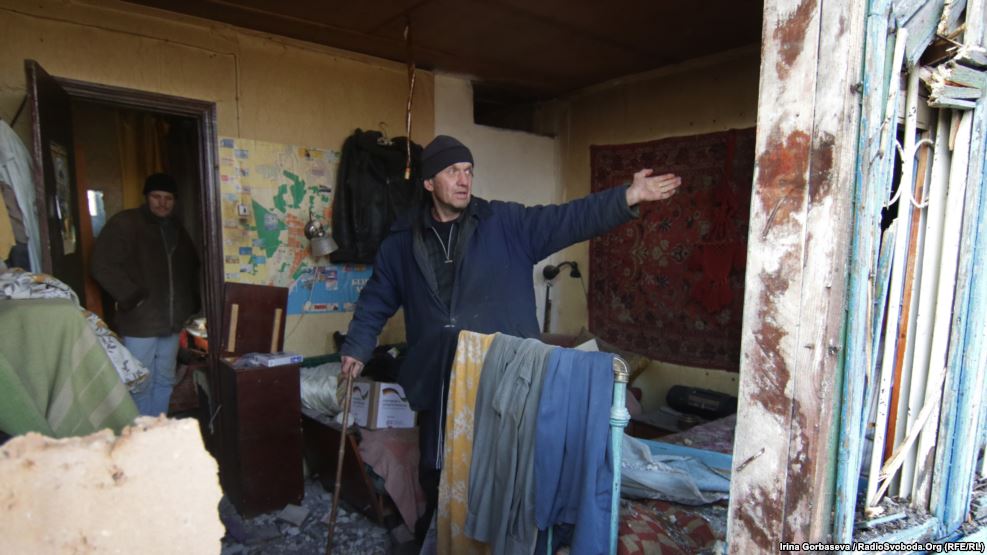 Serhiy, resident of Vodyane 
The village of Vodyane, Donetsk Oblast has 13 inhabitants… under constant shelling. Vodyane is located 17 km from Mariupol in what's known as the "grey zone". Since the summer of 2014 and to date, it's one of the hottest spots on the demarcation line. Nonstop shelling and gunfire have caused irreparable damage to the village. Most of the houses are completely destroyed, and with every artillery attack, their number is increasing.
Until the summer of 2014, Vodyane was considered a dacha village. The residents of Mariupol left the hustle and bustle of the big city to spend weekends and holidays in this quiet scenic town. All the vacationers have since disappeared. Only locals, who have nowhere else to go, have remained in Vodyane.  Thirteen people now live in the village among the destroyed houses, under continual bombardment. They try to adjust their lives to the reality of war, raise crops and small livestock for their own needs, and repair the destroyed buildings, houses and electricity. There are no shops. Locals say that in peacetime bread was delivered here once a week, but now bread and water are supplied by the Ukrainian army. As for all the other daily needs, they have to fend for themselves – every family here keeps some cows or poultry.
Mykola Ivanovych says he and his wife have adapted to this life, and try to remain optimistic. Most residents suffer from the fact that they can't go and see their children and relatives in the city because there's no public transport and no one has a car.
"We live day to day… more or less. If they could stop the daily shelling, it would be better. At the moment, the power isn't working, but we'll soon fix that, I think. Of course, it's sad that so many have left. Otherwise, everything's fine. We help each other as much as we can. You can't survive here on your own. Yes, the Red Cross helps, God bless them! They gave us wood briquettes for the winter. We have enough food – cereals and butter, what we need. Well, I have cows, too… as well as chickens and ducks."
Mykola's neighbor Serhiy isn't so optimistic. He miraculously survived the last round of shelling. The blasts destroyed the walls of his small house. Serhiy has nowhere to go, and he's sick and tired of these nightly "surprises". Serhiy examines the rubble and shakes his head:
"Today, I spent the whole night in the basement. I'm going to continue here in Vodyane; I'm not going anywhere. What should I say? Who should I talk to? They know everything. Who are they shooting at? What are they doing?"
Uncle Vasya is a local celebrity who became famous when he began writing extensively about life in the village in social networks. Vasya remarks that the people are tired of this life and just want some sort of stability:
"Every day and every night… deafening blasts, explosions, bombs. Why don't you stay the night? You'll see for yourself. I'd like to hang myself sometimes. Absolutely! Everything's horrible here… so much sadness. We're neither in prison nor free… the grey zone. That's it, but what's next? Tell us something. Give us some hope! But, no one ever tells us anything."
To reconstruct their homes and power supply, residents can only count on non-governmental organizations. There's no compensation from the state. Oleh Nemchinov, head of the military-civilian administration of Kominternove, Vodyane and Zaichenko,  comments:
"There are no funds available for compensation of destroyed homes. These facts are recorded and reported, but we haven't seen any follow-up yet. Even if the house was insured, the insurance companies see the destruction as force majeure, and they refuse to make payments. In such cases, locals can only rely on the assistance of charitable public organizations."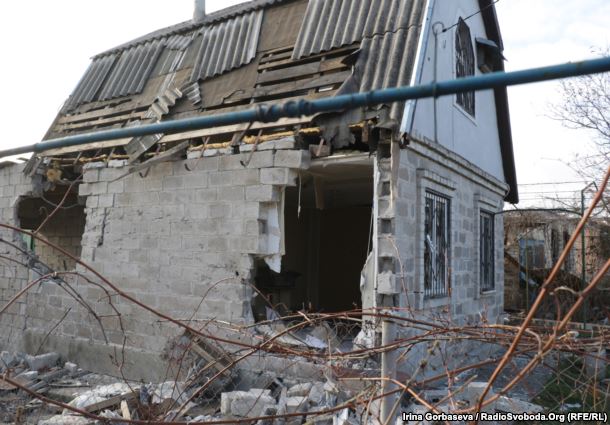 Ukrainian soldiers deployed in Vodyane say that the Russian-backed troops fire at random and chaotically, and their only objective is to destroy the entire village. Thanks to the OSCE mission, which often visits the village during the day, shelling has decreased a bit. However, at night, at the first sound of gunfire, residents hurry to descend into their cellars.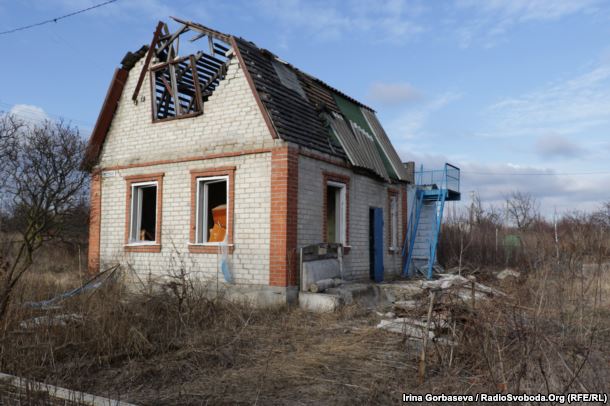 Tags: destruction of infrastructure, Donbas war (2014-present), Donetsk Oblast, Russian shelling, Stories from the Front, Ukraine, Vodyane