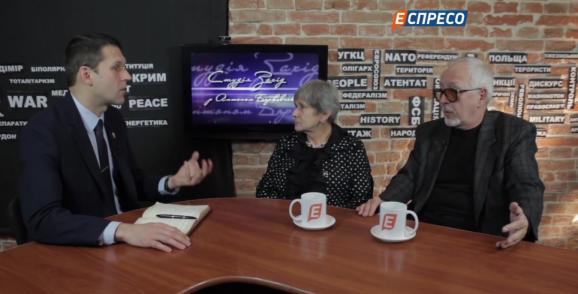 Tatiana Bonner-Yankelevich, the daughter of Elena Bonner, the second wife of Andrei Sakharov, and Russian dissident Alexei Smirnov, who spent 10 years in Soviet labor camps, discussed Russia's transformation from Yeltsin's democracy to Putin's dictatorship in an interview with journalist Antin Borkovskyi, Espresso  TV.
When the Kursk submarine sank,  Vladimir Putin said a prophetic phrase that probably could be applied to the Russian Federation. When journalists asked him "Mr. Putin, what happened with the Kursk submarine?" He answered, "It sank." I don't know what happened with Russia, but we know on our own skin that something is wrong, while Russia itself is silent. What happened?
Tatiana Bonner-Yankelevich: Referring to Putin's incredibly cynical and callous statement, I would say that Russia, as we wanted to see it and as we still hoped to see it in the early 1990s, really has sunk. But what is even more frightening is that out of these underwater depths the old Stalinist Soviet Union is emerging.
In other words, this is not a mirage; it is not some invention of the directors of from Ostankino (TV center in Moscow — Ed.). This really is the emergence of Beria's Leviathan!?
TBY: I think so. And this is what Vladimir Putin has been creating. Perhaps half-consciously at first, but then, starting in 1999, more consciously with every year. He started doing this very quietly, almost secretly, perhaps not realizing completely what he planned to do later.
But starting in 1999, we heard for the first time that governors would be appointed, that the media would be persecuted for inciting hatred (national, for example) and for insulting religious feelings. He began all these processes a long time ago, acting on the sly. My mother, Yelena Bonner, was almost the first person who began to talk about who Putin was and what he would do — that under him there would be no freedom of speech, and no freedom of the press.
We can remember the late 1980s and what was happening in Moscow. Later, in the 1990s, was when this phantom reappeared — the KGB phoenix that rose and devoured everything that was called freedom. But the Russian people have been silent somehow.
Alexei Smirnov: Perestroika was a shock in every respect, not only for me personally, but also for my Ukrainian friends when we suddenly all came out of the camps. Gorbachev freed us. We had PTSD and we had similar feeling to what your boys are experiencing when they return from ATO (Anti-Terrorist Operation). It was necessary to adapt to this flurry of meetings, of various appearances.
The people were running around in the streets and I and the former Ukrainian camp inmates felt that we were strangers here. We could not fit into the process. No one understood anything. The West also wasted this opportunity. Many analysts were dismissed. And for some reason the Western embassies started to invite me frequently and ask "what will happen next? What will develop?" I would … explain that we had been under a severe dictatorship for a very long time, for decades. That now we had been thrown directly in the opposite direction, into anarchy. And in the middle, between the pendulum swings, there was perhaps some range of Democrats, Republicans, Labor, Conservatives. "You live in this range, gentlemen, we do not," I told them. "And later there will be a process similar to a lesson."
Still, five years in camps can help with something similar.
AS: Yes, they taught a lot. I showed them that when the pendulum goes further, to 45 degrees … the Soviet order will come. And they would anxiously examine where it go further. I told them that the swingback is inevitable and that there will be a counter impulse to the impulse. Sorry, this is known in physics, and I'm a former physicist.
TBY: I think it is important to point out that there was no Nuremberg trial of the Communist Party, even though I have no  doubt that Yeltsin genuinely wanted it. He took many important steps but he was overcome by his environment. He certainly was not an enlightened Democrat. He was rather spontaneous and that was why he lasted a very short time. He was subdued by his environment. I remember when my mother always asked: "Boris are you president or not? Will you be stupid?"  And during the referendum in 1933 he said: " I will no longer be stupid." But he became stupid nonetheless.
It is strange that there is no such Brownian motion to change for the better. People for some reason have not joined Chernyshevsky and Herzen (Russian 19th cen. revolutionaries — Ed.)
TBY: It's a swamp
AS: We see the insanity taking hold right in front of our eyes — the attacks on other countries, until the people, as they say… until the people rise up. Our pre-revolutionary classic writers said " When Russia wakes up." Please note that this was said a long time ago. It really is a static country. Any changes are difficult and slow. I watched the entire Maidan online and practically all the fighting in Crimea and the Donbas. I'm very well informed. I can't imagine how your people charged ahead as they did   As for us, we're asleep.
What we can say is that your people were thrown a dose of sleeping pills called "Crimea is ours." In addition to murder and intimidation, they have been bought with such vile things. Because this dose of imperial narcissism is actually much worse than it seems: 80 percent of Russians have accepted the fact that Russia has violated all the international agreements. This is a paradox.
I think that 80 percent of Russians in general don't think about these agreements. Milosevic earlier used Serbian greatness to unleash the Serbs…
… and then destruction
TBY: Absolutely true. The same thing happened in Russia. I think about all this poison that has been flung about. At first Russia was zombied out by notions that finally it was getting up from its knees, and then that hostile forces wanted to bring it to its knees again.
And suddenly there was such a victory that confirmed the effectiveness of this myth, or that is being presented as a victory. Finally, we have taken what was always ours. And how many people subscribed to that notion! It's terrible. I attribute that to ignorance and mindlessness. As Pushkin said, "Russians are lazy and incurious." Tell me what percentage of people want to find out everything for themselves and arrive at some conclusion using their own minds?
AS: I have just arrived from Moscow. There are fewer Georgian ribbons, fewer cheers that "Crimea is ours" and so on. People are beginning to think, even though the inertia is certainly considerable. The mood is worsening, and I can see it since I still work and communicate with many people.
The main thing is the cars that were plastered in every way (with slogans) — all this is disappearing. Flying from Moscow to Minsk has become easier: there is silence, everyone is good-natured, there are more pot-bellied policemen. The degree of tension and anger that I have seen and felt in Moscow is really high. The aura is bad because we are the center of evil and finally we are beginning to understand it.
TBY: Those who said "Crimea is ours" earlier are now avoiding the subject. In very many families — and I know this from friends and relatives who live in Russia — they do not want to raise this issue with anyone to avoid discussing such painful subjects.
Alexei is completely right; people have begun to question. I increasingly hear from various people: "Don't we have our own problems? We need to solve our problems." Therefore, there really is some new thinking that (Russians) are being distracted with all these matters, with a hostile environment, with the idea of protecting Russia. But this intellectual movement is very weak, and this depresses me.
AS: In the labor camps in the 1980s we had these discussions. The guys all had encyclopedic educations. They knew a lot about history, about linguistics. The Ukrainian guys, to whom I owe my life, by the way, raised the issue of a future war between Russia and Ukraine. And this was during the Soviet period. In the 1980s already we knew that the USSR would fall apart and we outlined how. Only one detail remained — to figure out how the war would take place. Literally.
I was shocked when the guys demonstrated and proved to me how this would happen. Then I forgot everything and was relieved that my experts were wrong. And here Yanukovych is fleeing and I understood immediately that here is the second time (protests in Ukraine, in 2004 and 2013-14 — Ed.)and that Putin would not waste it. I remember sitting in front of the computer when this happened and the following scenario became instantly clear to me: Putin would not allow a civilized state to exist close by.
Furthermore, Putin is absolutely convinced that Ukrainians are rednecks, who are simply the Russian village. That's the way he was brought up. What can you do. Most Russians think the same way. Therefore he would attack. How he would attack I didn't know, but I remember the horror that gripped me. I had seen a lot: all that blood on Maidan, 100 people, the Heavenly Hundred. But this brought on an even greater horror because I already knew what Putin would do.
Therefore you understood that he had broken off his chain and blood would flow.
AS: That he would attack. That he definitely would attack somehow. And it shocked me extremely. I even began to phone the guys, saying "there is trouble; Yanukovych has fled" even though you would think it would be the time to rejoice. But I understood that Putin was nearby.
So you believe he will not bother tending to his offshores; that he will continue attacking?
AS: He will not forgive the passion. I'm referring to the time when Yanukovych fled. Perhaps Trump will change his mind about embracing him. This happened during Soviet times when we were hoping for external pressure, for Reagan's policy.
TBY: I think that Donald Trump is a completely unprincipled man, completely irresponsible and ignorant, and I am very afraid of what he will manage to destroy in four years. One of the arguments against this person for the post of president was precisely his flirtation with Putin, his authoritarian style. But this, unfortunately, is what we are seeing in all the new democracies in Eastern Europe — Poland, Hungary. We can see it in populism, which in France is sliding into National Socialism. We can see it in Russia. And this is a very dangerous tendency.
Alexei, what does your inner voice, your dissident intuition tell you about how relations with Ukraine will develop? Right now they exist only as aggression.
AS: I think we will be saved by a characteristic Russian tendency to do everything through one source. Solzhenitsyn wrote about it, that tufta (cheating) would save us. Putin wants to do something, but if it doesn't work out, it is totally his. Because the bigger the case, the more difficult the task, the more frequently the result will turn out to be the opposite of what you want. For example, Nord-Ost, Beslan (hostage-taking incidents that resulted in massive casualties through bungled efforts by Russian law enforcement — Ed.). Did Putin want death there?
Well, perhaps Putin did not want to kill these people, but he could have saved them
AS: From our Russian position everything is simpler. I knew a man who came to the Nord-Ost headquarters when all these events were taking place. This man held a high military rank and came because his son was dying there.
I could not question him about secrets since he was not  permitted to say what was in the Nord-Ost headquarters. I asked him only one question: "Is this a typical Russian mess?" He said "yes." There was no need to discuss anything else. There were many people in charge but no one coordinated anything — what kind of gas, what antidote to use. Everyone was running around and nothing succeeded. Now Putin wants to capture half of the world. Everybody has been rushing in and rushing in, and again nothing is succeeding. This is our hope in our own stupidity.
Tags: dissidents, Featured, Putin, Russia, Stalin