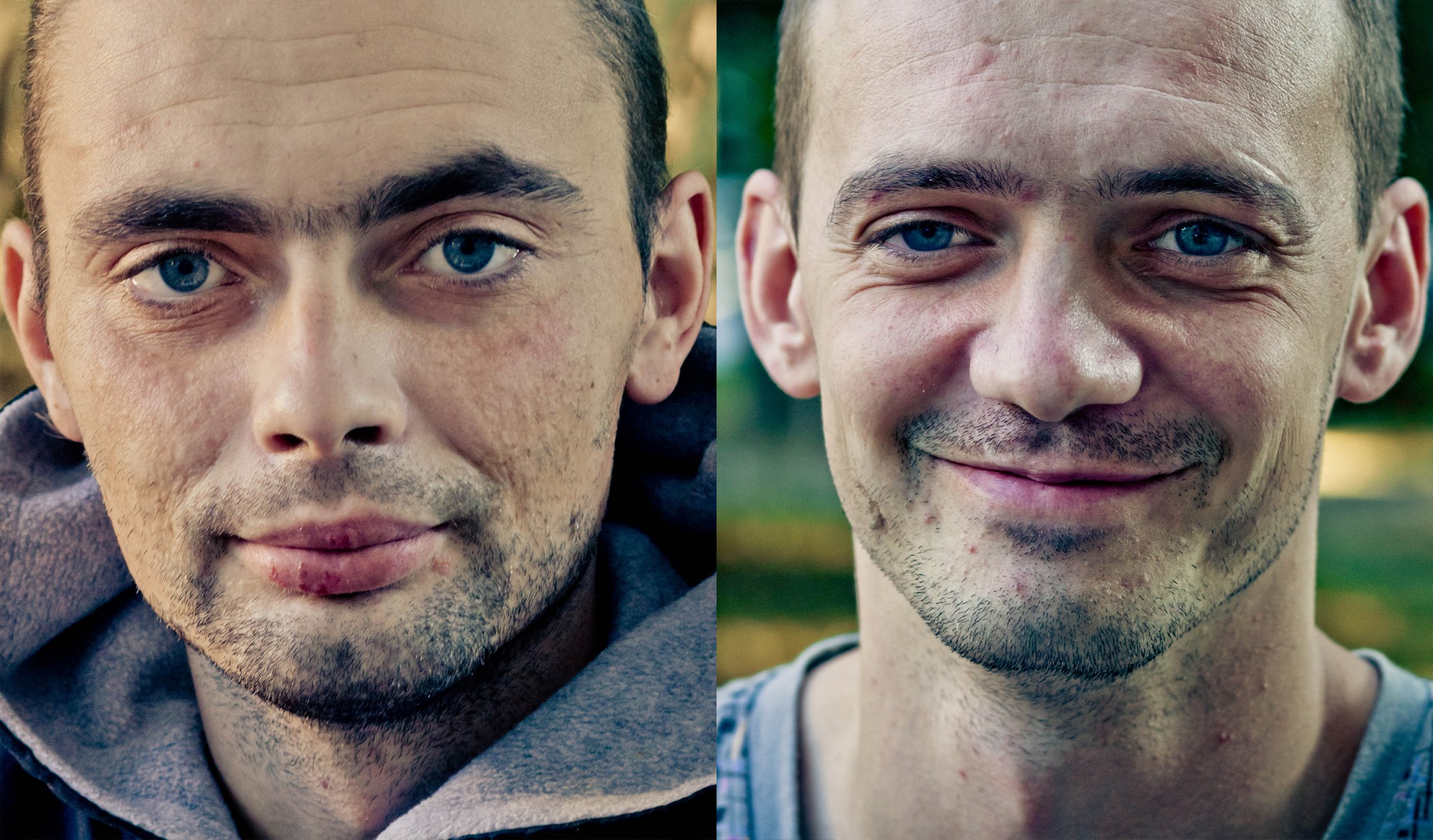 Left to right: Oleksandr Katrych, Mykhailo Yedynak  
The war in Ukraine. "Little green men" (aka unmarked Russian soldiers) entered the Crimean peninsula at the end of February 2014. In spring of the same year, Russian troops moved into the Donbas, taking over the main administrations and setting up two puppet states – the "DNR" and "LNR". Despite political negotiations, agreements and truces, the war has not ceased and has penetrated the life of each Ukrainian. Western media have tired of reporting on these battles as daily combats are bland and boring, not spectacular… and this "hybrid conflict" is just too difficult to understand. The war in eastern Ukraine is in its third year, men are dying, many are maimed or severely injured, others are traumatized for life. Here is but a small chapter of individual lives – soldiers and their personal hopes and fears: of death, of never seeing their family, of the camaraderie, despair – and evil – of war.
OLEKSANDR KATRYCH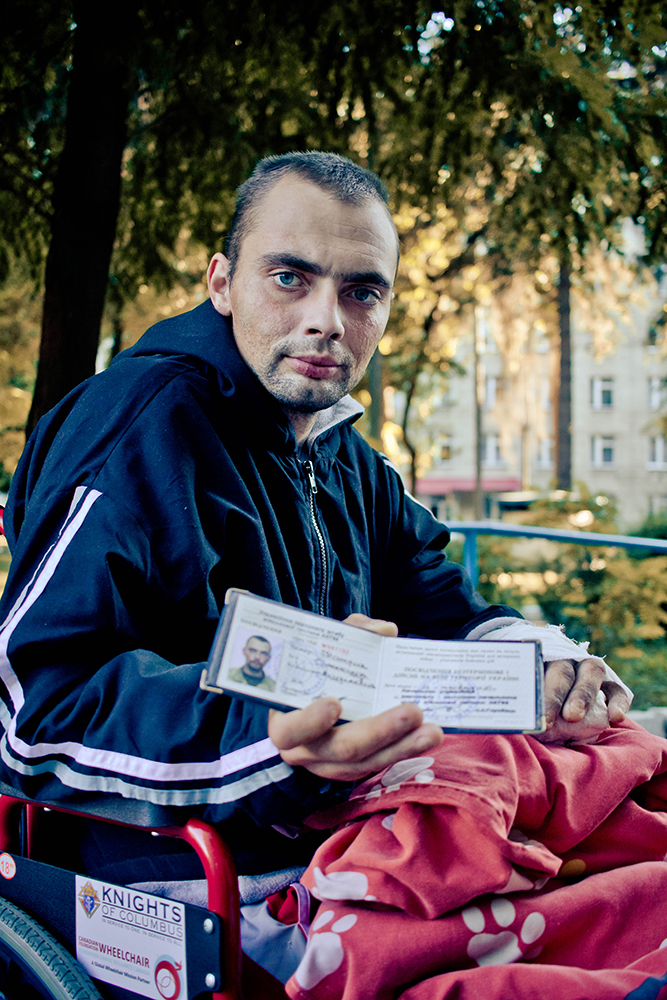 Oleksandr Katrych is a frail soft-spoken young man with dreamy blue eyes and deep sunken cheeks. He was born in Mykolayiv on November 11, 1991. He has a 3-year-old son who was placed in an orphanage when his mother abandoned him. Before the war, Sashko worked as a technician and janitor at a local school, doing minor repair jobs around the building and looking out for the safety and security of the students. He enjoyed his job, sharing and communicating with students, staff and parents. On the weekends, he travelled to a nearby village to help his grandmother in the garden, working the land and tending the animals.
"I love my Granny's fresh bread, the smell of hot loaves coming from the oven. You know what I miss most? Fresh warm milk directly from our cow and Baba's food… her pyrizhky are heavenly!" (baked or fried buns stuffed with a variety of fillings-Ed.)
Sashko didn't take part in the Maidan. He claims he didn't understand what the students wanted, felt that it was all useless and would lead to nothing. In fact, his remarks about the Revolution of Dignity were surprisingly pessimistic. So, why did he go to war? A very simple and clear answer:
"I couldn't just sit there and watch all those young guys dying…"
Sashko has bad vision and a minor heart condition, but when he received his draft notice on June 2, 2015, he didn't hesitate or run away.
He was sent to serve in the 128th Mountain Infantry Brigade, and more precisely in the Fire Support Team. They were dispatched to different training grounds – Shyroky Lan, Yavoriv, Desna, etc. – and then deployed to various combat positions near the front lines – Teple (near Shchastya), Luhanske, Chervony Zhovten, etc.
On March 8, 2016, Sashko and his battalion arrived at Pisky, and were ordered to hold defense positions. A few days later, the shelling started at 3 a.m. and mortars fired by Russian proxies from an AGS-17 grenade launcher fell into his dugout (this weapon is "forbidden" under Minsk agreements):
"We celebrated the first anniversary of my military service near Pisky. A month later, my comrades pulled me out of the trenches and delivered me to a field hospital in Selidove. The shelling began on the night of July 4 to 5, mortars fired from AGS-17s were flying all around us, the first six fell behind us, then along the trench in front of us, I rushed to the side … and suddenly I heard Batya say: "It's OK, son. You're going home now." He and Denys pulled me out. Four other men were seriously wounded, three others were taken away later on, and two more came to the same hospital. I was fully conscious while they were pulling me out, but when the doctor leaned over me, I drifted away… I came to on July 6, passed out again and finally woke up in Dnipro Military Hospital. There were so many people milling all around; it turns out 1+1 TV channel was doing interviews, so I also became an instant TV star!"
Sashko suffered severe mine-blast injuries; fragments tore into his spine and spinal cord, but luckily no nerves were damaged. He also has chest injuries, multiple shrapnel wounds, fractures in the left shoulder bone and left radial bone, multiple fragments lodged in the left hip and right foot. After several operations, Sashko was taken to the Lviv Military Hospital where he's started a rehabilitation program and recently showed us how he could "run" around on a walker. His blue eyes light up and he smiles:
"I want to be on crutches by mid-October, and up and about as soon as I can. I want to see my Granny and take care of my son. The war's not over yet…"
MYKHAILO YEDYNAK
Mykhailo Yedynak, call sign "Bratyk" (Little Brother), is a witty and joking young man with a charming smile and strong words about Russia.  He's from Lviv, born on November 19, 1989. Mykhas' finished high school and decided to start working, but jobs were scarce, so he went abroad regularly – to Germany and Poland – to work on construction sites. He fully supported the Maidan movement, travelled to Kyiv with friends and helped out locally.
"When Russian troops invaded our country, I said: "That's that! I gotta go!" I'm a patriot and I love my country so how can I stay home?"
Mykhas' trained at the Rivne Military Grounds for a month and was then sent to serve in the 128th Mountain Infantry Brigade. He drove a large military vehicle, transporting reconnaissance teams to their positions and delivering supplies, food rations and weapons to different units along the front lines.
His brigade was deployed in Stanytsia Luhanska and Karlovka (near Donetsk Airport) where the men saw heavy fighting and shelling.
On March 22, 2016, Mykhas' was working under his vehicle when a mortar exploded nearby, causing the vehicle to crash onto his body and fracturing his spine. He was quickly evacuated to the Mechnikov Military Hospital in Dnipro where he underwent several operations.  Mykhas' has tough words about the locals he met in front-line villages:
"Well, we didn't hang around with them too much as we had our orders and combat missions. They're zombies, Putin-lovers and traitors. We don't need them! You know… the older generation wants Putin and considers him a saviour, but the young are more rational and want to live in a free and democratic country. "

"When things were quiet, when the shelling stopped for a few hours, we'd pick up the "separatists" on our radios and then… Well, you can imagine the words that flew out of our mouths! They threatened us, tried to scare us… you know what I mean. It's war, so many things happen that shouldn't happen…"

"We captured some sabotage teams and we did see Russian uniforms…"
Mykhas' has only one goal – to get back on his feet again, and run after all the pretty girls that I see him following with his eyes. He spent some time in Modrychi, a private rehab centre in Truskavets, but the costs were prohibitive (approximately $100 US per day, all included).
"In a way, I've been very lucky. I saved every penny I got from friends, family, volunteers and NGOs, and spent a month in this great rehab centre. It helped me a lot, but I had to come back and do more rehab here in Lviv. Every waking moment was mapped out for us there, in Modrychi; we were assisted, trained, supervised and motivated by a good team of specialists. It's good here, too… but there are too many of us and too few professionals.

I also consider myself lucky because the doctors here implanted a very specialized and costly plate into my spine. It should last me about two years. You'll see… I'll be up and about before you know it."
Before I left, Mykhas' flashed his charming smile, grabbed the walker, stood up and threw his legs out in a walking motion. The smile changed into a grim frown as he moved slowly but surely along the pathway – 100 metres one way and 100 metres back. I sat mesmerized, alarmed and yet in admiration of such strong will and motivation. I knew then that Mykhailo Yedynak would definitely walk again.
All photos courtesy of Juan Mora. Juan Mora is a photographer and volunteer with Con Ucrania. He is currently based in Lviv. 
Tags: Donbas war (2014-present), International, Russia, Russian proxies, Stories from the Front, Ukraine, Ukrainian Army