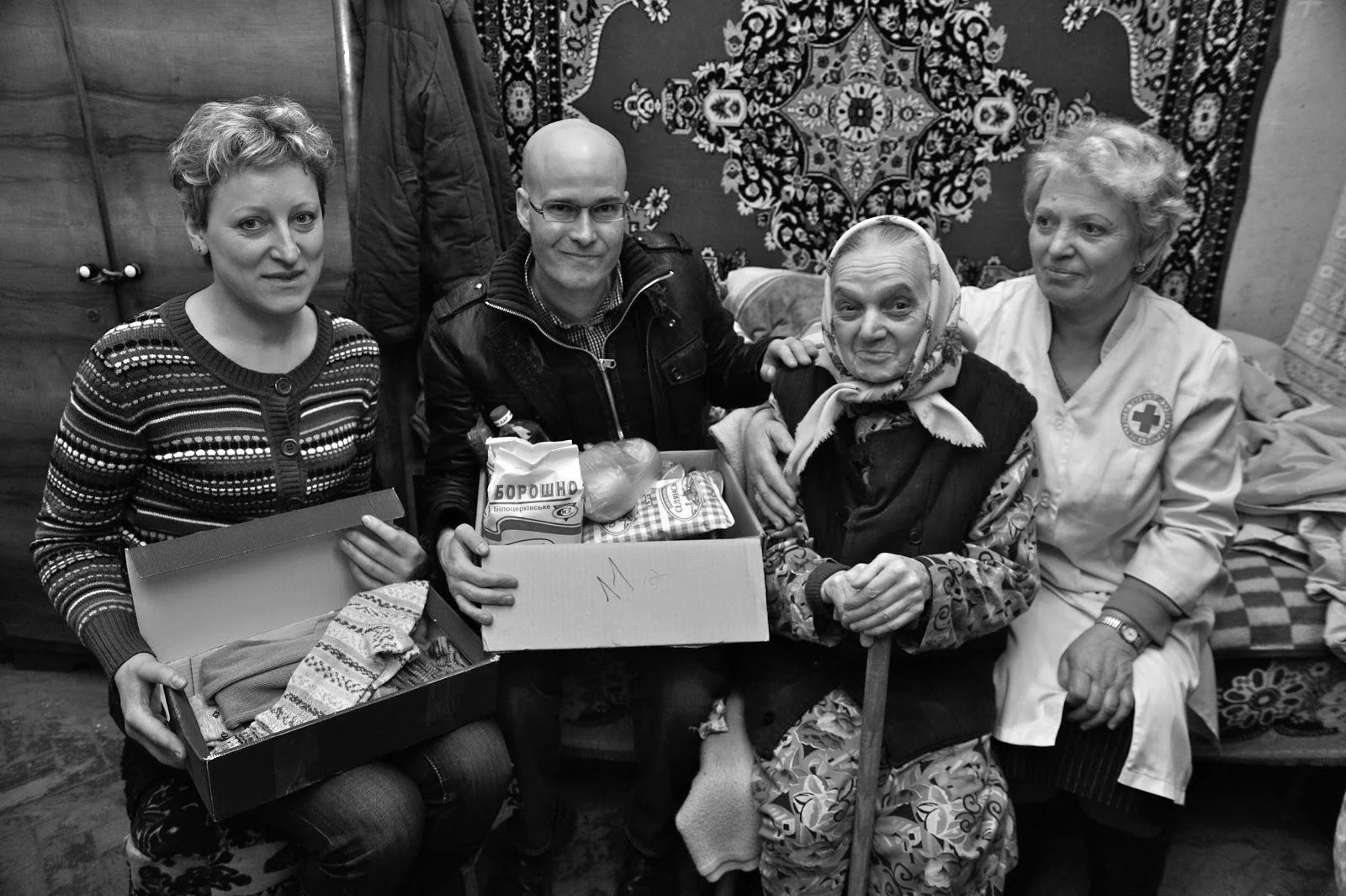 Till Mayer with Red Cross staff and one of his articles' heroes, pani Sofa (second from the right). Photo from the private archive of Till Mayer 
According to the Ministry of Social Policy of Ukraine, 20-25% of Ukrainian households are poor. Meanwhile, elderly are the most unprotected and amenable category.
Till Mayer, a German journalist, photographer, and Red Cross volunteer, was able to confirm this personally during his numerous working trips to Lviv in western Ukraine. Till not only told about the difficult life of Lviv seniors on the pages of Der Spiegel, but also organized regular financial support for them – around EUR 1,500-2,000 per month.
Donations come from Europeans who were inspired by Till's article and are charged to the bank account in Germany. Lviv seniors can use this money for food, clothes, and medicines; all the receipts are being collected and checked by Red Cross.  
Apart from direct financial help, Till also organizes the supply of winter shoes and short internship programs in Germany for Ukrainian Red Cross nurses. His last professional achievement is gaining the Dr. Georg-Schreiber-Ehrenpreises prize. Till won it for his lifetime work including Ukrainian engagement and support of the people with disabilities. He already donated 4,300 EUR out of 5,000 to Ukrainian pensioners in need.
Euromaidan Press asked Till Mayer what makes him help Ukrainians and whether he has any new projects on the agenda.
When did you first visit Ukraine, and what made you start writing about Ukrainian seniors?
It was in 2007. I intended to write a book about concentration camps survivors within the German and Ukrainian Red Cross project. I knew that there were many people who went through Auschwitz in western Ukraine, that is why I went in Lviv. I met lots of camp prisoners there. Many of them never had children because they had been sterilized, so there is nobody to take care of them now. I found out in what conditions Ukrainian pensioners lived and decided to start writing about this. Now I visit Lviv three to four times a year.
What exactly impressed you so much?
Even though we also have poor pensioners in Germany, they do not live in such a misery. After Germans retire, the government gives them enough money to live with dignity. Our elderly can pay the rent, buy food, clothes, and medicines. And in case you need a nursing home to move in, it is also the government that pays for it. On the other hand, these elderly people in Lviv have already gone through harsh times during the war, but they have to suffer again. I think it is time to give something to them.
Lviv is a relatively thriving city when compared to other Ukrainian localities. Why did you choose this place to describe lives of the Ukrainian elderly?
First of all, I chose Lviv because there I have a very good team I can work with. I mean not only Ukrainian Red Cross volunteers, but also just ordinary people. For example, when I talked about pensioners' issues to university students in Lviv, I really liked their attitude. This project really depends on money donated by my readers, so I feel I should not stop working. I realize that such help is very local, but if I were looking for the poorest locality I would leave Ukraine and go to Africa.
How do you get along with Ukrainian seniors while interviewing them?
When you treat them with respect, they are always friendly. Some of them are a little bit shy, but it is understandable, as most of those elderly haven't spoken to journalists ever before. I remember well one case when I spoke to a man whose wife knew that he had been in a concentration camp, but he had never told her any details. During our conversation, she was lying ill beside us because the interview was in their one-room apartment. When she started crying, it revealed that she had never heard stories that her husband had gone through. Of course, for me, it was something very special. It is a great honor when people trust you with secrets of their lives.
How did the European audience meet your articles about Ukraine? What kind of feedback did you get?
Most of the time my readers are really impressed. For German audience, these Ukrainians are heroes, especially for young people, because some facts that I mention seemed unbelievable for them. When I write articles, I show these concentration camps survivors not as people in need, but as very strong and dignified persons. I know one woman in Lviv who collects paper every day and then submits it for recycling some spare cash. And even in such a situation, she does not complain, she says instead: "Thank you, God, that I am still alive."
Did your visits to Ukraine change you somehow as a person? If so – how exactly?
Definitely. I always look up to concentration camps survivors, since it is impossible to even imagine their experience. For half a year, I lived in Iraq, and I slept like a baby there. But when I heard stories of those elderly from Lviv, I really had nightmares. These interviews are always very difficult. My translators often can't keep from crying. What really amazes me – the concentration camps survivors never speak badly about Germans. One man said to me: "If you are full of hatred you do not understand what life is about." When I listen to these people's stories, I find my own problems are too insignificant. Perhaps, it is the largest change that happened to me.  
Do you have any plans related to your media project in Ukraine?
Actually, yes. This winter I am coming in Lviv with two friends to make a documentary about concentration camps survivors, but the poverty issues would be raised too. Our first goal, however, is to let these people leave some heritage for future generations. I know that lots of them have something to say, for instance, regarding the war in Donbas, and I am sure they have a right to do it. At the same time, we have to hurry because for some of those seniors it can be the last winter. I really do not want to be late.    
Sometimes at the end of your articles, you encourage readers who are not indifferent to help Ukrainian seniors. Have you ever been blamed for combining journalism with social activism?
It is a very good question. As a journalist, you should never let yourself become an associate of anybody or anything, even those with a good cause. From this point of view, I have crossed a red line. But, on the other hand, I always try to identify myself with humanity, and I think these seniors' stories deserve to be told in a personal way. Anyways, I am always neutral in terms of politics, though last years it became quite challenging. It is too sad to have a war in Europe. I never thought this would happen again.
Tags: Germany, seniors, social issues