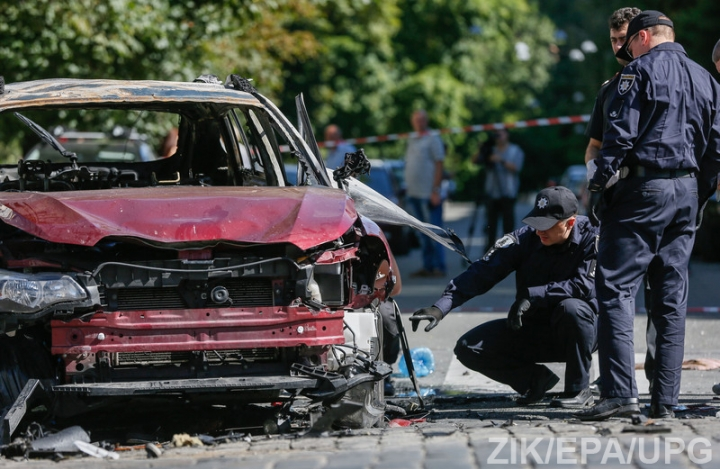 According to journalist Vitaliy Portnikov, the murders of Oles Buzyna and Pavel Sheremet are remarkably similar. But the only thing that links these two individuals is their popularity with Russian audiences.
Portnikov wrote on his blog on NEWSru.ua, July 21, that the film crew of TV Channel 17 "accidentally" turned up on the spot where Pavel Sheremet died, practically at the time of the event — and out of the goodness of its heart was ready to share its film clips with all comers. ( Viktor Medvedchuk, whose daughter is Putin's godchild, is believed to be the secret owner of the pro-Russian TV Channel 17 — Ed.)
"This amazing coincidence reminded me of my own unpleasant experience during Maidan. Then a film crew from TV Channel 112 also accidentally  showed up near the windows of my building when the titushkas" (hired thugs — Ed.) were demonstrating there.  However, my "colleagues" had no luck. I wasn't blown up," he wrote. (Channel 112 is believed to be owned by Yanukovych's son Oleksandr Yanukovych and his associate Serhiy Kurchenko — Ed.)
According to Portnikov, this recollection about the similar roles of the two channels "whose agendas strangely coincide with the agenda of a neighboring state," suggests another parallel — the amazing similarity between the murders of Oles Buzyna and Pavel Sheremet.
"It would seem that these are completely different people — with different fates, different political views, different circles of friends, with completely different attitudes toward Ukraine and its future. The only thing that links them is their popularity with Russian audiences. During his last years of life, Oles was never absent from Russian television, where he always presented himself as a Ukrainian writer and publicist. Pavel spent much more time on Russian television than on Ukrainian television. And when Russian officials and propagandists talk about his death, the audience understands  perfectly who they're talking about," Portnikov added.
"This is why Maria Zakharova (Director of the Information and Press Department of the Ministry of Foreign Affairs of the Russian Federation  –Ed.) is absolutely right when she says that Ukraine — and indeed Russia — is turning into a mass grave for journalists. It is just that the grave diggers are ones and the same. Just by accident," he wrote.
Portnikov's views were shared by Ministry of Internal Affairs official Zorian  Shkiriak, who reported that the "Russian trace" was one of the versions for the murder that was being investigated.
According to Shkiriak, "the appearance of representatives of the pro-Russian (separatist) Channel 17 at the scene of the murder of Pavel Sheremet, practically during the first minutes of the explosion," was very similar to the handling of provocative subjects by Russian LifeNews, RT, Russia 24, Star and other Putin TV propaganda channels
"Immediately, questions arise. Coincidence? I think not," he concluded.
As previously reported, a car explosion in Kyiv on July 20 killed prominent journalist Pavel Sheremet as he was driving to work at 7:45 am.
Tags: Pavel Sheremet, Russia