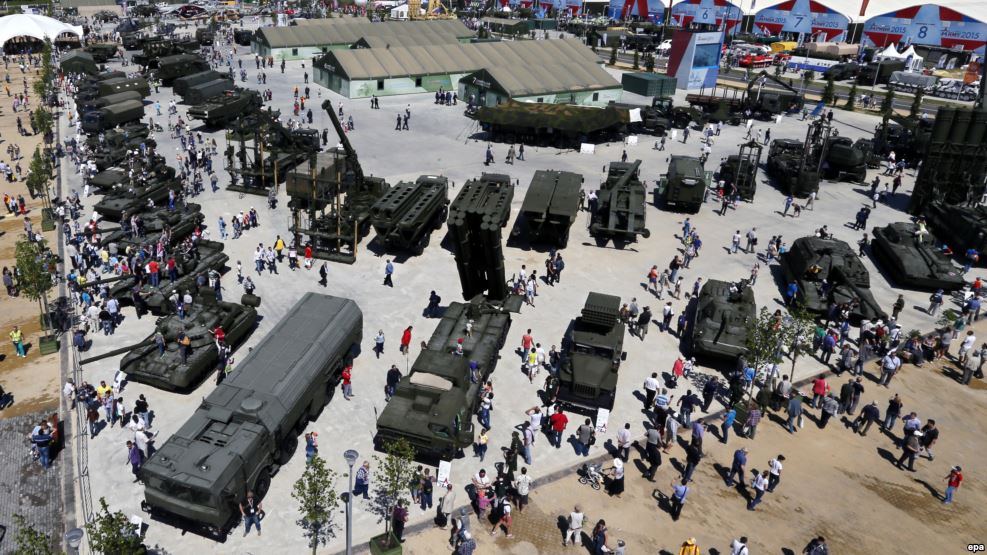 Russian military equipment at an international exhibition near Moscow. June 2015. Photo: EPA 
Despite European sanctions against Russia for its barefaced military occupation of Ukraine, several of Ukraine's European allies continue to trade weapons with the Kremlin. Does this mean that EC sanctions against the aggressor country no longer work? Is it possible that Putin has managed finally to compromise European politicians who usually consider themselves to be paragons of virtue and good-will? Mykhailo Samus, expert of the Ukrainian Center for Army, Conversion and Disarmament Studies, discusses these questions in an interview for Krym.Realii.
"Indeed, Italy, despite a direct prohibition against supplying military equipment to Russia, continues to supply the Russian Defense Ministry with Iveco LMV Lynx light armored vehicles. Russia and Italy signed the contract for the sale of nearly 350 of the newest Italian armor in 2011. Ten fully assembled vehicles were sent to Russia, but the rest are being assembled from Italian kits at the Central Automobile Repair Facility No. 172 in Voronezh and Remdizel [Diesel Repair facility] in Naberezhniye Chelny. The documentation accompanying the Russo-Italian contract for the supply of Iveco LMV Lynx shows that it is still active, never having been halted even for a day. Might this explain why Italy continually lobbies for lifting the sanctions on Russia?" the expert questioned.
As reported, following Russia's unprovoked aggression against Ukraine, the EU halted all military and defense industry contacts with Moscow. For example, France canceled a multi-billion contract for the sale of Mistral warships, the Germans halted construction of military training centers valued at nearly EUR 350mn. Other EC members also canceled defense contracts with Russia. However, Italy continues to trade with the aggressor. It's worth noting that EU arms export rules directly prohibit the supplying arms and military technology to any country involved in an armed conflict.
"In 2014 Russia imported 81 Lynx LAVs; in 2015 – 93 LAVs. The production program for 2015-2016 envisions the production of 356 Italian armored vehicles in Russia. Interestingly enough, the ultimate recipient of all the vehicles manufactured during this period is Central Reserve Base for Automobile Technology No. 91 in Kamensk-Shakhtinskiy in Russia's Rostov Oblast. Obviously, this will facilitate their immediate transfer to occupied Donbas," Samus continues, adding that some Iveco LMV Lynx'es have already been spotted in Syria, both in Russian and pro-Assad Syrian units. Thus far, the Italians have voiced no objection to the reselling of their vehicles to the Assad regime.
Italy is not alone in violating the embargo. In the winter of 2016, Russian press reported on the Hungarian Defense Ministry's intention to purchase some 30 multi-use MI8/17 helicopters from Russia. A visit to Moscow by Hungarian Prime Minister Viktor Orban followed in February 2016. The value of this contract is almost $400mn.
The Hungarian military certainly needs helicopters. In fact, helicopters are needed so that Hungary could fulfill its NATO obligations and provide adequate support for Hungarian special operations. But there is another aspect, Mikhailo Samus told. Moscow has contracted to build a nuclear power station in Hungary, and despite the fact that Orban already received some of the Russian funds intended for this project and personally guaranteed to Putin that the project would be completed without difficulty, now the EC has declared that the deal is in violation of European Union law and is blocking it.
This boils down to the probability that Putin will try to snag the Hungarian Prime Minister on a second hook and force him to sign the helicopter deal. The Hungarian purchase would be a success for the Kremlin by breaking the EU sanctions regime and showing that it's business as usual with Europe regardless of Ukraine.
Samus says that "Hungary doesn't have the money for the helicopter purchase and is unlikely to come up with it. Russia could offer credits for the purchase and entice Hungary into another financial trap. Russian propaganda would, of course, make statements about the increasing 'corrosion of Euro-Atlantic solidarity' and 'strengthening ties between Russia and Hungary,' all of which are primary strategic aims of Putin."
And let's not forget that venerable ally, the new "poor man of Europe," Greece. In mid-January, the Greek parliament ratified an agreement with Russia for the supply of military equipment. This appears to be a concept paper and describes the required legal framework within which Russia can supply military equipment to Greece. Greece already has Russian war ships and S-300 anti-aircraft installations. Samus concludes that "…it seems the Greeks want to buy more Russian weapons. And, exactly like Hungary, they'll do it for Putin's money."