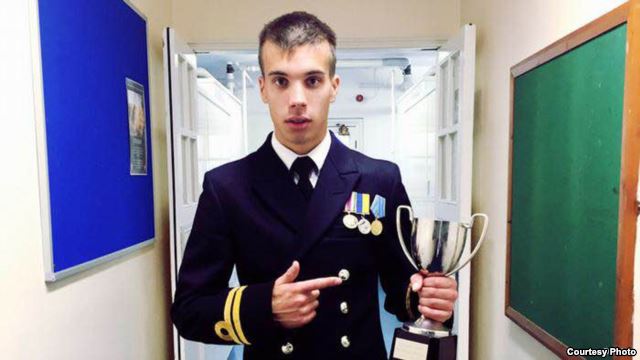 Cadet Andriy Hladun refused to swear allegiance to Russia in Crimea; he has just finished his studies in England and will serve in Eastern Ukraine
Andriy Hladun is 21 years old. He is a lieutenant in the Armed Forces of Ukraine. He decided to enroll at the Military Academy when he was still a teenager, when it was neither prestigious nor rewarding to be a soldier.
– I'm not from a military family. I don't know why I chose to serve my country, maybe because I'm a difficult person. I felt that I could get on in the army. I didn't have much future in Uzhgorod; it's a small town. I wanted to get somewhere. When I graduated from the Military Lyceum, my platoon leader suggested university. I applied to the university, passed all the exams and was accepted. I said thanks… I'm staying here. That's how my life as a cadet began.
Andriy spent three years in Crimea. When Crimea was annexed by Russia, he and several other cadets who refused to swear allegiance to Russia were transferred to the Odesa Marine Academy.
He passed an English test within the framework of a foreign training program for cadets and was invited to the Royal Navy College in Dartmouth, England. He completed 18 months of study and has just returned home, ready to serve in the Ukrainian army.
He doesn't remember the exact chronology of events in Crimea. He describes how the Ukrainian cadets tried to defend their academy and how the Russian troops tried to convince them to join the Russian army.
– Our food was not very good. So, they began delivering full meals, even pelmeni (dumplings). You should understand that students really appreciate good food. Different salads, omelets in the morning… Good food lures everyone; the way to a man's heart is through his stomach. They told us the salaries would be good. But, we understood that it was complete nonsense to swear allegiance to one country and serve in another where you had no one.
– Do you remember how it happened? Did you feel that something was going on, that Crimea was being occupied?
– I just remember that strange people dressed in strange uniforms were driving around in the streets of the city. The people were saying that Crimea would soon join Russia. Then some hot shots –  generals and admirals – came to our academy. I realized that it wasn't going to be easy. We said that we wouldn't abandon the academy, that we'd stand to the end. But, no one wanted bloodshed and we had to surrender our weapons. Some officers jumped ship and crossed over to the enemy… to stay afloat, so to speak.
– When you came to Crimea, didn't you realize that the people around you had other opinions?
– No, not really. People lived normally. It was quiet. The Black Sea Fleet was there. I knew there were many Russians in Crimea because a lot of Russian ships were stationed there. I didn't notice that the locals were especially pro-Russian. Everything changed when people started parading around with flags and shouting "Crimea is Russia". Crimea has a large Russian population and these people have always looked to Russia.
– Did you and the other cadets talk about resisting the invasion when "the little green men" appeared?
– Yes, of course, we were ready. We were always on patrol, our machine guns were loaded, and extra ammunition was close at hand. We were told to fire a warning shot if we saw anyone trying to get in. If anyone had openly attacked our territory, I think we would've shot back.  I talked with the guys and can say that no one was afraid. Maybe we didn't realize how serious it really was, but everyone was ready to defend the academy. Then, our weapons were taken away; we were told the academy would be attacked at five. We went out and surrounded the building, standing shoulder to shoulder. It was fun… but no one came.
– Were you also surrounded when unmarked Russian soldiers began blocking our military units?
– We were stationed near the port, we had a lot of ships and our submarine was close by. Russian tugs completely blocked the bay. Our ships were blocked. We were told that we might be attacked by divers. We didn't give up, we manned all our positions. But, we weren't allowed to shoot. So we threw stones. Several divers swam up, but we I didn't know whether they were Russian or not. We just pelted them with stones, and forced them to swim away.
– Did you ever run into Russian "green men"?
– We saw them in the city. We went out in civilian clothes, so we didn't run into any trouble.
– There were attempts at the academy to get you on the Russian side. Can you say something about that?
– They just said that the guys who wanted to stay should swear allegiance to Russia. Then, a few words about the salary, the future of the academy, that they would rebuild it completely, that they'd put in a swimming pool and a skating rink. I didn't listen to them, I left and so did many other guys. We lived separately, performed our military duties on the parade ground of the Lyceum, raised our flag, sang our national anthem until we were taken from Crimea.
– Did you talk about your mission and values…Is Russia our country or is it Ukraine? Or just ordinary things…What will happen to our salaries?
– We have one country – Ukraine. We didn't even think of Russia.
– Some of you did… How many persons switched to the Russian side?
– More than half; 103 persons left Crimea
– How many cadets were there in all?
– About 300, maybe a little more.
– Had you already sworn allegiance to Ukraine?
– Of course, I was already in third year.
– So, the students that remained swore allegiance to Russia?
-Yes.
– What happened then?
– There were many officers who refused to swear allegiance to Russia. They told what we should do and what documents to take. We slowly collected our belongings and waited for the "green corridor" to be set up.
– How were you evacuated?
– We got on a bus and left. We were checked on the border by Russians. They searched everything, checked for weapons; they missed nothing.
– Where were you taken?
– We got to the Military Academy in Odesa. We arrived at night; we got a great welcome and then were accommodated us in new barracks. Then the guys were transferred to the Odesa National Maritime Academy, but I'd left by then.
– What was the reaction in Odesa? You were greeted as heroes as you didn't betray your oath…
– Yes, we were greeted with great honours. I don't see anything heroic in our actions; every person should act this way.
– Are you in touch with the guys who remained in Crimea?
– No, I haven't talked to anybody; our interests and opinions differ.
– Were there conflicts?
– We needled them quite a lot, but in a joking manner. It didn't turn into a conflict. We didn't judge them; it was their decision to make. After all, we spent three years together.
– Did anyone disappoint you?
– Yes, of course. There were quite a few guys from Lviv Region. They couldn't say a single sentence in Russian… and they stayed behind. It was plain ridiculous…
– Did you feel that truth was on your side?
– Of course. In any case, we did nothing wrong. We went home, knowing that we'd continue our studies and earn the rank of a Ukrainian officer.
– When did you go to England?
– We stayed in Odesa for about a month; we went out on patrols every day. Then we were asked to write a test in English, all 103 cadets. Five were selected for further tests. We arrived at the British Embassy in Odesa, passed the tests, and three were selected to study in Britain. Then we went to Kyiv, got our visas and left.
– How long were you there?
– A year and a half.
– Was it a shock after Ukraine?
– Not really, I got used to it very fast.
– Did people know you were from Ukraine, that Ukraine was at war with Russia?
– Yes. We were treated very well. I gave a presentation every Wednesday, reported on the situation in Ukraine. I followed the events closely on the Internet.
– Did the people around you support you? Were they on your side?
– Yes, definitely. I'd say they don't really like Russians. Not only because of what's happening in our country, but there's some kind of hostility towards them…
– You're back now. So what's next?
– I graduated as a lieutenant. I'm currently with the 36th Marine Brigade in Mykolayiv. My whole platoon is in the ATO zone. I'm finishing up here and going to see the others soon, get to know my comrades-in-arms and pick up my gear.
– Do you think Ukrainian soldiers are more motivated than the Russians?
– I believe we are. We're defending our country; we're fighting for something. The Russians, I think, know this; many don't want to fight because this war is sheer folly. Why should they go to war? What are they fighting for? They don't need this territory – it's all a political game, big money and political greed. Ukrainians are fighting for their country, their mothers and their families. And, of course, we definitely have a stronger fighting spirit.
Tags: Crimea, Donbas war (2014-present), England, International, oath of allegiance, Russia, Ukraine, Ukraine's Navy, Ukrainian identity, Ukrainian patriotism