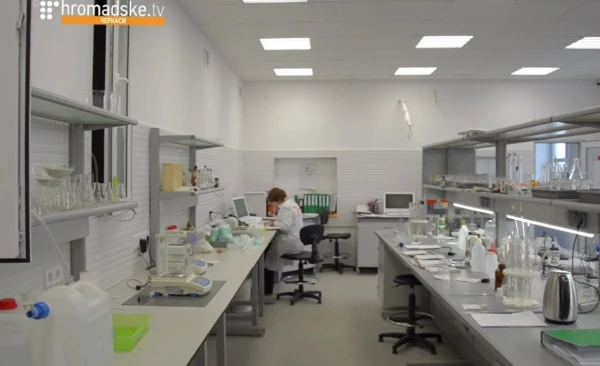 When fighting began in the Donbas, Viacheslav and Illia Leonenko, the owners of a Donetsk chemical reagents plant, decided to move their company and staff to Cherkasy. Today they are completing the construction of an innovative modern manufacturing plant that already is included on the list of the best industrial companies in the Cherkasy region. In an interview with Hromadske TV, Viacheslav Leonenko discusses the move, the difficulties of starting again from "scratch," as well as the question of individual identity.
"We understood that we could not accept the 'Russian world,' Leonenko, the founder of Chemical Elements Ukraine LLC, explains. "We assembled our team and asked: 'Who went to the referendum and voted for 'DNR?' Out of 50 people, there were only two. Naturally we bid them farewell."
"We re-registered the company in Cherkasy and managed to move part of the equipment, but not much — about 10-15 percent. Everything else that we have is new. Germans helped us acquire it. Then they told us 'Donetsk sounds horrible' and advised us to find a new place."
Donetsk- Reagents, a chemical plant producing iron sulfate used in the food and pharmaceutical industry, had operated in Donetsk for 25 years. After the outbreak of fighting in the east of Ukraine, the founders Viacheslav and Illia Leonenko, were forced to move to Cherkasy. Today the plant, renamed Chemical Elements Ukraine LLC, has settled in a former chemical reagents plant in Cherkasy, where the location is suited for chemical work. In addition to sulfate, the plant produces the purest boric acid that is used in nuclear power plants in Ukraine. Viacheslav Leonenko says they are also engaged in a kind of war — an economic one.
"We have our market positions," he explains. "Why should we give them away to someone else, the Chinese for example? After all, when we have good profits, we pay more in taxes and this money supports the Ukrainian army."
The entrepreneurs transported not only a portion of the equipment but their employees as well, providing them with housing and all necessities. Additionally, the plant now employs some 30 locals from Cherkasy.
"You could say we're investors of sorts. After all, we brought a company into the region that pays taxes and provides jobs for people,   Viacheslav says. " For me, Cherkasy is not a foreign city. I don't feel I'm a migrant here but rather a 'returnee.' After all, my mother was born in the Cherkasy Oblast and I have spent my childhood here. This is why my story is not the typical story of migrants from eastern Ukraine. Of course, for many of our employees, the move was not that simple because they left family in the Donbas."
Yulia Shyrokorodova, the head of research and development at Chemical Elements Ukraine, relates that she was born in Ilovaisk, where her parents, sister, and brother-in-law live. She says she has become accustomed to Cherkasy, but that the decision to move was very difficult.
"When all these events began it was really frightening. And when we saw that the situation was only worsening, of course I agreed to the proposal to move to work in Cherkasy. At first it was difficult for me to get used to the rhythm of life since it is very slow here, while in Donetsk you're always in a hurry. But I like it here. Generally people treat the migrants with understanding and compassion. There aren't many negatives," she says.
However, there are challenges that almost all the business migrants must face. Viacheslav points out that there are no tax benefits or government compensation for people who have managed to move their businesses from the Donbas and settle in new places.
"Of course, I have certain complaints toward the state," he says. "For 25 years we paid taxes that supported the army, the police, the Security Service, and other security forces. And when danger arrived, they were not able to protect us. And where is my property now? And where am I? Who will compensate me for all my losses? I think this issue needs to be resolved politically since there are almost 2 million internal refugees in Ukraine now."
The entrepreneur says the military conflict provided the impetus for people in the Donbas to determine their identity.
"Some people consider themselves 'Russian' and are waiting for Russia to feed them because they don't want to work themselves," he says. "Others are very aware that they are Ukrainians. What is this 'Donetsk People's Republic?' It's a fake. There is no legal framework for future development. Therefore, you have to determine who you are. Well, we decided: we are Ukrainians. For 15 months we built and repaired, and finally the plant in Cherkassy began operating. But we are not builders; we are chemists and we need to take care of our real business: producing chemicals. Our iron sulfate is of better quality than the German one, and we can be proud of it," he concludes.
Tags: DNR ("Donetsk People's Republic"), Donetsk, News, Ukrainian industry