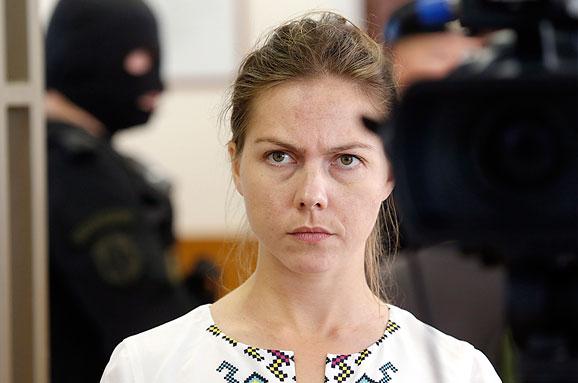 Sister of a captured Ukrainian pilot Vira Savchenko. Photo by: TASS 
Nadiya and Vira Savchenko have a plan. Their mom doesn't approve. They are stubborn and principled. The way their parents raised them. If Nadiya is sent to serve many years in penal colony, and at this stage nothing else is to be expected from the Russian court, the Ukrainian female pilot will not only stop eating but also stops drinking ten days after the verdict. She refuses eating food since 17 December 2015.
Vira Savchenko, a 33 year old sister of Nadia, was invited to Prague by Kristina Zelinek a member of Czech parliament, ANO, who had organized one day chain hunger strike across Europe and parties to support Nadiya who had been brought to court in Donetsk, a Russian town near Ukrainian border from Russian Novocherkask. Trial continues. Russian media portay Savchenko as a killer blaming her for directing Ukrainian artillery fire hitting two Russian journalists who were collecting material on rebels in eastern Ukrainian region of Luhansk.
You and your sister Nadiya are very, let's say tenacious. What were you like as children?
We had great parents although quite strict ones. But we had been growing up in loving environment. Father died when he was 83. I was born to him rather late, when he was 55. Mom is 79 and the whole situation is very painful for her.
We were growing up together just like all other kids. We hated school, used to run around the unfinished estate housing, suffered from pioneer camps. Nothing special. If they say we are a family of nationalists and banderites I'd like to stress that father was in the communist party until his final huge dissapointment in them.
We were not baptized until 2000. True, we spoke Ukrainian at home, not Russian but of course we know Russian. But I remember it was weird to me as a kid when others were being surprised by our Ukrainian – they largely spoke Russian. A paradox. Someone in Ukraine is wondering that you are speaking Ukrainian.    
Maybe we "hardened" when 1990s had arrived and poverty came with it. Ukrainians split up into two groups – one was stealing, the other was struggling. We fell into the latter category. Nadiya was long trying to find herself. After dad died she became really tough woman. But since being a little kid she always had one trait – never leaving any backdoor open.
Did it show in the battle resulting in her capture or rather kidnapping and her dragging to Russia?
Absolutely. On 18 June 2014 Nadiya was sent to help soldiers of Aidar battalion, registered under the ministry of defence. They got under fire of separatists. Our people were on a reconaissance mission but fell into a trap. Shooting broke out and soldiers were requesting help by radio.
Command sent them a motorized support units but their crews got lost and were also surrounded. Many Ukrainian soldiers fell, only few survived. I know all the facts so well because I was there as well. No, I am not a soldier but I came to see Nadiya by car. I wanted to go home when Nadiya was called to the field for the rescue mission. I called my friend and asked her to take care of mom should anything happen, I specifically instructed her on how to pay back a loan.
I was ready that neither me nor Nadiya would not return home. At that moment I was convinced that Nadiya was already dead. We could hear powerful blasts from her area. That took 24 hours. And then Nadiya's phone rang and whole new chapter of our lives began.
Nadiya was captured by separatists but then taken to Russia. Why did Russian secret services took so much interest in her?
She wasn't the only one. There is much more Ukrainians who are in Russian jails. At one point, Moscow tried to vigorously label Ukrainians as fascists. Banderites. Cutthroats. It seems the operation was led by higher ups. Nadiya recognized that one of the men who were taking her from Luhansk to Russia was certain Pavel Karpov. An aide of Vladislav Surkov (advisor of Russian president Putin) Karpov was driving Lada Niva that took Nadiya to Russia on 23. June 2014. Before they arrived to Voronezh they changed their car six times.
Nadiya also saw this "driver" talking to Plotnitskiy, head of the so called Peoples Luhansk republic. She saw him handing over the documents and her phone. Plotnitskiy simply sold Nadiya to Russia. For cash and guns. And Russians wanted her assuming that as a woman she is weak. They thought they would soon break her and get all they needed from her. That they could form her as a modeling clay. Instead they hit the rock. I do believe that Kremlin will crack before this nut does. Nadia's character remains as strong and unbroken as ever.
When was the last time you saw her?
Three weeks ago. I am flying off to Moscow so I can join the court hearing on Wednesday. But I'm worried Russian customs will make me turn back. They have deported me three times already.
I do believe that Kremlin will crack before this nut does. Nadia's character remains as strong and unbroken as ever. – Vira Savchenko
Does Russian society doubt whether Nadiya is guilty?
ARussian society is under the influence of media, even books you can now get in every bookstore in Moscow. I bought a couple of them. For example: Russia on its path to empire or Moscow – 3rd Rome, European yoke, The end of project Ukraine, How Russia defeats America, Attention! Ukrainian, Geopolitical turnaround Ukraine…
These publications are supported by Kremlin. Putin is an aspiring study of Machiavelli and only works on grabbing more power. This is where spreading of hatred and mistrust comes from… You know, our former president Viktor Yanukovych was a keen hunter. He used to say that you cannot leave a beast to run away when it is hurt. Not because it would suffer, but because a boar, wolf or deer would encircle you and attack you from the back. That's why he is afaid of Nadiya too.
Do you know what health condition she is in now?
She doesn't like to talk about that herself. So I would keep it to: "she's holding". She doesn't eat but drinks cocktails and gets glucose by infusion. She can shower twice a week an go for a walk at the rooftop.
Are you not afraid she can cause serious damage to her body or even die?
AShe is a soldier and this is her way of fighting. She has experience with hunger strikes. Her first hunger strike lasted 67 days. Of course if person doesn't eat at all, there is a deformation of the intestines. When I was allowed to see her on 6 January I saw only third of my Nadiya.
But I believe she will make it. Last time when she was in a bad condition and started to feeling she was going unconscious she kept a secret stash of sugar in a waste bin. That night she was partailly unconscious but she would wake up at times to crawl towards the bin.
She finally reached it and found the sugar and survived until the morning. The guards didn't come to help her obviously. The important thing is they are now beginning to fear her. That too is a result of Nadiya's starving. She scares them.
Is there any chance for "free" verdict?
The more I follow the trial that hope is fading. Judges are puppets. Investigator Dmitri Manshin who interrogated Nadiya back in Voronezh has created Savchenko case because he will get medals, bonus paycheck or whatever else. So many obvious facts haven't been taken into account. There is even evidence about the absurdity of the charges but the judge ignores them.
For instance?
Along with two Russian journalists there were also 15 armed men who died there. This is from the separatists themselves. Journalists were standing in the group with rebels when the missile hit. There was no targeted attacking on journalists at whom Nadiya was supposed to direct the shelling. Besides artillery is really not used for elimination of sparrows nor individual persons, if I am being cynical, because it is not economical.
It is used for destroying of machinery and objects and those people simply stood by the military targets. The most important evidence of the whole charge being fabricated is the time frame.
The defense had proved that at the time of the journalists were dead Nadiya had been exactly 1 hour and 40 minutes in the hands of the separatists. This is supported by the experiment of Astronomy institute of Moscow when they were trying to point the exact time at the moment of her capture by examining shadows of the trees. There was also a test with using a drone because the area is being controlled by separatists.
And it was also discovered that not even with binoculars or wings could she ever differentiate the individals in the group, much less detect journalists among them and send artillery at their way.
Besides the prosecution claims she climbed the tower of UKRNAFTOGAZ company. That tower is secured by a ladder being fixed six meters above the ground. At that moment Nadiya has been shot in the arm, she could never climb up there.
The whole accusation is falling apart. Lies are coming out of every page of each document. And lastly, Nadiya is not qualified for such military tasks. She is not a spotter, but lieutenant, 2nd helicopter pilot. Yes, she did kill but that's what soldiers do in a war. They do not murder journalists.
Still, she will be most likely given a lengthy sentence. She will start dry hunger-strike and what about you, will you accept that?
There will be diplomats replacing judges and I think there will be an exchange. They will oficially use the signed treaties where Russian citizens sentenced in Ukraine can spend their punishment in Russia and vice versa. Unoficially Nadiya will be exchanged for two Russian GRU officers Yevgeniy Yerofeev and Alexandr Alexandrov who were fighting in Donbas and were captured by Ukrainians.
But some Ukrainians have already been sentenced and even sent down to prisons in Siberia…
You mean Oleg Sentsov and Oleksanrd Kolchenko. They have been deported to Yakutsk because of terribly harsh winter and they are from warm Crimea. So that their organisms can suffer. This is exactly in the tradition of Soviet power. Savchenko is in a different situation – she is defacto a prisoner of war and the exchange is a clear option.
Are such events like the solidarity chain hunger strike of European MPs worth the effort?
They are because they draw attention to what is happening. I think Margaret Thatcher once said: "Do not believe those who tell you, you cannot do anything." I feel sorry that the hunger strike didn't appeal to Ukrainian MPs especially when Nadiya is their colleague! But they are afraid. Of course the biggest leverage against Russians is oil and we could cut ourselves off from them if we issued an embargo on Russian oil. There's no point in expecting mercy from Putin, only economic pressure will do it.
Tags: #LetMyPeopleGo, International, interview, Nadiya Savchenko, Political prisoners, Russia, Ukraine