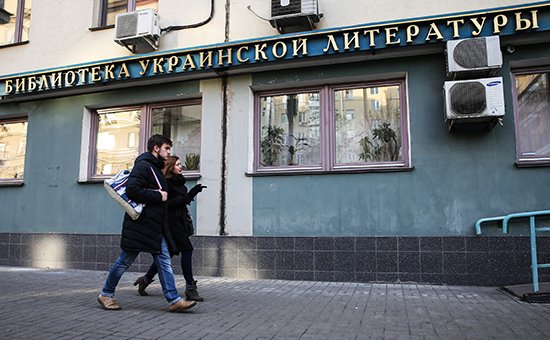 The Library of Ukrainian Literature in Moscow is to be replaced a multi-media propaganda center promoting Putin's "Russian world." (Image: Artyom Karatayev/TASS) 
Just as the Russian authorities transformed a museum on the GULAG from one that commemorated the suffering of inmates into one that celebrates their guards, Moscow is planning to "reform but not liquidate" the embattled Library of Ukrainian Literature in Moscow.
The library is to be shifted from the sphere of responsibility of the Moscow city culture department to the Russian capital's department of nationality policy and to become "a Multi-Media Center for Eastern Slavic Peoples."
That will allow the Russian authorities to gut the mission of the Ukrainian library while allowing them to claim that they have in fact not closed it and continue to provide jobs for most of its employees. At the same time, this is another example of the Putin regime's proclivity to push controversial issues down to the regional level where decisions attract less attention.
The library's director, Natalya Sharina, however, is unlikely to have any role in the new arrangement as she has been charged with the dissemination of extremism and currently remains under house arrest. And the library will no longer be a beacon of Ukrainian culture but yet another advertisement for Putin's "Russian world."
Tags: International, Russia, Russian propaganda, Russian World, Ukrainian library