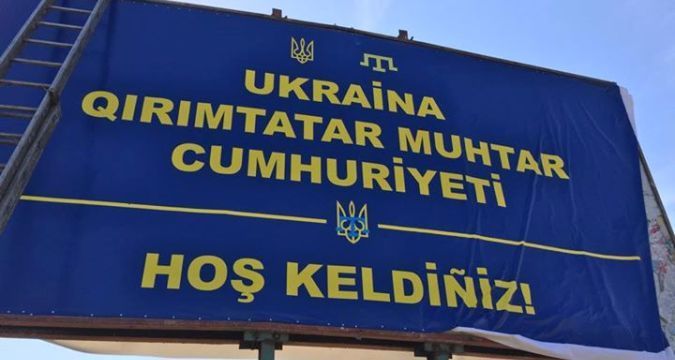 Crimea is Ukraine! (Image: QHA.com.ua) 
Moscow regularly has used its illegal occupation of Crimea as a testing ground for policies Vladimir Putin wants to apply across the Russian Federation. And that in turn means that any new Russian notion surfacing in Crimea should be evaluated in terms of its threat not only to the residents of that Ukrainian peninsula but also more generally.
Earlier this week, Murat Yazydzhiyev, the secretary of the pro-Moscow Crimean Tatar Kyyrym organization, declared that Crimean Tatars should stop thinking about "national sovereignty" and accept "the simple idea" that "Crimean Tatars are Russians!"
But as the Crimean Tatar QHA news agency pointed out in reporting Yazydzhiyev's remarks, if one follows his logic and China replaces Russia as the occupier of Crimea then the Crimean Tatars could easily declare that 'we are Chinese!'"
The Kyyrym ideologist "apparently forgets," QHA continued, "that is such an ideology there is no constituent element capable of identifying the Crimean Tatar people" and thus "such a slogan could be proclaimed for the representatives of dozens of peoples in the Russia Federation."
Such an approach, QHA continued, "is the direct path to the elimination of national distinctions and the uniqueness of the people of Crimea and its rights to its native land," as well as being a threat to the same qualities among the non-Russian nations currently living under Moscow's rule.
[In another commentary on Yazydzhiyev's statement, Andrey Zaremba suggested that this notion was the latest iteration of the efforts to destroy national identity that Chingiz Aitmatov described by referring to the mankurts whose memories were destroyed so that they would obey new rulers.]
According to Yazydzhiyev, earlier Crimean Tatar aspirations to achieve autonomy within an independent Ukraine are no longer real. "The situation has changed in a cardinal way. Crimea has been united with Russia," a country in which he says, "each of its numerous peoples has equal rights and where the Crimean Tatars have millions of fellow believers."
"In these conditions," he continued, "the idea of sovereign national statehood loses any meaning and a new idea becomes important, one capable of unifying around itself all Crimean Tatars living in Crimea. And this idea is simple: the Crimean Tatars are Russians!" They should construct "a new national ideology on this basis."
And "only then will it be possible to consider the appearance of a Crimean Tatar national republic in the Russian Federation like those of Tatarstan, Bashkortostan, Chechnya, Daghestan and so on." That is because, Yazdzhiyev concludes with the words, "we are Russians; Russia is out native land."
As QHA notes, it is "very strange" that in what he is offering, he makes no mention of the historical motherland of the Crimean Tatars, "the place where the people was formed, developed, lived for centuries, had its own statehood and writing system, created its own material and spiritual culture… was sent into exile and to which it returned from deportation."
Instead, this national ideologist wannabe argues that the country Crimean Tatars should identify with is the one that deported them and that now has occupied their land without ever asking their opinion – and moreover, the one whose illegal occupation of this ancient land has only been for 18 months.
Tags: Crimea, Russia, Russia's Anschluss of Crimea