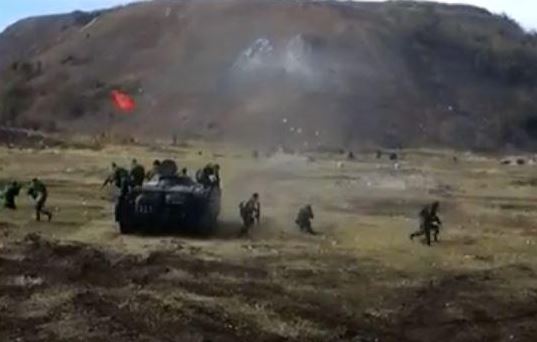 Drills of the Russian-separatist hybrid forces battalion "Legion," 18/10/15 . Source: https://www.youtube.com/watch?v=R9XvKYO6Mco 
Despite continued efforts from official bodies (western politicians, ATO-staff etc.) it is increasingly difficult to hide that Russia still has no interest in a real cease-fire: Terrorist units keep attacking Ukrainian positions around the Donetsk airport (Pisky, Opytne, Butovka…), in the Mariupol region, Avdiivka etc. – just follow @Guderian_Xaba@xuilolala @MarQs__  and @loogunda for updates.
There are daily losses among Ukrainian soldiers and civilians due to small arms, snipers, mines and booby traps. Ukrainian soldiers for the time being display overwhelming patience and discipline. Warfare at this point largely takes place in the cyberspace: For example, InformNapalm – to the outrage of official Russia – has published information on Russian material used in Syria and the personal data of Russian airfighters' staff bombing the villages of the Syrian opposition.
Russia continues to fake withdrawal in redeploying and hiding material all over the occupied territories. The logic behind this game is only known to Gen.-Lt. Hassan Kaloev who supervises the Russian actions in the JCCC (which continues to be a vehicle for Russian actions).
The bigger logic is clear though: Russia is not interested in peace with Ukraine, and wants to have its material ready when the order for another attack will come. We know the Russian army has been training for an attack of Ukraine and the Baltic states, and this quite intensively. For the time being they have opted for warfare in Syria – which can also be regarded as some kind of compensation for inaction in eastern Europe. But don't let yourself be fooled: The operations of the Russian army in Syria, such as bombing civilian quarters and hospitals with its airforce, using cluster bombs and the highly destructive flame-thrower TOS-1 Buratino (that also is deployed to the occupied Donbas), are also a rehearsal for a full-scale war with Ukraine.
Tags: Donbas, Military analysis