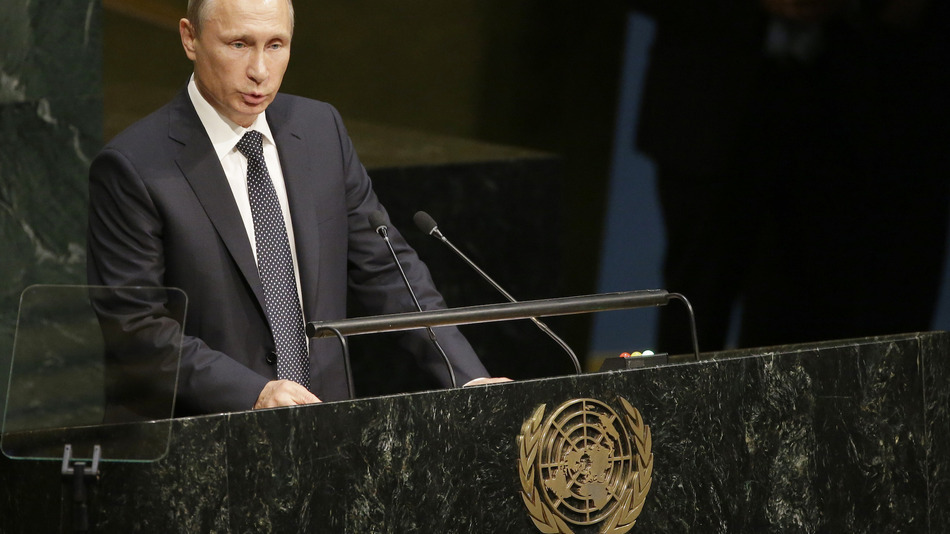 Russian President President Vladimir Putin addresses the 70th session of the United Nations General Assembly at U.N. headquarters, Monday, Sept. 28, 2015. (AP Photo/Mary Altaffer) 
Accord­ing to Wikipedia, Maskirovka may refer to: "Russ­ian mil­i­tary decep­tion, a mil­i­tary doc­trine of that coun­try. A term used in the West­ern press for the sup­posed deceit­ful­ness of the Russ­ian state in mil­i­tary and polit­i­cal affairs."
Russia's Pres­i­dent Putin gave a speech to the United Nations Assem­bly this week, which resem­bles the use of "maskirovka" at its best. The fol­low­ing state­ments made by Putin at the UN should shock any reader as decep­tion and reminder them of how the Russ­ian regime manip­u­lates infor­ma­tion on the world stage:
1. PUTIN: "Deci­sions debated within the UN are either taken as res­o­lu­tions or not. As diplo­mats say, they either pass or do not pass. What­ever actions any state might take bypass­ing this pro­ce­dure are illegitimate."
FACT: Rus­sia ignored UN Res­o­lu­tion 68/262 adopted on March 27, 2014 (enti­tled "Ter­ri­to­r­ial integrity of 
Ukraine
"), which was passed by UN Secu­rity Coun­cil mem­bers fol­low­ing Crimea's ille­gall annexation.
2. PUTIN: "Rus­sia stands ready to work together with its part­ners on the basis of full con­sen­sus, but we con­sider the attempts to under­mine the legit­i­macy of the United Nations as extremely dangerous."
FACT: In July 2015, Rus­sia was the only coun­try to veto the UN Secu­rity Coun­cil pro­posal for an inde­pen­dent inter­na­tional tri­bunal to inves­ti­gate the down­ing Malaysian Air­lines flight MH17 over Ukrain­ian ter­ri­tory con­trolled by the Russia-backed rebels. All 298 peo­ple on board were killed.
3. PUTIN: "…It is hyp­o­crit­i­cal and irre­spon­si­ble to make loud dec­la­ra­tions about the threat of inter­na­tional ter­ror­ism while turn­ing a blind eye to the chan­nels of financ­ing and sup­port­ing ter­ror­ists, includ­ing the process of traf­fick­ing and illicit trade in oil and arms."
FACT: As Ukraine's Pres­i­dent Petro Poroshenko stated at the 70th ses­sion of the UN Gen­eral Assem­bly this week, "How can you urge an anti-terrorist coali­tion if you inspire ter­ror­ism right in front of your door?" refer­ring to Pres­i­dent Putin's UN speech on the cri­sis in Syria.
4. PUTIN: "It would be equally irre­spon­si­ble to try to manip­u­late extrem­ist groups and place them at one's ser­vice in order to achieve one's own polit­i­cal goals in the hope of later deal­ing with them or, in other words, liq­ui­dat­ing them."
FACT: In east­ern Ukraine, the groups fight­ing against Ukraine's gov­ern­ment forces are led by com­man­ders and fight­ers who hold Russ­ian cit­i­zen­ship, includ­ing recently cap­tured reg­u­lar force sol­diers Yevgeny Yero­feyev and Alexan­der Alexandrov.
6. PUTIN: "This is exactly what hap­pened in Ukraine, where the dis­con­tent of the pop­u­la­tion with the cur­rent author­i­ties was used and the mil­i­tary coup was orches­trated from out­side — that trig­gered a civil war as a result."
FACT: For­mer Pres­i­dent of Ukraine Vik­tor Yanukovych abdi­cated his post by flee­ing to Rus­sia dur­ing the mass protests in Ukraine. Early pres­i­den­tial and par­lia­men­tary elec­tions were sub­se­quently held and were deemed to be demo­c­ra­tic, free, and fair by the inter­na­tional com­mu­nity (includ­ing Russia).
7. PUTIN: "We're con­fi­dent that only through full and faith­ful imple­men­ta­tion of the Minsk agree­ments of Feb­ru­ary 12, 2015, can we put an end to the blood­shed and find a way out of the dead­lock."
FACT: Accord­ing to Ukraine Cri­sis Media Cen­tre, Rus­sia and Russia-backed mil­i­tants have repeat­edly vio­lated the Minsk Agree­ment –Ukrain­ian posi­tions have been shelled 7,248 times, killing 166 sol­diers while injur­ing 964 in action in the first 5 months of the agree­ment being implemented!
8. PUTIN: "Ukraine's ter­ri­to­r­ial integrity can­not be ensured by threat of force and force of arms. What is needed is a gen­uine con­sid­er­a­tion for the inter­ests and rights of the peo­ple in the Don­bas region and respect for their choice."
FACT: "The threat of force and force of arms" comes from Rus­sia and its prox­ies in the Don­bas, who are try­ing to freeze the con­flict and shift the world's atten­tion away from Russia's ille­gal actions. This is a pat­tern sim­i­lar to what was pur­sued in rela­tion to other Russian-backed break­away ter­ri­to­ries in the region, namely Transnis­tria, Abk­hazia and South Ossetia.
Tags: International, Putin, Russian propaganda, UN