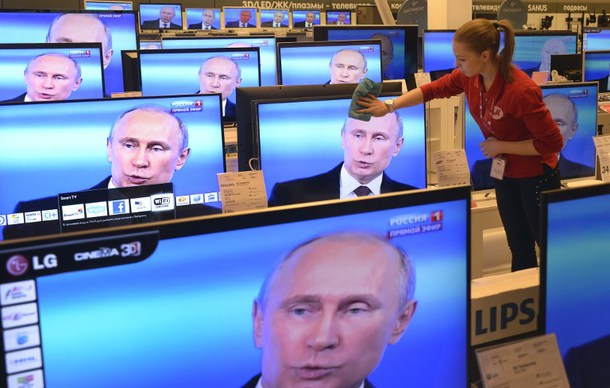 Many who look at Moscow's propaganda efforts consider only their current state and fail to see the ways in which the Kremlin has cultivated certain ideas over a very long period, laying the groundwork for what it may only expect to be able to achieve in the long term.
Such people thus miss opportunities to identify Moscow's plans and to counter such propaganda before it can inflict the most harm, according to Vyacheslav Gusarov, a specialist on Russian disinformation at the Kyiv Center for Military-Political Research.
The notion that Ukraine might dissolve into several states has been around for a long time, but Russian information operations intended to lay the ground work for that are of more recent origin. The "first serious" example of promoting discussion of this issue came in 2004 during the Ukrainian presidential vote.
That campaign continued through 2006, he says, in order to undermine the new government of Viktor Yushchenko by suggesting that he would eventually have to accept the division of his country if he hoped to stay in power. It featured numerous Russian officials as well as some ethnic Russians from eastern Ukraine.
Even after Viktor Yanukovych came to office and promoted an expansion of the influence of Ukraine's eastern sections on the rest of the country, Moscow continued to promote the notion that Ukraine was so diverse that it had little chance of holding together unless of course it accepted Russian dominance of its entire space.
And for the same ends but playing an entirely different note, Moscow also played up complaints by people in Western Ukraine about Yanukovych's deference to Russian interests, including on Sevastopol, and suggested that their attitudes made the division of Ukraine inevitable.
In the first half of last year, Gusarov continues, Russian media both domestic and international dramatically increased the number of reports and discussions about what they suggested was the inevitability of the division of Ukraine into one or more states given its political and cultural diversity.
While that theme faded somewhat in the second half of 2014, it resumed with a vengeance at the end of February 2015. Among those pushing the line that Ukraine must be divided the hardest was Modest Kolerov, a former Putin advisor who now heads the Regnum news agency.
Moscow simultaneously promoted the appearance of articles and programs in foreign news outlets about the possibility of Ukraine's dismemberment and then recycled them in its own outlets in order to suggest that the Russian position was shared by others, thus further pushing the notion that Ukrainians are isolated on this issue and have no other choice.
The list of articles and programs promoting Moscow's line on this subject, the Kyiv expert continues, could be extended at will. But even this brief survey points to three important conclusions about the motives of those behind it. First, Moscow wants Ukrainians to get accustomed to the idea that their country will be divided at some point.
Second, the Russian center wants to spark discussions about it in Ukraine itself. And third – and this is especially important – it wants to promote the notion among Ukrainians that the Russian side must be "included in this process" as "a political arbiter," something that would allow Moscow to draw the lines rather than anyone else.
To counter this, Gusarov says, Kyiv must carefully monitor what Russian media are saying, it must track how Moscow's messages are being received in various parts of the country and by various groups, and it must develop an information strategy to respond and undercut the Kremlin's message whether it is delivered directly or indirectly.
None of these steps will be easy, he suggests, but taking them is critically important to the survival of Ukraine.
Tags: information resistance, Information war, International, Russia, Russian disinformation, Russian propaganda