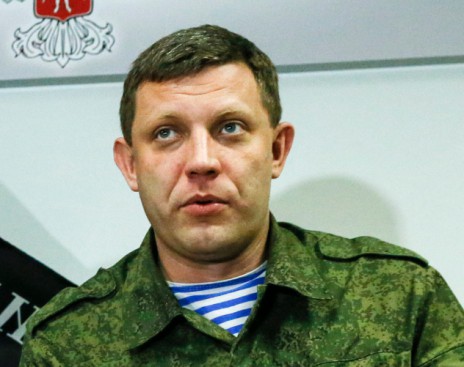 Alexander Zakharchenko, the "Prime Minister" of Donetsk republic, has made several important announcements effectively rejecting key points of the agreements negotiated in Minsk and signed by terrorist representatives on Wednesday, February 12.
According to Russian state agency Ria Novosti, Zakharchenko stated that DPR forces would not cease fire in its "internal regions", apparently meaning the town of Debaltseve and its surrounding area, where the advance has continued in the days before the announced ceasefire (to come into effect on midnight, February 15). He alleged that Debaltseve was not mentioned in the Minsk agreements and accuses the Ukrainian government of leaving thousands of soldiers inside what Russian media calls an encirclement to their fates.
Furthermore, Zakharchenko refused to let Ukrainian border guards enter the occupied territories, in violation of the agreements' provision to restore Ukraine's control over the border with Russia. This point of the agreements is perhaps the most essential, as Russian equipment, supplies and troops have been flowing through the border for many months now.
Finally, Zakharchenko said local elections in Eastern Ukraine will be held according to "local law", yet to be adopted. The Minsk agreement provides for elections of local deputies under Ukrainian law, in order to elect legitimate representatives of Eastern Ukraine for the "national dialog" Russia keeps insisting on. However, Zakharchenko promised no Ukrainian parties "taking part in the war against us" would be allowed to take part in the elections, which could look like the sham elections held in the occupied territories on November 2, which "legitimized" the Russian proxies' hold to power.
A continued push to capture Debaltseve, uninterrupted flow of Russian "aid" to the terrorists and another bogus election would effectively render the Minsk agreements pointless. It is unclear if Zakharchenko's attempts to undermine the Minsk agreements is his own initiative or another proxy move by Russian authorities in another attempt to win more concessions from Ukraine and the West, but with the ceasefire only hours away, it certainly undermines the enormous diplomatic effort toward a peaceful resolution of the conflict we've seen through the past week.
Update: Zakharchenko also claimed the whole of Donetsk region to be DPR territory (despite controlling less than half of it) and issued a thinly veiled threat of taking it back militarily if the "demands of de facto independence" aren't met. This is evidenced by a video of his press conference uploaded on Youtube by the "DPR Ministry of Information".