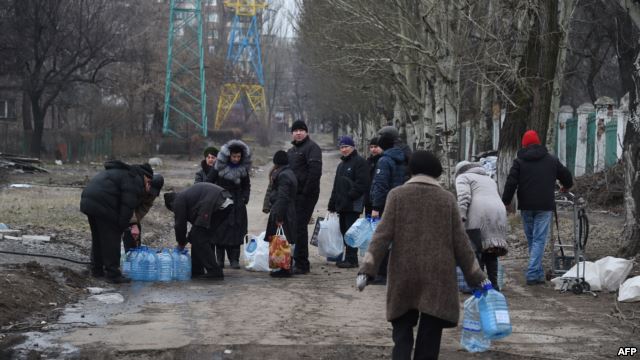 Most people in Makiyivka have turned into a solid biomass of zombies. They can no longer analyze obvious evidence and do not want to remain citizens of Ukraine, but continue to demand funding from the state treasury, something that is totally unpatriotic and irrational, to put it mildly.
In the spring of 2014, we witnessed the first terrorist attempts to seize power, occupy office buildings and we saw the first victims. But, locals pulled down the blinds, "switched off their brain" and continued believing in magical slogans of independence and wealth. For many, the pseudo-referendum was just an attempt to protest against the Ukrainian government. Not realizing what really lay behind the mythical name "DNR", people enthusiastically put a tick on their bulletins.
Today, people are starting to realize the bitter consequences. The financial and transport blockade of our region has had a direct negative impact on all remaining residents – the same biomass of zombies that is gradually sobering up. The euphoria of living in the "DNR" fairyland has suddenly changed into daily lack of money, depression, hunger and endless tragic reports from the war zone with lists of dead and wounded…
I have worked in the medical field for several decades. Today, I see total chaos, which will inevitably lead to tragic consequences. It's clear that we won't get our salaries, just some kind of so-called assistance from the "republic". We adapt to the new realities of life and save every penny; if we get a thousand hryvnias, we "stretch it out" for as long as possible and don't even think of buying a single sweet roll. Recently, stores have started refusing payments in pennies. Cash is in short supply. That's why the Internet and city message boards are littered with advertisements offering "help" in withdrawing money through a credit card….at a certain percentage. Some stores, such as the Brusnichka supermarket chain accept bank cards, but you have to queue two to three hours before the store opens.
Hospital funding has been reduced to zero. We have virtually no medicines or basic medical supplies. The stocks of medicines are gradually drying up in the pharmacies, and most have closed. For example, it's almost impossible to find hypertension medications. Previously, many people travelled to territories controlled by the Ukrainian authorities and bought up everything they needed, from drugs to household products. Now, everything has collapsed. People are desperate and depressed, slowly sinking into poverty and inevitable and premature cardiovascular diseases.
Food prices have skyrocketed. There's no money, but the numbers on the price tags grow by leaps and bounds. For example, in the last three days, the price for rice and buckwheat has risen by five hryvnias (before, one kilogram cost 16 hryvnias, now it's over 21), peas, millet and barley cost between nine and ten hryvnias. Some stores have run out of sugar and buckwheat.
Every day, we see "soldiers" driving their stolen jeeps along our city streets. There are fewer and fewer people on the streets as it's too scary to go out. Most of the wealthier residents left the city long ago, while those who stayed hide in fear and despair in still intact buildings. The people really don't care who's fighting against whom; they just want peace and stability.
Our information space – TV, radio and newspapers – is filled with non-stop pro-Russian propaganda. There are no more newspapers in Donetsk, just "DNR" flyers. However, Makiyivka still has two municipal newspapers. They've been around for a long time, but are currently mouthpieces for the "DNR". They have a very small audience and are totally controlled by the "DNR". Readers can discover that there are no food shortages in the city, that the city is under constant shelling by the Ukrainian army, how Ukrainians are "hiding and running away" from mobilization, and about Russia's "generous" humanitarian aid to the local population. In short, these newspapers create an illusory life of self-sufficiency and harmony in the "DNR" kingdom, which is actually very far from reality.
I look forward to the day when I can go out with my Ukrainian flag again and speak my native Ukrainian. I think it's so important not to hate each other at this time, to preserve and love your family and your homeland. Under no circumstances can we betray our Motherland, because our Motherland is not and cannot be defined by those who are now in control. No matter how bad it is in our native country, we need to work and try to change the world for the better!
Natalia Pershyna, medical professional, Makiyivka
Tags: DNR ("Donetsk People's Republic"), Donbas war (2014-present), Makiyivka, Terrorists