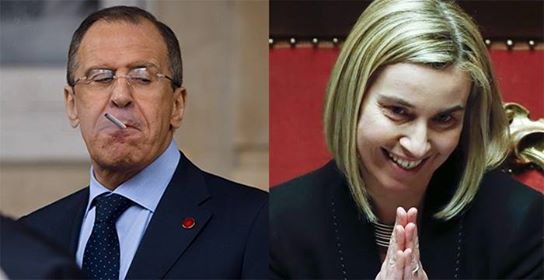 Russian military aggression, terrorist attacks, intimidation, and warmongering, being covert before, are now coming to the new, top official levels.
Russian foreign affairs minister Lavrov, in today's phone call with Federica Mogherini, High Representative of the European Union for Foreign Affairs and Security Policy, openly admitted that Russia was blackmailing Ukraine with use of military aggression and war crimes against civilians.
In essence, Lavrov said that Russians might have not bombed Volnovakha, Donetsk, and Mariupol, if Ukrainian authorities had listened to Putin and did what he wanted.
In particular, as stated on the Russian MFA website, Lavrov said to Mogherini:
"It was underlined, that if Ukrainian authorities had accepted the proposal of President Putin of 15 January 2015 – to immediately withdraw heavy weapons from the line, fixed in the Minsk Memorandum of 19 September 2014, then the tragedies of Volnovakha, Donetsk, and Mariupol might not have happened".
Tags: Donbas, Lavrov, Mariupol, Mogherini, Politics, Ukraine