Some ten years ago after the Rose Revolution Georgia used to have corrupt police, courts and prosecutors. Trust in the law enforcement bodies was as low as 4 percent. The money wasn't there. Eka Zguladze, a fragile girl only 26 years old, managed to change it all. With absolutely no experience in law enforcement she was appointed the Georgian Deputy Minister for Internal Affairs. Presently trust of population in police is measured at 84%
Here is a step-by-step story of how the reform became possible.
1. Don't be afraid to take first-timers. We created the image of the new state.  To tell the truth, new policemen were far from actually being policemen.  We had only one week to train them. Traffic police had integrity: they never took bribes and were extremely helpful, because they had no ambitions typical for experienced policemen. This contributed a lot to reforming the rest of the police. Then we reformed special forces and the intelligence service and so on…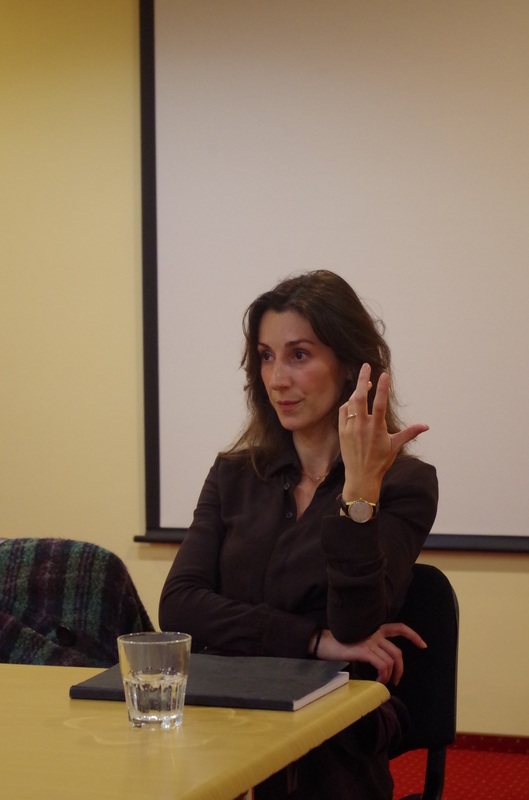 2. We hired software specialists at random, "off the street" so to say: two 16-year old hackers and a guy from a bank next door – those who agreed to work for the salary we were able to offer. We gave them all material and technical facilities and allowed them to take their time and do whatever they want. On this basis they staffed the rest of the department. And in a couple of years we were granted several awards for being the most progressive Ministry in Europe.
3. Every policeman should have his/her own ipad. Our Ministry, which was 90 thousand people at that time, used to have 8 computers. Three years later a personal computer was available for every two people, plus, for every policeman, an ipad with digital databases, internet access and case management programs developed by the policemen themselves. One policeman had an idea that he really wanted to have an ipad. And my idea was that we could order those from local producers, which is good for the economy. Plus if every policeman has an ipad, whereas 3G access is available anywhere in Georgia, I could give them access to databases and really improve their working capacity.
4. Policemen need to be paid well. There is no way to give the system a new start with the salary of 30 US dollars. We raised the salaries to 300 [US dollars]. It was not that much, but it was enough to live on back then. If a policeman cannot live on his/her salary there is no way he/she can keep their integrity. However, to provide that level of salaries at once, no country in the world would have that kind of financial resources. Although it is possible to do this in stages, sector by sector or by regions or departments.
5. Extraordinary situations require extraordinary solutions. We acted very strictly towards pawnbrokers and liquidated illegal sales market. By liquidating the market you liquidate the business. After all how many mobile phones can one steal for their personal use? We had 2-3 thefts of mobile phones per year. It's not so important after all, but this way you can change behaviour patterns of people, you make people law-abiding.
6. Make use of international experience. We sat down and created a unique document on the basis of several laws: the American RikoLaw, the Italian law, the Law of New Zealand for combating organized crime and the British Law for combating terrorism. We ended up with a very interesting draft. We decided to deprive the mafia bosses, the so called "thieves in law", of money and stooges. We managed to apprehend members of criminal groups on the charge of being "members of criminal groups". We managed to confiscate illegal property. However, we immediately faced another problem: we wanted to sell that property through auctions, because we needed the money for the budget, but no one would buy anything. We realized people were scared. So we opened police departments in the houses that belonged to the "thieves in law". People were then eager to work with the police.
7. The police have to be one with the people. We put the policemen behind glass walls. This way we were sending a subconscious message that a policeman in Georgia can sit with his/her unprotected back against the glass – there is nothing to be afraid of. We built a park with benches by the police department. Not even a dog came by it for several months. People stayed away from the departments. Then an old woman would come by, some teenagers, and gradually it became an ordinary park.
8. Liquidate the corruption – this will liquidate crime. Our understanding of corruption was, e.g. that rode patrol would take bribes. However, when I pay the faculty dean to have my son graduate with honours, or if I must have the driver's license issued immediately – that was no corruption. We used to have double standards. So we worked in the two directions: (1) repressive measures: to detect and arrest; and (2) the basic message: "Corruption is evil." Over time we became a truly safe country in terms of crime. When I only began, there used to be 25 car thefts daily in Tbilisi. Five years later – 5 car thefts per day in the whole country. We got the state borders under our control. Through fighting against corruption we liquidated a whole series of other crimes in Georgia.
9. A lot can be accomplished without money: drafting legal framework and reforming the structure and the system.
10. Reforms bring in money. In our specific case we needed money for the new uniform, new cars and the petrol. We managed to convince several funds and Georgia's private sector to establish a fund to support the police reform. This fund financed the first uniforms, cars and the salaries of the traffic police for the first six months. Within four years the ideal Georgia's budget, which existed only on papers and was not shown to anyone, became 20 times as big, although the economy increased twofold. Shadow economy was liquidated together with systematic corruption and we ended with almost 100% tax revenues collection. We gave up private and old police cars and picked a leasing contract for the purchase of new cars. This was a huge cost-cutting solution. We operated on a shoestring budget. This resulted in 60% saving per year, because new cars are much cheaper to maintain and consume less petrol.
11. "Police is a rare example of a body composed of young guys with no higher education." And this is the case all over the world: their average IQ is lower than yours. You have got to give some incentive, a bonus, because this encourages them to develop. In a couple of years the majority of policemen were well-trained, they started to learn languages: English, French and German. On their own initiative. They now have prospects for advancement. This motivation always works.
12. Young people should not be afraid to take up positions. There are some phenomenal activists in the Arab countries 16-18 years old. They refused to join the government. Refused to take responsibility. In every Arab country that was a part of the Arab spring people lost what they shed their blood for. There are a lot of young people in Georgia who had nothing to do with the politics. But when we were offered to join, we accepted that challenge.
13. Cooperation between the police and the prosecutor's office. When we were carrying out a comprehensive police reform, we also reformed the prosecutor's office and the judiciary at the same time. Prior to taking any new decision on the reform, I used to call the prosecutor's office and ask whether they completed their part of the job. Gaining results within a short period of time is possible only by means of a comprehensive reform. Changing just the police would bring no result.
14. Reducing the staff. I reduced the staff of law enforcement bodies from 90 thousand down to 30 thousand. Only the traffic police were subject to abrupt dismissal. We arrested only those against whom there were specific charges – several hundred within two years. The rest were dismissed through plan of redundancy. We could not have dismissed investigators in the same way we dismissed the traffic police. That's why we left them for after the first victory over crime. Our message to them was: "The rules of the game have changed: you will stay, but only if you play by our rules". A part of them left immediately, some of them who were unable to work like this left within the next two years. There were lots of duplicate functions in the system, which we gave up in favor of other ministries. For example, we decided that a body as corrupt as the police may not be in charge of issuing passports. We gave up this function to the Ministry of Justice.
15. Reforms of the police academy. We had an agreement with the prosecutor's office, since they have a good competitive certification system, that those applicants who failed to pass their tests with 1 or 2 points short, I will employ them. We had an intensive criminalistics course in almost all areas. Those courses were not super police-specific. But the policemen obtained theoretical basis of a better quality than that of some experienced workers. 2006 was a great year in terms of fighting crime: it decreased by 60%, violence decreased by 80% or even more for some areas.
Tags: Police, Politics, reforms in Ukraine, Zguladze