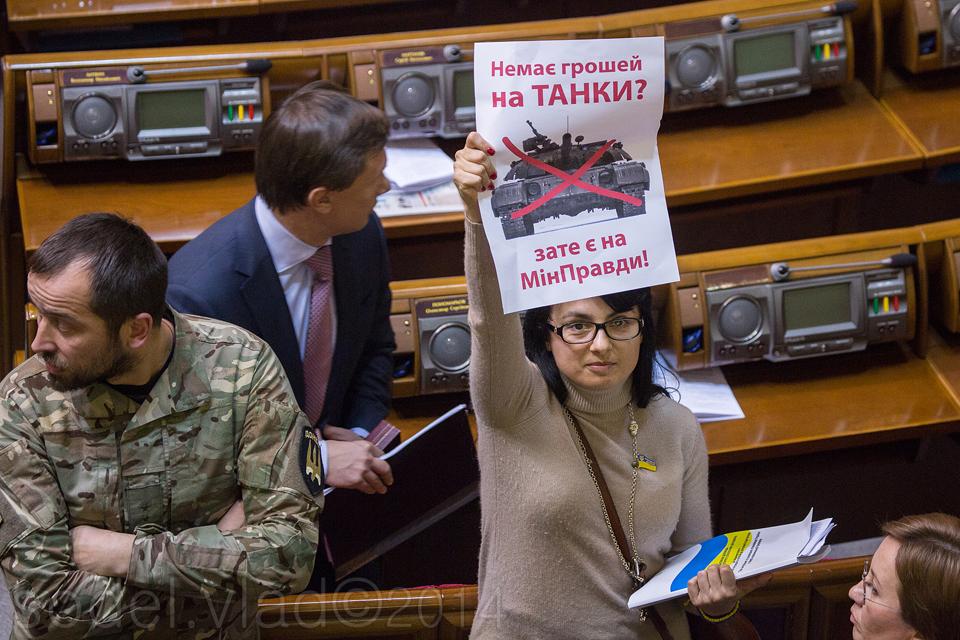 The Ministry for Information Policies plans to develop national standards for TV production, register media outlets and approve professional standards in the media sphere.
This is said in the project of the law on the Ministry for Information Policies, which was handed out at the roundtable involving the Minister, MP's and journalists.
Ukrainska Pravda collected the most resonant points from the order on the so-called 'Ministry of Truth.'
According to the project, the Ministry for Information Policies "conducts normative-legislative regulation in the spheres of information sharing, educational activities, state information patronage in the educational sphere and state government, mass communications means, formation and usage of national information resources, creation of conditions for the development of society, as well as in the sphere of state control over mass communication."
The Ministry "develops and approves by means of an established procedure the national standards for television production, state standards for social advertising and controls the observation of these standards."
The so far inexistent Ministry is offered to conduct "by means of a procedure determined by the Cabinet of Ministers, state registration of print media and information agencies."
The Ministry will be in charge of the State Registry of Mass Media.
The Ministry will organize "the study of influence of media on the mass consciousness of society."
Develop, carry out and oversee coordination of measures to prevent damage to Ukrainian citizens by means of incomplete, untimely and non-reliable information, using manipulating information technologies which influence the consciousness of the people.
The ministry will develop and approve standards for professions in the spheres of media and information, conduct background checks on people who want to occupy posts which have to do with the functions of the state or local governments.
The Ministry will conduct normative-legislative and educational basis for the functioning of media, monitor information in media, report to the Prime Minister and the President in regard to information projects.
The Ministry "appoints by means of an established procedure the directors, deputy directors, editors-in-chief of state media outlets."
Tags: Information war, Ministry for Information Policies, Politics, Russian propaganda, Tweet