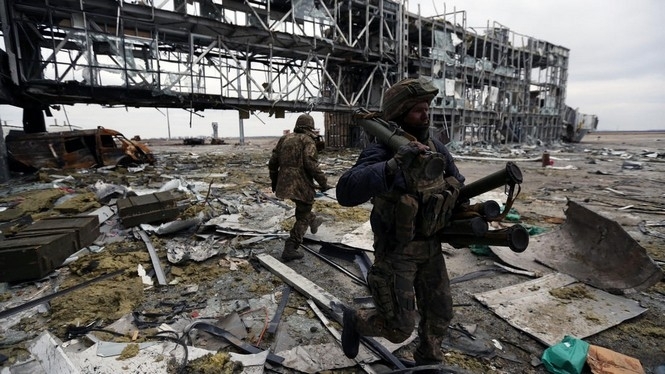 On October 28, the independent Russian radio station Ekho Moskvy aired an interview with Sergey Loiko, correspondent of Los Angeles Times,  and Timur Olevskii, journalist of Ekho Moskvy and TV Rain.  These professionals described what they experienced in Ukraine's Donbas region while it was being invaded by the regular Russian Army, including time spent at the Donetsk airport that was being held by Ukrainian volunteer soldiers (dubbed "cyborgs" by the Kremlin-backed militant enemies). The interview was censored by Russia's Roskomnadzor and the text version was taken offline. Meanwhile, IPress has republished the interview. We give an English translation of it.
With your own Eyes. The battle for Donetsk Airport
Guests:
Sergey Loiko – correspondent of Los Angeles Times.
Timur Olevskii – journalist of Ekho Moskvy and TV Rain.
Hosts:
Sofiko Shevardnadze, Alexander Plushev.
Interview:
A. Plushev
– Once again you're on the air with Alexander Plushev on the program "With your own eyesю" Today we have Sergey Loiko, a correspondent of "Los Angeles Times,"good evening to you! And our colleague from Ekho Moskvy and Rain TV station Timur Olevskii. Hi!
T. Olevskii
-Good evening! I'll be like Sergey, I'll just nod and won't say anything.
A. Plushev
– Yes. Today we'll be talking about the battle for Donetsk Airport. As far as I understand it, you were there and had just come back, yes?
T. Olevskii
– We should probably explain who was where. Sergey, you descended the furthest into that hell.
S. Loiko
– Yes, I managed to be driven all the way from Kyiv to Donetsk Airport and spent 4 days in that…
A. Plushev
– So you drove from the Ukrainian side by car?
T. Olevskii
– Well, you can't drive into it from the other side without getting killed. The battles for the airport are occuring there, the DNR militants are trying to take it by storm from the direction of Donetsk, and they're not getting in there. When I first found out – and Sergey saw it with his own eyes- I was just really close to it, but not actually in it, but when I found out that one building is occupied by soldiers from both sides I didn't actually believe it. They can yell at each other, or throw grenades at each other.
S. Loiko
– Yes, there was an episode when one commander of these paratroopers with the code name "Rahman" was shooting almost point blank at – what they call – a "Separ," [separatist] that was standing right in the open on the airfield. And like in a computer game, he's shooting point blank from his Stechkin, spends the entire clip, sees how the other guy's breath is still steaming out into the street. And that guy is shooting back, then running away and hides into that clear sleeve that leads to the third floor. And "Raxman" is just standing
there dumbstruck: "How! How did I not hit him!", and yells out: "Separ! Separ! Come back!" But that guy was long gone.
T. Olevskii
– This was in the building of the second terminal. The first and second floors are occupied by Ukrainian military, and the third floor is occupied by  separatists.
S. Loiko
– It's three-dimensional…
T. Olevskii
– It's all one building.
S. Loiko
– They're surrounded in a three dimensional way. Actually there are two buildings: old terminal and new terminal. As for the journey to the airport, the most difficult part is getting in and getting out. This doesn't only apply to me, but also the Ukrainian troops that make that journey regularly to resupply the defenders, – they're there for 5 months already…
T. Olevskii
– And that's the part that needs to be understood.
S. Loiko
– …With water, weapons, to take away the wounded, to bring new guys in order to do a rotation, because the conditions there are not ones for human beings, the conditions are simply… I don't know, it was probably easier for capitan Scott to get to the North Pole then to be living in that airport.
A. Plushev
– I want to bring the attention of our net watchers to the screens in our studio. There we have the photographs taken and brought back from by Sergey Loiko. But maybe we shouldn't because this quality is so bad. I actually feel bad about how it looks.
A. Plushev
-I'm sorry.
S. Loiko
– OK.
A. Plushev
– Not me to be honest…
S. Loiko
– It's ok, forget about it.
A. Plushev
– Our guys try to fix these while we're on air…
T. Olevskii
– They're just slightly dark.
A. Plushev
– Yeah, if the brightness gets adjusted it would be great. And give more light to the screens probably. There they are, the photographs taken there. The way there…
S. Loiko
– I mentioned entrance and exit… Remember that saying: "A ruble for entrance – but the exit for three", well in this case it's: a life for the entrance, and a life for the exit. Basically when you're going there… you might make it, and you might not make it. And only inside the armored personnel vehicle. The drive is over completely open terrain from every direction – you're visible to everyone – the drive is about ten minutes. There are several regions where you're driving and something is constantly hitting the armor and something close by is exploding. So if you get lucky – you get through. If you don't get lucky – 12.7 caliber armor piercing bullet from machine gun "Utes" pierces the APC, kills everyone in there. And the airfield there, it's simply… There are no airplanes there, just one training one somewhere far away, but it's all littered with burned out tanks and APCs, that drove here and there and could not get in or out in time.
And when the APCs, the column: 1-2 or 2, or 4 depending on what is getting delivered, is arriving at the terminal, or rather what's left of it – that's the hardest part, because everyone gets out and starts unloading and shooting starts from all directions in order to suppress fire from the separatist perimeter, and a portion of the people are unloading the APCs. The unloading happens like this: everything gets tossed onto the airfield. Then the wounded get dragged inside the APCs, the live ones get in and if the APCSs are not on fire yet, they drive away. And only after darkness comes do the people get out from the new terminal to drag the supplies inside. The old terminal is not approachable at all because while the new terminal is getting shot at from two sides, the old one gets shot from all four sides, the separatists are much closer to the old terminal. Recently there was a giant battle there, the top floor of the old terminal caught on fire and a lot of men lost their lives or were injured there. But the separatists didn't make it there. But the new terminal – it's surrounded in three dimensions. Not only is the perimeter hiding the separatists, but they're also in the basement that has different branches and entrances and goes into the airport, but also on the third floor. And the first
two floors are occupied…
A. Plushev
– But the third floor… how can they…
S. Loiko
– Somehow they are getting there from the basement, and both sides are always setting booby traps on all manner of entrances and exists, but trapping them in such a way that no one remember anymore where the traps are. But the separatists are like some kinds of ghosts, there they go around, there they jump out. Recently one separatist – when I was there – jumped out on the balcony of the second floor and from that balcony shot his grenade launcher "Muha" into the command room of the paratroopers. The grenade blew up
right in from on the entrance. Everyone fell down, everyone got blasted with debris. If the grenade had blown up inside everyone would have gotten killed there, but instead everyone just got concussed, including me. And at that moment, a paratrooper by the name of Batman – he looks like Batman – threw a grenade at the balcony, but it exploded before reaching the balcony – again everyone fell down. Actually everything that happens there, beginning from the way it looks, the way the airport looks – it's like some kind of epic… I get the feeling like it's some kind of a film set, because it just can't be real life! Like Spielberg is about to come out and say "Cut!". Because of how ruined the ruins are, how ruined the airfield all around, how blown up everything is. It's lik Palace of Congress, except without the congress and without the grass and with bent, twisted and burned frames. There isn't a square meter in there that didn't have tens of bullet holes.
The bullet holes are everywhere: the ceiling is full of them, the walls are full of them. Inside it's always dark: half dark during the day, in the evening the dark is absolute. If during the day people turn on some kind of flashlights, generators, charge up something… batteries, then during the night absolutely everything gets turned off: no flashlight, no cigarettes even – sniper fires on the third draft. And when they load their guns, they're really careful not to load tracer bullets. They don't fire tracer bullets. They have a joke: "We only shoot tracer blanks." And the other thing about the conditions, it's really cold, there is no nice spot for the bourgeoisie there, the cold drafts are everywhere. The only thing they can allow themselves is hot tea made on electric stoves. And the pots are all black-black. Everything is in absolute darkness, or absolute twilight. The bathroom is everywhere where you'll get lucky and won't be killed. No one goes anywhere for No 2 anymore and the smell doesn't exist because people are not eating. They're getting fed by their own adrenaline.
Everyone's eyes are enlarged… When I took the photographs later… – well I'm older now, don't see very well – looked at those photos later on the computer – I was amazed, at how people's eyes looked. You can't shoot a bad picture in such a situation, you can't take a picture of the setup by accident. It's always action there, people's eyes are always ready and real, you always have the internal feeling of heroism there. And of course it's such an epic creation, such an epic occasion, it's like some kind of resurrected Tolkien, and I've never liked him, some kind of Lord of the Rings, because in that book there's no humor, some kind of idiotic fable: some kind of absolute good is battling with absolute evil. And here finally Token had come alive for me. I saw, that really, something really close to absolute good is inside that airport, that can't be defended, that does not need to be defended, is battling with absolute evil, with these orks, that surround it from all sides and pound it with "Grads", mortars etc.
A. Plushev
– We'll come back to good and evil. I wanted to ask Timur Olevskii, you said you were close by?
T. Olevskii
– Close by, yes. Luckily I did not manage to get in there like Sergey did.
S. Loiko
– You should have gotten in front of the APC and waived your hand.
T. Olevskii
– I even tried to act like I was a sandbag – I'll tell this story in a sec. In order to get into the airport you need to go through several levels of permissions, at least as a Russian journalist and arrive at village Pisky, where the Ukrainian mechanized brigades are: artillery and paratroopers, and that's where the APCs, "Doves" as they call them, that go to that airport. As far as I remember about the numbers…
S. Loiko
– Don't start telling secrets now…
T. Olevskii
– Well, they all the time basically. It's not a secret because it's on open frequency there, everyone understands it. This is how it works: Every delivery is a battle. Sergey saw it in person, I saw it from the side of the preparation of the APC send off. It's a battle. Every delivery is prepared for by the artillery, from both sides of the conflict. 79th brigade is there – artillery officers, mortar operators, that…
S. Loiko
– 79th brigade is a paratrooper one.
T. Olevskii
– The portion of the brigade that I was with were mortar operators and artillery officers. I was living with the artillery officers. "Right Sector" was there as well; they were doing their own thing. Some of them are even at the airport – not a large number as far as I understand it, but I saw the fighters of Right Sector that do cleaning in Pisky, which means they're always trying to catch the enemy artillery spotters. When I first heard about them trying to catch guys like that – I've been on both sides of the conflict – I was always thinking that they just catch the guys they don't like. But here for the first time I saw what an artillery spotter looks like. Like in a ruined building on the opposite side of Ukrainian artillery positions, where no one is living, at night one suddenly sees dim light of a flashlight, blue colored one. Recon rushes there and finds positions that were left a couple of minutes before they busted in there. When such a successful spotter appears, the shells soon start falling on the artillery positions. You can only hide from them in an APC basically. But the people that serve there had long ceased to hide from them and remain near their mortars. They sit in the hangar, and come out to their positions with a very solid view on the shellings, thinking as such:
"If a Grad hits the roof – nothing will happen, but if an SAU hits, then of course we'll all be killed." Nothing else happens. And this place, that you can see the airway from, there's a tower where Ukrainian soldiers are also at. On the tower there are two…
S. Loiko
– Well, there are 3 places: old terminal, the new one, and the tower is controlled by Ukrainian forces.
T. Olevskii
– And the tower, yes. That place is the most open to fire in my opinion.
S. Loiko
– It's the most hellish of all hells.
T. Olevskii
– Yes, it's the most hellish of all hells. One should be there. And people, I don't know for how long, stay there. But I saw for myself how a man, a sniper that was on that tower, begged to be rotated because he had a wedding in two days. And his commander was asking him to remain there for a bit longer, to talk to the new guy and tell him what's what. It's a conversation that's very hard to recreate, but it's a conversation between a man begging to be brought out three hours earlier than needed, because he wants to live, and a man who's asking him to stay in that place for another 3 hours, a place where he might be killed during those 3 hours.
And they're talking, and the commander manages to convince him to stay for 3 more hours in a place where he might be killed in 10 minutes. And he was there for a long time already and is counting every minute for the arrival for the rescuing APCs.
A. Plushev
– Our listeners, a couple people are asking the same question: "What's the point of holding on to this airport for so long? What does either side need it for?"
S. Loiko
– This reminds of my favorite movie, a movie for all times and all nations, the most epic film of the spaghetti western that I saw in my life, a film by Sergio Leone "The Good, the Bad and the Ugly." There the bandits are looking for a bag of gold while the American Civil War is going on. There's a moment in the movies when two bandits Clint Eastwood and Eli Wallach approach a river that they can't ford, but then they're stopped as the bridge over the river is being battled over: on one side the Northerners, on the other the Southerners. The Southerners want to capture it and the Northerners are defending it. So these two bandits are sitting there under fire, and don't know what to do. So at night the blow up the bridge and then sleep on it. In the morning they wake up and – there's no bridge, the first army is gone, and so is the second.
T. Olevskii
– That's about right, yes.
S. Loiko
– So yeah, it's the same thing here. If the airfield is blown up and everything that remains of the airport.. and I'm surprised it's still standing, its whole structure consists 95% of holes. There are a lot of motivations there. Some colonel might tell you that it's a strategic rise, that if we leave, then the way to Pisky will be open, and they'll go here or there… For most of the soldiers
there, it's a symbolic thing, it's like a Ukrainian Stalingrad. So it means, "not a step back, we won't give away a bit of earth from it."
T. Olevskii
– The surprising thing about it is that there should be people who would want to get out of there. But I didn't see a single person like that there.
S. Loiko
– I'll explain. Everyone who was there with me those four days, were all volunteers. Not in the sense that they volunteer for the army – that's only the Right Sector that volunteered – they're a grain when you consider everyone there. People at the airport consisted of Recon, Spetsnaz, Paratroopers, Artillery men – everyone. And every single one of them – and they were of all ages: from 45 to 18 – every one of them was a volunteer, so when they were asked: "Who wants to go to the airport?" Everyone stepped forward and came here. On top of that, when I was in Pisky, and I spend quite a long time there over several different periods, where there's a very large concentration of Ukrainian troops, each soldier dreams about going to the airport. For a real Ukrainian soldier, for a patriot of Ukraine, it's like that most secret room in "Roadside Picnic" of Strugatski brothers, or the most secret room from "Stalker" by Tarkovskiy, where if they get there, they'll find out, what he, the Ukrainian man exists for. And this disproportion… Basically, this whole war isn't worth a rotten egg. There were no reasons to start it. The sharp points and dull points of "Gulliver" by Swift had more reasons to kill each other then here. It's an invented war. And here, in this new Stalingrad-like battle, there is no point either, neither side really needs these remains of the destroyed airport.
T. Olevskii
– Right now the politics are the real reason…
A. Plushev
– One second, I'll let you say it. But I want to ask you both one thing: Is the airport in such a state that it can no longer be used by military aviation?
T. Olevskii
– The airfield isn't blown up.
S. Loiko
– Russian air transports could in principle land on the airfield.
T. Olevskii
– It could also land on pebble fields.
S. Loiko
– This was one of the best airfields in Europe, the longest. Even "Jumbo Jets" could land there, those giant transport airplanes. In principle, yes, Ukrainians haven't blown it up, yet.
T. Olevskii
– It should be understood that the airport – is a part of Donetsk, it's a region of Donetsk. For now the airport is Ukrainian. So Donetsk is not fully under the control of DNR, and when the question of marking new borders becomes an issue, the fact that Donetsk is not under the full control of DPR will mean that it will need to be divided. I think there might be some kind of political story there. Maybe the Governor Sergey Taruta before his removal from office said the truth about the existence of the plan to exchange the Donetsk airport for some of the area around Mariupol that occupied by the militants or maybe some other area. Maybe it's needed for that, but once again we're talking from the point of view of the soldiers. I lived three days with the soldiers, the military, and they don't think about such an exchange but are discussing it. I saw men, that were 45 years old, that went to the army because of their own agendas, these are men with the most higher levels of education, that are very well off, many of which did not tell their relatives where they are at, and as such asked me not to take their pictures. They're telling their elderly mothers that they're under Nikolayev. And they've all volunteered to be there, they asked to be there: "Send us to Pisky." They talk in Russian – this is very important. Several of them say that they have never used any other language than Russian in their whole life and never studied Ukrainian. And despite that one of them even told me that he hates Russian. So I say: how is this possible?
A. Plushev
– A portion of them are ethnic Russians.
T. Olevskii
– Absolutely. They're not only Russian, they're also not integrated in the Ukrainian speaking culture. They're defending their homeland; for them it's a moment of principles. Overall it's a collection of people that feel that they need to go until the border and free Ukraine from what's going on in DPR. And of course they're all saying that they're fighting a war with Russia, every single man there. And what's surprising… I don't know, I don't want to draw populist parallels, but for me it really seemed like I saw what happens when you take good, kind people and bring them to a point where they won't take it any more. And this is regarding the regular army that for example is in that artillery brigade. They look like I saw them. And the fact that they listen to Rozenbaum and Afghan songs and watch "Brother-2" and are fighting against people on the other side that I think…
A. Plushev
– Are doing the same things.
T. Olevskii
– I think so. Well, a portion of them are doing the same thing. That really makes an impression on me. I saw people that are at war almost never use slang.
S. Loiko
– I want to add that inside the airport the operational language is Russian. Everyone talks in Russian on the radio. There is no Ukrainian language there. And I was shocked that, really, in critical situations and emergency situations, under shelling, I never heard any cursing while people were talking. It was all clear, cultured, practically literature-like Russian language, because most  of the people there were cultured, educated people. It wasn't some kind of trash, it wasn't some faceless soldiers dragged out of some villages brought here to be cannon fodder. Another thing that surprised me, almost half of the people there were officers. I didn't see any of that usual Soviet, or Russian officer arrogance/rudeness. It was brotherhood. The private and the officer would drink from the same cup, defended each other, lent a shoulder and talked in familiar tones. Only in the cases of really young to really old would a more formal greeting be used. I saw when Major Valerii Rud – he's almost 40, was a soldier for his whole life – was booby-trapping a passage. And at that moment a battle starts, shelling starts, and a kid from "Right Sector" in a horrible position is shooting at something with a machine gun. And this Valerii runs through the area being fired at and says: "Kid, this is my war. Move aside!", he pulls him away and at that moment something blows up close by. If he didn't pull him away the young man would have been killed. And this Valerii puts down the machine gun the way it's supposed to be, and begins fighting like a real soldier, and he keeps on fighting until the battle is over and then return to his things. He only saved the life of this unknown volunteer private. And the most amazing moment for me was when they sent the tank guy home. There was a tank, it burned down…
A. Plushev
– We have half a minute.
S. Loiko
– Ok, I'll tell it after.
A. Plushev
– Let's. I'm reminding everyone that we have here Sergey Loiko, correspondent of "Los Angeles Times," Timur Olevskii, journalist of the Russian radiostation "Moscow's Echo" and Russian TV station "Rain." We'll come back in five minutes after news and commercials.
A. Plushev
– Sergey Loiko, correspondent of "Los Angeles Times" and Timur Olevskii from TV Rain and Ekho Mosvky that came back from the region of Donetsk airport. We had paused for news and commercials in the middle of Sergey's story.
S. Loiko
– I told this story in today's "Los Angeles Times", that story had the main photograph on the first page. I'm showing off, it's the third time in a row that my story and photograph made it to the first page. So today it came out, and there was a episode: the return of "Tank Man" home. So there was a tank – it burned down. The crew of three people jumped out while burning. The sniper didn't let any of them escape, killed all three. Two bodies were recovered. But then a mortar shelling occurred and the third's body got blown up and no one could find it. Only after a couple of days the guys found a large piece of his hip. And a conversation began:
"We need to send the Tank guy home." But how? Someone needs to come out on the airfield and get hit by bullets in every part of his body in order to get a piece of a dead man home. So when the commander said: "Guys, this is really a deadly task. Who will go?"
Everyone raised their hands. Two guys got up immediately. Sniper Slavik and Private Misha. When the transport arrived, it was fired upon, they  ran out on the airfield, put down their gun and SVD, sniper rifle; found a box of used ammunition, found that leg, under fire. This was while I was there, I was taking pictures. So we three are standing, they're putting that leg into the box and then a bullet goes through the box – chips are flying, everything is ringing. They close the box and attach it to the APCs, then they run back, pick up their guns and continue the battle. Those guys were risking their necks for 30 seconds, really risking their necks for a fallen comrade.
T. Olevskii
– They had almost 100% chance of getting killed.
S. Loiko
– Slavik later told me: "I don't want to not come back home like that, so that dogs would eat my remains." These guys are absolute heroes. I hate romanticizing war, but I'm always remembering in relation with this mini-Stalingrad the poems of my favorite poet Semen Gudzenko, Pavla Kogana, that lived in the same building as me, but at a different time:
We'll lie down, where we'll lie down,
And we won't get up, from where we'll lie down.
And, choking on "Internationalism,"
Fall face first into dried-out grass.
And to not get up, and not appear in the annals.
And even our close ones won't be able to find the glory in it.
A. Plushev
– I think this is just emotional pressure that is coming from you Sergey, that's affecting our equipment, sorry. We had to move to a new studio.
S. Loiko
– I brought the battle between "Beaver and the Donkey" here.
A. Plushev
– Somehow we're managing it. We don't have that much time left, but we have a lot of questions from our radio listeners. They're referring to the subject you mentioned in the very beginning Sergey, about absolute good and absolute evil. Some of them are listening to this from other areas… someone from Chicago for example. A question I'm seeing for example is: "Army that's killing their own people cannot be heroes."
S. Loiko
– They found this out on the television?
A. Plushev
– I don't know, they don't tell me. I'm just forwarding their reaction.
S. Loiko
– Alex, I spent the last half a year at the Ukrainian War. I don't know which army is killing their own people, because the army that's there, that has their own people there, isn't destroying them. And the army that's killing them – that's not the Ukrainian army.
T. Olevskii
– I can tell about Pisky, for example – it's really close to the airport, a couple occupied buildings are left, everyone else went away. Some people don't go away – for different reasons – even when buildings are exploding. And the army is feeding them, and they're feeding the army. They've got really good relations, and there's no mass cleanings of people that could have in theory supported DNR – nothing like that is happening. I saw a different story, that I thought was very important. This story happened on Friday at the airport when Grads of the separatists from one area of Donetsk were firing on the positions of different separatists in Donetsk.
They were shooting at them the entire day, after which…
A. Plushev
-The separatists were shooting at other separatists?
T. Olevskii
– Yes, these were probably different groups, I can't explain it: there were no Ukrainian army units in either of those locations.
A. Plushev
– Was it accidental Friendly Fire?
S. Loiko
– It was Conflict.
T. Olevskii
– It lasted several hours. For about five hours they were shooting at each other, after which they changed the direction of the fire in the direction of Ukrainian Army positions, and that evening they were shooting at the Ukrainian army seriously. What this was I don't know. Who was shooting at whom, I don't know, but obviously at least one of the two regions was in the middle of Donetsk and under fire.
S. Loiko
– The thing is, the Ukrainian troops that have access to artillery and Grads are professional military.
T. Olevskii
– There is nobody else  there.
S. Loiko
– But these DNRs and LNRs – they're like monkeys with grenades that shot down the plane.
T. Olevskii
– There are professionals there, too.
S. Loiko
– Some professionals, but in general it's some kind of a conglomeration of mercenaries that were given a bunch of military equipment and vehicles, they don't even understand how to use it. They're shooting at everything that stands.
T. Olevskii
– I think that everything has changed now, Sergey.  So I won't agree with you. What you describe was the situation a month ago. Now everything has changed since people arrived that Ukrainian troops are sure in calling the Russian army. The quality of battle forces there has changed. The shooting of small less obedient and loyal groups by one strong group is another issue. At least that's how it seems to me. Maybe that's not how it is, but it sure looks like it.
A. Plushev
– One more question about the Ukrainian forces and the Separatists. We have lot of TV showing that from the direction of the airport there is artillery fire on the living areas of Donetsk.
S. Loiko
– Let me jump in. I'll open a military secret: it's not possible to be shooting with artillery from the direction of the airport because there are no weapons there that are more scary than an AK.
T. Olevskii
– There are mines there.
S. Loiko
– There are no mortars there. I remembered one more episode, to add to what we were talking about. I was talking to a guy there. Sergey Galan – he's a student from Cherkasy. He has a father that's a Russian Colonel. And he's a Ukrainian soldier, paratrooper.
Before he went off to the army and before going to the airport, he called his father, or the other way around. And the father, zombified by these shameless, criminal lies of the Russian TV…
T. Olevskii
– That's absolutely right.
S. Loiko
– Said: "But you'll be shooting at your own brothers!" And then the son said: "What kind of brothers are these, dad? Brothers that came with weapons onto my land, into my country – how can they be my brothers?"
T. Olevskii
– Regarding the shelling. I can say what I saw personally. I saw some of the mortars, I won't say how many – I promised not to tell – that were close to the airport, they're 120 mm mortars, but each one of them is set on a specific target that should defend the Ukrainian soldiers in the airport. Each one is tied to that target, and they're very well aimed. No one ever gets the idea to shoot at random.
Each shot has a specific point. Why? Because while everyone there is cursing the ceasefire that's in effect. Ukrainian army – the part that I saw is doing everything they can to obey it. Even when the airport is fired upon with small arms, AKs, sniper rifles and such, then there's an order on the radio: don't answer with artillery fire, this is a provocation and we don't answer to  provocations." The first shot that I heard on Thursday and on Friday was fired at the direction of Separatist positions as an answer to shells that hit Ukrainian positions in Pestovo. When artillery shelling began, there was a shelling in return, but both times it was a couple of mortar shells only. They were aimed at a specific place in the airport. To imagine that somehow they flew all the way to the center of the city… Well, at least at the battery I was at, it's impossible. Maybe there's some kind of other hidden artillery. But that's a different question, as I didn't see it. I want to say that Ukraine answers to artillery in a very limited manner. Because there's a ceasefire, and they, cursing it, are afraid of breaking it.
S. Loiko
– When I was there, I remember when the commander yelled: "Our Grad is about to hit. They'll be close. You guys know, they can miss, so everyone to cover." So when the infantry of the militants were storming the airport they got hit by artillery, but it was so surgically close that it almost destroyed the entire building because everything around was shaking and breaking apart. Guys, if the Ukrainian army, as they keep telling you on your television, wanted to destroy the Ukrainian people, as they're telling you on your television, they would have done it a long time ago. For me this  is the 25th war. 25th trip to war. I was there during destruction of Grozny in 95th, I was there during the destruction of Grozny in 2000. There the military wanted to destroy the people – and they destroyed a city, erased it from the face of the planet, two times. Here, look at Sloviansk. The zombified guys were yelling that Grads "are shelling the city." If you go to Sloviansk  now you won't even understand it had combat operations.  A normal town, everyone is living there, there's electricity. A couple destroyed or semi-destroyed buildings and that's it. And in Donetsk? Yes there are some destroyed buildings here and there, damaged communication cables. But it's not comparable with Grozny. And remember, in Grozny they were carrying out a counter-terrorist operation. So where do we have Stalingrad and where do we have a counter-terrorist operation? And regarding Stalingrad, that war reminded me where one side perfidiously attacked another. And it had its own Brest fortress…
A. Plushev
– You're asked a personal question Sergey: "How can you be a journalist with such loud pathos? I completely sympathize with your position, – Oleg from Moscow writes, – but in such situations I've never gotten the idea to sing such high praises to only one side." I wonder which situations he means.
S. Loiko
– I don't think I'm singing anything, I'm explain what it was like. Right now I'm explaining this not as a journalist, but as a human being, that was there as a witness. I'm explaining what I saw; I sing what I know. You should read my articles if you're interested, then you can judge me.
A. Plushev
– Also the photographs can be seen on Facebook.
S. Loiko
– Yes, there is a giant gallery of photos in Los Angeles Times and a giant gallery in Facebook. And I saw Brest fortress here – it was Savur-Mohyla. Then I saw the encirclement, like it was in 1941. And now we have a mini-Stalingrad here. In Stalingrad the Soviet starved knee broke the back of fascism. And here, with my own eyes I saw, as a mini-Stalingrad is breaking the back of, I don't know if it's fascism or not, but marauderism, orcism, this meaningless, pointless terrorism – that's for sure. I don't have any doubt that these DNR, LNR  are both artificial imaginary semi-fascist organizations, the point of which is not to do something for the Ukrainian people, not to create something for the Ukrainian people, not to give happiness to the Ukrainian people, but to create an endless zone of terror, to turn all of Ukraine into the airport. Who needs this – is not for me to say.
T. Olevskii
– Here's what I'd like to add. I really heard as the Ukrainian military were calling what's going on in Pisky a Great Patriotic War, I heard this several times at several different camp fires, so it's just an idea. I also heard this in Horlivka, from people that are fixing APCs for Bezler.
A. Plushev
– You mean the separatist forces are doing that. Please explain more, not everyone is so well versed in the Ukrainian situation…
T. Olevskii
– Yeah, I was in Ukraine several times. And it should be understood, Horlivka is a different story. It's controlled by a strange officer with his own ideas about good and evil, with his own visions of what he can solve…
S. Loiko
– Bah, he's no officer!
T. Olevskii
– No, no. He's an officer of the Soviet army.
S. Loiko
– Exactly.
T. Olevskii
– Look, he really decides: who lives and who dies. He has some ideas on what's good and what's evil, and he at least has some rules to his game, those rules allow for deals. Right now he's talking to Ukraine about different things, for example heating for Horlivka, baisically he's a guy that in principle Ukraine can talk to. On the other hand we have Donetsk and Luhansk, where the situation is totally different and there I saw groups that at first would rob the people, then would hide behind them from shelling and would keep saying that they're defending the people. But there too, they would say that this is a war against Fascism. So here the question comes up. There they're saying that a war against fascism is happening there. The DNR is saying, that they're fighting against Fascism, against the junta. The Ukrainian army is saying, this is Great Patriotic War and brings up analogies with WW2 where they too battled fascism. But this is a relatively important story, because they now see Russia as that nation, fascist Germany in a different time. They're seeing Russia as the aggressor, and it's very important for us to understand, this is for forever.
The children of their children will be remembering this. This, is the idea: that in the end Ukraine is feeling and with good justification that it's fighting not with DNR, but that it's fighting with Russia. This is the tragic part of this story.
A. Plushev.
– We have a couple of minutes. We already said everything happening inside the separatists: some kind of conflicts that end with firefights between themselves. But you also mentioned that inside Ukraine, between the army and Right Sector the relations are complicated. A couple of minutes.
T. Olevskii
-To be really short: Right Sector is a right wing organization that collected a large array of right wing people from all over Ukraine. For example, I've met an ex-FSB agent from Primorye, but was too right wing. He thought that using terrorist methods for fighting for the right wing ideology in Russia was completely ok. So then he came to Right Sector, they didn't take him into "Azov". I also saw Ukrainian right wingers that aren't really right wingers, and to be honest, resemble left wingers more. They're more like football fans. So if you're waiting for some kind of stories of burning children or small Jewish pogroms, then it's just not what's happening on the Ukrainian side. But the army does not view people with some kind of right wing ideals in any kind of positive light. In fact, Right Sector  doesn't even use any kind of chevrons, not even unofficial ones. I personally think these are all unnecessary games. So the army sees the Right Sector as comrades in arms, but they're internationalists obviously.
A Plushev
– We have another minute. Sergey please add to this.
S. Loiko
– In this nationalistic Right Sector orgainization I saw an old Maksim machine gun that still works, it's very loud. The machine gunner for it was a Jew, Valeriy Chudovskyi, also the colonel of the Ukrainian army, a real colonel Oleg Zubovskyi in the airport told me, these guys from Right Sector did only one extreme thing: they came to the airport. They're brave and real and we always know that we can rely on them.
T. Olevskii
– Yes they have those kinds of relations. A different question as far as I understand is that Ukrainian army that fights at the front is full of people who either went through hot spots before, or people with a lot of education that came to war for personal reasons.
A. Plushev
– Our collegue Timur Olevskii and Sergey Loiko, correspondent of "Los Angeles Times," were telling us about what's happening at Donetsk Airport, at least as far as they saw themselves. Thank you and goodbye!
Top Image:  twitter.com/Praporec
Tags: Archive, Cyborgs, Donetsk airport, good and evil, interview, IPress, Journalists, L.A. Times, Roskomnadzor, Stalingrad, TV Rain