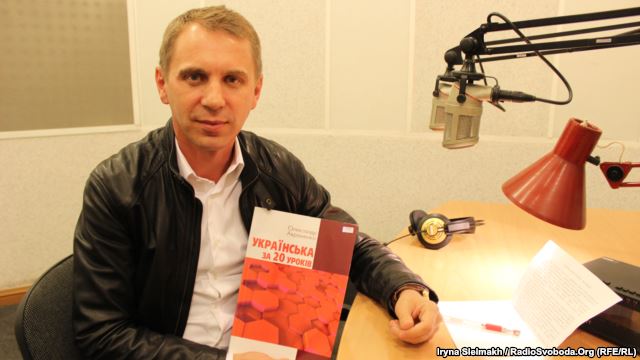 Olexandr Avramenko 
Kyiv – During the celebration of the 90th anniversary of Ukrainian radio and the Day of Literacy and Language, Ukrainians wrote the Ukrainian Dictation for National Unity for the fourteenth time. As per tradition, the dictation was voiced by author of school textbooks for Ukrainian language and literature Oleksandr Avramenko, and in addition to the thousands of people who observed the dictation online, students of the Kyiv Borys Hrinchenko University also wrote the dictation. Over 600 students of the university set a new record for the most numerous dictation-writing in one location.
"The Ukrainian radio is 90 years old! The story of the Ukrainian radio is a wondrous epoch. Hundreds of journalists, thousands of radio programs and millions of letters from listeners and an uncountable amount of such important words that were said and heard…" The unchangeable author of the Ukrainian Dictation for Unity and author of Ukrainian language and literature textbooks Oleksandr Avramenko read aloud this years text to thousands of Ukrainians.
The dictation has 180 words and large number of punctuation forms and proper nouns. To check the listeners' attentiveness, the author of the dictation "set up a couple of traps on purpose."
"The dictation is within the limits of Ukrainian writing without authored signs; however, there is such an amount of orthograms that only the most skilful people who not only have good knowledge but also good language intuition are able to write it impeccably. I checked a certain amount of the texts and the most mistakes are in punctuation. Here, it is important to orient towards rules, plus intonation and pauses," Avramenko says.
The punctuation traps did work. Many of the participants made a large number of mistakes. Among them is the General Director of the Center for Ukrainian Culture and Art Svitlana Dolesko.
"This is the first time I'm writing, this is my first dictation and I have seven mistakes, six of which are punctuation signs. The dictation was quite difficult and it was fast, I could not follow," she shares.
Meanwhile, in Borys Hrinchenko university the students set an unprecedented record for the biggest number of people who wrote a dictation in one location. About 600 students in vyshyvankas and with Ukrainian symbols were in the hall, the rest were on the balcony. Immediately after the dictation ended, representative of the Ukrainian National Record Registry Vitaly Zorin declared: "A new national record has been set in Ukraine – 689 participants!" and added that this record will be published in the next edition of the Ukrainian Book of Records.
Another characteristic of this years' dictation is that for the first time in 14 years it was written not for prizes or benefits, but in the name of an idea. All the money collected for the dictation will be sent to ATO fighters.
Tags: Tweet, Ukraine, Ukrainian culture, Ukrainian language, Ukrainian language day