The leaders of the Communist Party of Russia, the Liberal Democratic Party of Russia and Spravedlyvaya Rossiya (Fair Russia) attended the Moscow concert dedicated to National Unity Day, where they demanded full support of "Novorossiya" (New Russia) and recognition of its independence.
Gennadiy Zyuganov, head of the Russian Communist Party, declared that, after destroying Yugoslavia, "CIA agents and Banderites" had ignited a new war on the borders of "Novorossiya".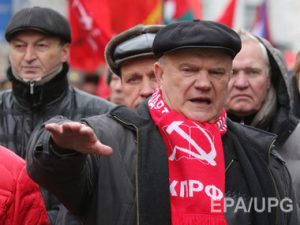 "We shall not shame "Novorossiya", and we will recognize the Donetsk and Luhansk "republics." said Zyuganov.
Sergei Mironov, leader of Spravedlyvaya Rossiya announced that fascism was emerging in Ukraine and it must be stopped.
"Fascism will be stopped only with bayonets and bullets wielded by the Novorossiya militia, and we stand in solidarity with our brothers." he said.
Vladimir Zhirinovskiy, leader of the Liberal Democratic Party also touched upon western sanctions against Russia.
"Do not threaten us! We'll stand for no sanctions!" he said.
Furthermore, Zhirinovskiy expressed his readiness to defend Russians anywhere in the world, "especially in neighbouring Ukraine". He emphasized that November 4 was a common holiday, seeing that "not only was Crimea re-integrated into the homeland, but the citizens of the "DNR" and "LNR" were also able to elect their legitimate leaders on November 2."