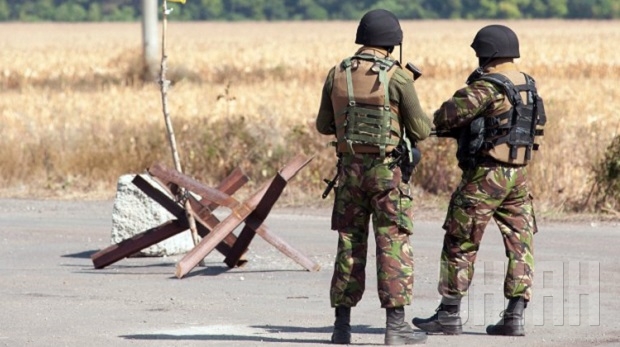 The operation to destruct the Ukrainian checkpoint No. 32 was a "combat readiness test" of  Ukrainian troops made by the new strike group consisting of Russian backed terrorists and Russian mercenaries, according to Dmytro Tymchuk, Information Resistance Coordinator.
"A "strike group" of Russian-terrorist forces in the "Luhansk People's Republic" (LNR) has been organized on the basis of the Phantom Mechanized Brigade (commander Oleskiy Mozhovyi)," he said.
According to Dmytro Tymchuk, the group consist of up to 1,200 people (local militants and Russian mercenaries), up to 20 tanks, 40 armored combat vehicles about 40 units of  conventional and rocket artillery. This group also received many anti-tank grenade launchers, anti-tank rocker systems, Manpads and mortars from Russia.
"The operation to destroy the No.32 Ukrainian troop checkpoint was a "readiness check" of this strike group," added the expert.
Oleskiy Mozhovyi's group conducted this operation in cooperation with the Russian mercenaries and "Cossacks" without coordination with LNR leadership.The LNR leadership was only "informed in general terms." Several formations from LNR arrived at combat zone at the final stage of the operation.
The Ukrainian checkpoint No.32 near Smile of Luhansk Oblast was defended by fighters of the National Guard and 80th brigade starting from September. Being encircled over three weeks, the servicemen did not have any water or supplies. On October 27, the terrorists have the Ukrainian servicemen a "green corridor" until midnight. Then the Ukrainian servicemen were able to leave the encircled checkpoint. The NSDC reports that the losses of the Ukrainian side from the beginning of September at this checkpoint were more than 10 people. Now the "buffer zone" has moved to checkpoint No.31, further West into Ukrainian-controlled territory.
The Translation by Dr. Vitalii Usenko, MD, MBA, expert of the Center of Military-Political Studies in the sphere of psychology of communications and by  Dmytro Usenko, student at Rotman School of Management, University of Toronto