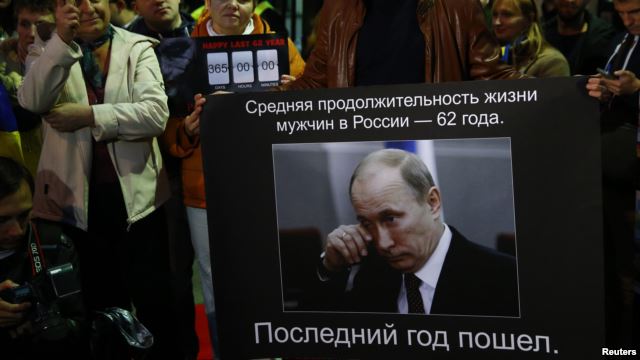 World champion in chess and civil activist Garry Kasparov, who came to Norway for the Oslo Freedom Forum, is meeting there with the former head of YUKOS Mikhail Khodorkovsky. Earlier Kasparov commented on his statement about Crimea, like the statement of Russian opposition leader Alexey Navalny on his blog: "Khodorkovsky and Navalny ignore the main task of opposition." 
Here is a fragment of Garry Kasparov's post:
"The resonant interviews with Alexey Navalny and Mikhail Khodorkovsky, in which the thesis that Russia should not return Crimea to Ukraine was sounded with varying degrees of assertiveness, evoked ardent arguments." 
"The logical conclusion lies in the fact that there is no essential alternative to Putin in Russia. Two of the most active opposition leaders, who in the eyes of many personify 'European Russia,' made it clear that their differences from Putin in the 'Crimean issue' are purely stylistic." 
"Navalny and Khodorkovsky's statements give grounds t think that they are ready to alter their political position to accommodate the opinion of the majority, which is caught up in pseudo-patriotic hysteria under the close care of Putin's propaganda."
"The only way to fight such government is to retain sense. Instead of flirting with the masses who have been drugged by the propaganda, the opposition has to claim simple truths, as Andrey Dmitrovich Sakharov once did, for which he was laughed at numerous times for his 'political naivety'." 
In an interview to Radio Liberty Garry Kasparov continued his opinions on what, to his mind, the opposition's primary task is.
"In the conditions of personified dictatorship, which openly uses fascist ideology, it is an attempt at education, we have to restore the system of definitions. Unfortunately, we have to reiterate that white is white and black is black. Because today the country is living in complete lies, which are broadcast 24/7 by the state propaganda machine. Under this conditions, to base themselves on the results of public opinion surveys, moreover, to construct some long-term conception, seems absolutely unproductive to me and, what is more, this creates a principally erroneous image of the Russian opposition. As to some issues, the people who consider themselves to be in opposition have to, it seems to me, harshly distance themselves from the government."
But does opposition exist in Russia, which supports the motto of the indisputable return of Crimea, even a slightly significant part of society which is ready to listen?
"In this case everyone is responsible for themselves. I did not mention the example of Andrey Dmitrovich Sakharov on accident, he was much more lonely when he said things which seem obvious today, but required extraordinary courage back then. The annexation of Crimea is a war crime, it is a violation of all international obligations Russia took up since 1991.
If we are talking about a principally different concept of government in Russia, if we are talking about dismantling Putin's dictatorship and constructing a democratic state, then we have to appropriately respect international law, just like we do with Russian law. Because the opposition is quite united in its stance against the abuse of power within the country.
However, the occupation of Crimea and support of separatist movements first in Donbas, and then the open invasion of the Russian army is a continuation of the same policies, criminal policies, which have a single end goal, which is the support of Putin's dictatorship regime. I think it is incorrect to ignore the fact that these things are correlated."
In your article you say that both Khodorkovsky and Navalny await the fall of Putin's regime. Do you have any idea how this may be happening?
"The strength and weakness of dictatorships, similar to Putin's, is that nobody knows this. If you and I knew this, the KGB would knows this, the dictatorship would too, and it would not happen. This is good news. The bad news is that the longer a dictator is in power, who cleanses the political space, the more turbulent the interim period will be. Of course, a dictator may die of natural causes. I think Russia will not outlive Putin. Therefore, I think, there will be certain internal events, arguments, which will inevitably be evoked by economic and political problems Russia is immersing itself in. And who and how will help Putin leave the government, it is impossible to make such a prophesy today.
Obviously, the situation when Putin leaves will be inevitably unpredictable due to the fact that the dictator creates a system of sorts to balance his power in order to maneuver between various groups which constitute the pillars of the regime: it is its backbone. Therefore, the disappearance of the backbone leads, naturally, to the collapse of the entire structure. It is quite obvious that Russia's way to European society, integration into Europe, is impossible without an immediate and categorical solution to Crimea's crisis. Because it is not a matter of meetings, it is a matter of the fact that a crime has been committed, that someone will have to, first, be held responsible for it, and second, Russia will have to find a civilized way of escaping this situation with minimal losses to the country.
You propose definite adherence to policies based on values, meanwhile Khodorkovsky and Navalny may consider it necessary to account for significant nationalist moods in Russian society. Possibly, they are maneuvering, they have some sort of long-term strategy. 
"I do not engage in politics in the way Khodorkovsky and Navalny do. They definitely have certain political ambitions, I don't. It seems to me, today we cannot talk about the country's future, about civilized democratic society we want to build, meanwhile basing ourselves on what you called nationalist beliefs. In reality it is not an issue of how some part of the Russian population regards ethnic problems within the country. Aggression occurred, and therefore I think it's incorrect to think seriously that new Russia will be built using such inferior instruments. Russia will have to comply with its international obligations. Starting 1991 Russia has consequently singed documents which are ratified by the Parliament, and these documents clearly noted the borders of both Russia and Ukraine."
Are you not overestimating the principal attitude the West has towards this? There have been numerous mentions such a 'soft' position on part of the West when Russian annexed Crimea. And, possibly, Navalny and Khodorkovsky, other people thin that if Putin's regime falls, some sort of interim period would 'lose' Crimea.
"The regime which will play with Crimea will not be an interim one. Violations of obligations committed by criminal means are not to be toyed with. Possible someone in the West would have been ready to agree to the annexation of Crimea. However, I don't think that in the nearest future we will see Western states which are ready to acknowledge this. Numerous politicians in the West are definitely to do it because of their own possible personal interests and political cowardice. We all went through this in 1938. The result of such policies will not be the fall of Putin's regime, but further aggression. Therefore to pretend that we can seek compromise outside of the legislative field is an encouragement to the aggressor. If they had been rebuked appropriately in Crimea, Donbas would not have happened. Accordingly, if the West had been ready to impose real sanctions, we would have been able to see a speedier development of events in Russia. And now, in my opinion, it is quite obvious that Putin is simply looking around and choosing a direction for his next attack. Policies of such appeasement or searching for compromise outside of the legal framework will inevitably fuel his appetite. His power is based significantly on the image of the land gatherer. Therefore we should not doubt that, having such a big number of options for his next attack – the Baltic, Ukraine, Azerbaijan, Georgia and Kazakhstan, – Putin will find a new goal, because this is becoming, more definitely, it has already become the new backbone of Putin's propaganda."
You may see Mikhail Khodorkovsky in Oslo now. Would you want to try to convince him? 
"We will definitely meet. I think there will be a good, constructive conversation. But I know very well that it is senseless trying to persuade Mikhail Borisovich. He is a person with formed beliefs. In this case it is his political position, his plans, which, I think, he has thought about thoroughly. I consider this position erroneous and extremely dangerous for the future of our country."
Could you conceive a form of cooperation with Khodorkovsky? 
"In reality, I think that some things are blown out of proportion because they have to create some sort of story. It is quite obvious that the dismantling of Putin's dictatorship is a common goal for Khodorkovsky, Navalny and myself, and for many other people whose opinions on Crimea differ. This does not mean, however, that we will differently regard the prospect of dismantling the regime which threatens the future of out country, we all agree on this point. The fact that today there are different positions on the issue of Crimea, this is how things should be on principle. This is an issue which quite obviously will not be solved with Putin in power, and for the future there are various positions people have already expressed. I think that it is good that such a discussion is taking place now."
The people who represent the Russian opposition to some degree, what is there left for them to do in practice, besides claiming their position? 
We are once more playing with terms. Because the word opposition is associated with some sort of axis system, which is arbitrarily democratic, for many people. This includes, parties, debates, elections. In Russia there is a government that doesn't change with the elections. It is Putin's personified dictatorship, and, accordingly, the entire vertical system o power has already been cemented. The fact that many people continue to pretend that something might happen during elections in Russia, that some municipal candidate may be changed, it is clear that the mayors will not. Therefore political activity, the way it was 6-7 years ago in Russia, is impossible today, this regime is able to forcefully disperse any protest which may seem principally dangerous.
It is quite obvious that today any activity in Russia will last for as long as the regime wants it to, thinking that this activity may aid its goals to some extent or at least not interfere with them, and that dispersing it would have too high of a cost. Therefore we need only to construct our own concept of the future.
The fall of the regime is a result of educating people who, I think, will not be in this paranoid hysteria connected to Crimea for a long time. Economic sanctions do bite, the ruble situation looks very difficult, oil prices are falling. We have to be ready for a new situation to arise in which the opposition will have to offer something. However, I don't think that today some concrete actions in Russia itself can change anything. We see how the government cruelly deals with even hints at any political activity which surpasses the allowed frame…