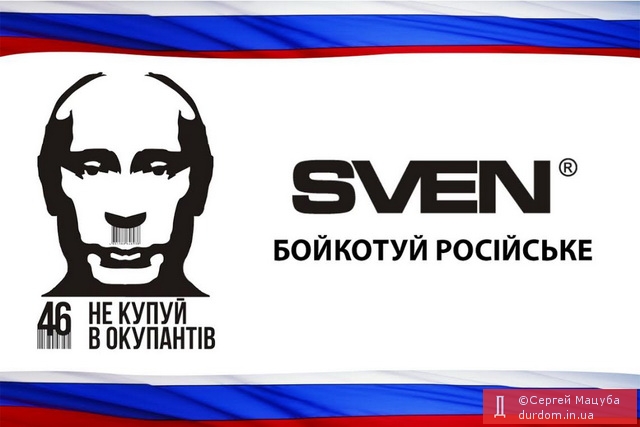 In Ukraine, many people still assume that SVEN, a popular company selling computer accessories, speakers and related products,  is a Finnish electronics company.  Well, no one in Finland has heard of it; no Finn language is seen on their official site. In fact, this SVEN company has nothing to do with Europe at all, but derived its name from a previous company in the Russian city of Bryansk, near the river Sven. The current company SVEN is quite well known throughout the CIS, and in addition to Russia, supplies countries like Ukraine and Georgia. It is a completely Russian brand, with at least 15 factories in China.
The internet site for their products displays a blue cross on white background and even includes ".fi" to complete the illusion it is a Finnish company. But reading the small print confirms the company was registered in 1991, its production facilities are in Taiwan and PRC, and revealingly states that while it has missions in 50 countries, "more than 200 official service centers have been opened in the Russian Federation territory."
Activists from the organization "Ukraine – our country" had often asked company managers to stop supporting the Russian brand SVEN. Their pleas fell on deaf ears as shelves continued to prominently advertise this deceptive brand. Finally, stores became the scene of a peaceful protest, when an assortment of products from this Russian company had this label attached: DO NOT BUY SVEN.
The activists believe their action is a demonstration of  the Ukrainian nation's commitment to unity and independence. Their  reasoning is that supporting such a Russian company also supports war equipment, armaments and bullets used to kill Ukrainian soldiers and innocent civilians in Donbas.
There are many other Russian products being sold in Ukraine under misleading brand names to lure buyers. masquerading as  high-end global companies. The PR and marketing experts for SVEN realized that creating this elaborate fiction would bring success. The irony is that by marketing this particular name, they appropriated the brand name SVEN used by a previous company, based in Bryansk, in  the 1990s to manufacture network filters.   Near this city is the famous tourist attraction, the Monastery of the Blessed Assumption. And every year a very popular bazaar and fair was held there: "The Sven Yarmarok". Their  elaborate fiction seems to have paid off – until now.
Tags: Russian disinformation, SVEN fake, Ukraine