Readers should also note the September 23 UNIAN post which reported that Ukraine recently ratified agreements to import 5.6 million tons of coal from Russia by year's end.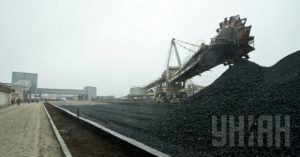 "Truck convoys have continued to transport coal from the Luhansk Region to the Russian Federation from the time when the border rail tracks went out of service" – according to this wednesday's weekly report of the Monitoring Mission of the OSCE (Organization for Security and Co-operation in Europe). This Monitoring Mission is based at the Russian border crossing  points "Hukovo" and "Donetsk" in the Rostov Region.
The Mission also affirmed an increase in the number of persons dressed in army uniforms who have crossed the border in both directions. Specifically the number has increased from 372 to 555 per day. Among them are a great number who identify themselves as russian cossacks.