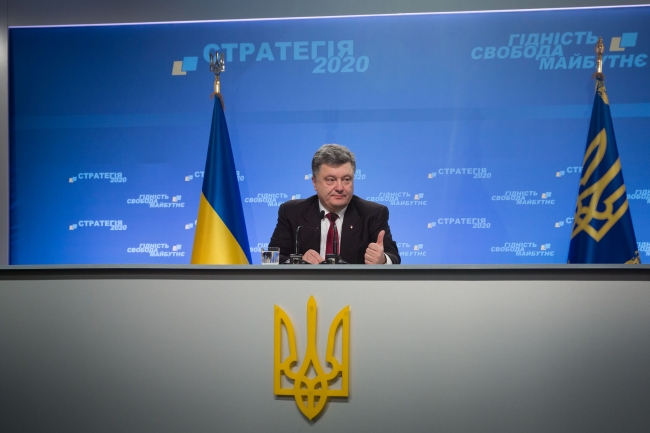 President Petro Poroshenko gave a much-discussed press conference in Kyiv today, unveiling his vision for Ukraine's development through 2020 as part of his new program, Strategy 2020 (even though his presidential tenure expires in 2019). In addition to presenting the 60 reforms that must be implemented simultaneously as part of the Strategy, the President also spoke about such issues as trials in absentia, local re-elections, his relationship with Kolomoisky, planned meeting with Putin, "new life" for the Ukrainians, and a number of other topics.
ON 60 REFORMS
The President announced the key areas to launch reforms in Ukraine. According to him, there are plans for an anticorruption, judicial, tax, and healthcare reforms, "updating of the government," and reduction in bureaucratic staff. In addition, there will be reforms of law enforcement system and of national security and defense, as well as decentralization and deregulation. There are also provisions to implement two state programs – the Energy Independence Program and the Program to Popularize Ukraine Globally.
In all, Poroshenko's Strategy 2020 program includes more than 60 reforms that must be launched simultaneously. The President promised to prepare the reform package in time for the opening of the new Parliament's inaugural session.
The President also placed the full burden of fault for delays with implementation of reforms squarely on the war in Donbas: "This [war] has really been diverting our attention, resources, and energy."
ON MEETING WITH PUTIN
The President of Ukraine plans on meeting with Vladimir Putin in the next three weeks. According to him, the meeting will take place in Europe "in a multilateral format." However, Poroshenko also left open the possibility of having bilateral consultations in private between the two countries' presidents. Poroshenko also denied previously reported claims that the Russian President had allegedly threatened him during negotiations.
ON WEAPONS
Ukraine has secured consent for the delivery of drones and modern protected communication systems for Ukrainian army from Western nations: "Yes, we got a permission to purchase drones. Certain countries have refused this, but most countries will be supplying them. For defense needs." Poroshenko also noted that the first drones that will be controlling compliance with the ceasefire and the process of withdrawal of heavy artillery and rocket systems will arrive to Donbas tomorrow.
ON TRIALS IN ABSENTIA
Poroshenko is convinced that former high-ranking government officials who were involved in the use of violence against Maidan protesters and are presently fugitives from justice should still be held responsible in their absence: "I used to be an opponent of trials in absentia. However, I am ready to make an exception and introduce a draft law that would allow convicting the guilty in such cases. Because there are no reasons to hope that those accused of these crimes will be handed over to us." According to Poroshenko, these persons would be able to defend themselves remotely (e.g., via Skype), should they choose to do so.
At the same time, Poroshenko emphasized that those police officers who were involved in the events on Maidan, but later went to war in Donbas as part of the ATO forces should be given amnesty: "Who should be vindicated? It's those Berkut and police officers who went into the ATO zone and defended their state; they washed off their guilt with blood and have the right to protection. All others must be held responsible."
ON EARLY LOCAL ELECTIONS
The President has spoken in favor of calling early local elections that would follow introducing amendments to the Constitution providing for decentralization of power and expansion of local councils' authority: "I am deeply convinced that expansion of authority must be accompanied by early elections, to enable the territorial communities to elect those who should have the opportunity to make use of this new authority." He promised that he will propose constitutional amendments relating to decentralization to new Parliament right after the elections.
ON DEFENSE
The President announced a five-times increase in defense expenditures and a 2.5-times increase in the number of troops. According to him, defense-related expenditures will go up to 5% of GDP by 2020. At present, only about 1% of GDP goes towards these purposes. Poroshenko also noted that the ratio of professional military personnel will go up to 7 per 1,000 citizens (at present, this ratio is at 2.8).
ON RECONSTRUCTION OF DONBAS
The President is hopeful that it will be possible to raise at least USD 1 billion into the Donbas reconstruction fund. According to him, reconstruction of Donbas infrastructure will be financed out of a special State Budget fund, as well as a special non-governmental fund that will receive contributions from other countries. He added: "This is precisely why I am having negotiations with our counterparts in the EU and the US."
It should be noted that Poroshenko made no reference to possible participation in Donbas reconstruction efforts of oligarchs who made their wealth at the region's expense.
ON KOLOMOISKY
Poroshenko hinted at "liability" of volunteers for illegal activity and declared that he has no intentions of removing the Head of Dnipropetrovsk Oblast State Administration Ihor Kolomoisky, whom he finds effective in carrying out his duties. He noted that there is no conflict between himself and Kolomoisky; otherwise, his "first decisions would [have been] to dismiss Kolomoisky."
Poroshenko also said he is not aware of any information concerning the existence of so-called "private army of Kolomoisky": "Every division participating in the ATO zone has a very precise title, number, and defense sector. There are no Kolomoisky's divisions there. Dnipropetrovsk [city and oblast] residents, on the other hand, are putting on excellent fight there. In particular, I am proud of the mission carried out by the 25th Airborne Brigade from Dnipropetrovsk, which represents the pride and the elite of the Armed Forces. … They are fighting on the frontlines and executing the commands of the Commander-in-Chief, and are exceptionally disciplined."
"Everyone else who attaches any sort of labels to themselves: this will not pass in Ukraine. Everyone who does not comply with the law will be held responsible; this is also one of my functions as the guarantor of the Constitution," said the President.
ON UKRAINIAN RESISTANCE ARMY (UPA)
The President believes that the time has come to settle, at the state level, the  issue of Ukrainian Resistance Army (UPA) fighters as defenders of Ukraine.  He reminded that UPA fighters were mentioned as defenders of Ukraine in  his inauguration speech: "And this is my position [on the issue]."
ON SANCTIONS AND PERSONAL LOSSES
Poroshenko left open the possibility that Ukraine could introduce sanctions against Russia; however, it will do so in a balanced manner: "By law, there are provisions for NSDC [National Security and Defense Council] sessions, where we will analyze risks and threats. If Russia were to impose sanctions unilaterally, Ukraine will respond quickly and without delays. … I am deeply convinced that our objective is to win this war for peace, to raise our economy. As far as sanctions are concerned, we are coordinating our efforts. In particular, we have banned imports of military and dual use goods to Russia."
At the same time, he emphasized that sanctions should not be an end goal in itself: "What is our goal? Is our goal to introduce as many sanctions as possible, or is our goal to achieve peace? Or, is our goal to remove all restrictions against Ukrainian goods that are currently present on the Russian market? I, like no other, know what it's like and how heavy of a blow it is for Ukrainian manufacturers."
ON EU ACCESSION
The President intends to submit Ukraine's application for membership in the European Union in 2020: "The good news is: the EU door is open. We are in full right to knock on that door. But there's also the bad news: our revolution's victory came in late, and so we need to "sprint" along this path of reforms, the goal of which is to reach the level necessary to enable us to submit an application for EU members in 2020."
ON "NEW LIFE"
The President promised "improvements" in the economy in six years. As part of implementing his strategy for development of Ukraine through 2020, he is proposing a four-times increase in the share of GDP per capita – i.e., up to USD 16 thousand. The amount of foreign direct investments to Ukraine should also increase to USD 40 billion between 2015 and 2020. Moreover, Strategy 2020 envisions reducing the government debt to GDP ratio to 60% (currently, it is at 67.6%), as well as reducing inflation from 19% to 1.7% by 2020. The maximum ratio of overall budget deficit (including Naftogaz) is expected to go down from 10.1% to 3%.
AND ON HIMSELF
The President also told about his visit to Mariupol, noting the "fantastic," "faerie," and "exceptional" reception he experienced there: "I would like to express my gratitude to the resident of Mariupol for the exceptional, fantastic, and simply faerie reception that I saw when I visited Mariupol immediately after signing off on the peace plan. It was that time when, during my visit, there were sounds of artillery shell bursts next to three checkpoints. You know, I felt proud of Mariupol people, it was a completely unimaginable spiritual uplifting; and for some reason, there was no sort of protocol meeting specially organized to coincide with the President's arrival. During my ride, I was purposely stopping on the streets and approaching the people… Just go to Mariupol – no, really! – to see what it's like when the people start valuing freedom, what it's like when the people used to be but within an inch of having their lives turned into a total chaos, and how they are now starting to value freedom and security, how passionate they all are, how ready they are to come out and defend their city."
Tags: Petro Poroshenko, Politics, Poroshenko's Strategy 2020, reforms in Ukraine