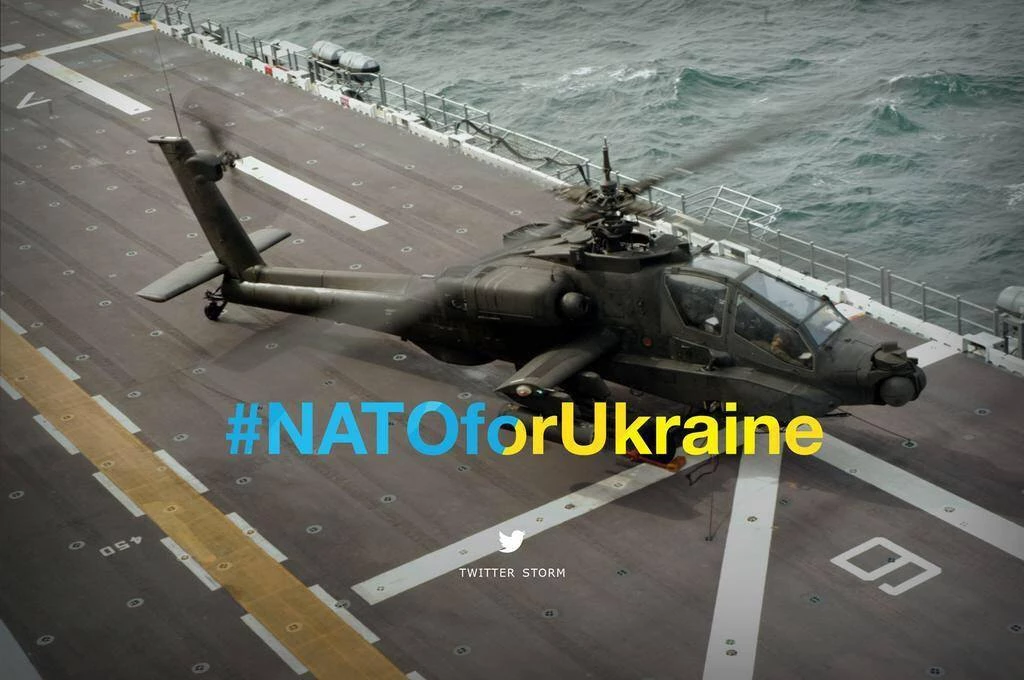 Issued by the Heads of State and Government
participating in the meeting of the North Atlantic Council
in Wales 4-5 September 2014
1. We, the Heads of State and Government of the member countries of the North Atlantic Alliance, have gathered in Wales at a pivotal moment in Euro-Atlantic security. Russia's aggressive actions against Ukraine have fundamentally challenged our vision of a Europe whole, free, and at peace. Growing instability in our southern neighbourhood, from the Middle East to North Africa, as well as transnational and multi-dimensional threats, are also challenging our security. These can all have long-term consequences for peace and security in the Euro-Atlantic region and stability across the globe.
[…]
16. We condemn in the strongest terms Russia's escalating and illegal military intervention in Ukraine and demand that Russia stop and withdraw its forces from inside Ukraine and along the Ukrainian border. This violation of Ukraine's sovereignty and territorial integrity is a serious breach of international law and a major challenge to Euro-Atlantic security. We do not and will not recognise Russia's illegal and illegitimate 'annexation' of Crimea. We demand that Russia comply with international law and its international obligations and responsibilities; end its illegitimate occupation of Crimea; refrain from aggressive actions against Ukraine; withdraw its troops; halt the flow of weapons, equipment, people and money across the border to the separatists; and stop fomenting tension along and across the Ukrainian border. Russia must use its influence with the separatists to de-escalate the situation and take concrete steps to allow for a political and a diplomatic solution which respects Ukraine's sovereignty, territorial integrity, and internationally recognised borders.
17. We are deeply concerned that the violence and insecurity in the region caused by Russia and the Russian-backed separatists are resulting in a deteriorating humanitarian situation and material destruction in eastern Ukraine. We are concerned about discrimination against the native Crimean Tatars and other members of local communities in the Crimean peninsula. We demand that Russia take the necessary measures to ensure the safety, rights and freedoms of everyone living on the peninsula. This violence and insecurity also led to the tragic downing of Malaysia Airlines passenger flight MH17 on 17 July 2014. Recalling United Nations Security Council Resolution (UNSCR) 2166, Allies call upon all states and actors in the region to ensure immediate, safe, and unrestricted access to the crash site of MH17 to allow resumption of the investigation and the repatriation of the remains and belongings of the victims still present at the site. Those directly and indirectly responsible for the downing of MH17 should be held accountable and brought to justice as soon as possible.
18. We are also concerned by Russia's pattern of disregard for international law, including the UN Charter; its behaviour towards Georgia and the Republic of Moldova; its violation of fundamental European security arrangements and commitments, including those in the Helsinki Final Act; its long-standing non-implementation of the Conventional Armed Forces in Europe Treaty (CFE); and its use of military and other instruments to coerce neighbours. This threatens the rules-based international order and challenges Euro-Atlantic security. In addition, these developments may potentially have long-term effects on stability in the Black Sea region, which remains an important component of Euro-Atlantic security. Russia's current actions are contrary to the principles on which the established confidence building mechanisms in the Black Sea were built. We will continue to support, as appropriate, regional efforts by Black Sea littoral states aimed at ensuring security and stability.
19. While Russia continues to intervene militarily, arm separatists, and foment instability in Ukraine, we support the sanctions imposed by the European Union (EU), the G7, and others, which are an essential part of the overall international effort to address the destabilizing behaviour of Russia, bring it to de­escalate, and arrive at a political solution to the crisis created by its actions. Amongst these are measures taken by Allies including Canada, Norway and the United States, as well as the EU decisions to limit access to capital markets for Russian state-owned financial institutions, restrict trade in arms, establish restrictions for export of dual use goods for military end uses, curtail Russian access to sensitive defence and energy sector technologies, and other measures.
[…]
24. An independent, sovereign, and stable Ukraine, firmly committed to democracy and the rule of law, is key to Euro-Atlantic security.  At a time when Ukraine's security is being undermined, the Alliance continues its full support for Ukraine's sovereignty, independence and territorial integrity within its internationally recognised borders. The broad support for United Nations General Assembly Resolution 68/262 on the Territorial Integrity of Ukraine, demonstrates the international rejection of Russia's illegal and illegitimate 'annexation' of Crimea. We are extremely concerned by the further escalation of aggressive actions in eastern Ukraine. We see a concerted campaign of violence by Russia and Russian-backed separatists aimed at destabilising Ukraine as a sovereign state.
25. We commend the people of Ukraine for their commitment to freedom and democracy and their determination to decide their own future and foreign policy course free from outside interference. We welcome the holding of free and fair Presidential elections on 25 May 2014 under difficult conditions and the signature of the Association Agreement with the European Union on 27 June 2014, which testify to the consolidation of Ukraine's democracy and its European aspiration. In this context, we look forward to the elections to the Verkhovna Rada in October 2014.
26. We encourage Ukraine to further promote an inclusive political process, based on democratic values and respect for human rights, minorities, and the rule of law.  We welcome President Poroshenko's Peace Plan and call on all parties to meet their commitments, including those made in Geneva and Berlin. We call on Russia to engage in a constructive dialogue with the Ukrainian government. We actively support ongoing diplomatic efforts towards a sustainable political solution to the conflict which respects Ukraine's sovereignty, independence, and territorial integrity within its internationally recognised borders.
27. We commend and fully support the actions of other international organisations that are contributing to de-escalation and pursuing a peaceful solution to the crisis, in particular the Organisation for Security and Co-operation in Europe (OSCE) and the EU. We welcome the swift deployment of the OSCE Special Monitoring Mission, which must be able to operate unhindered and have access to all regions of Ukraine in order to fulfil its mandate. We also welcome the decision by the EU to launch a Common Security and Defence Policy mission to assist Ukraine in the field of civilian security sector reform, including police and the rule of law.
28. Recognising the right of Ukraine to restore peace and order and to defend its people and territory, we encourage the Ukrainian armed forces and security services to continue to exercise the utmost restraint in their ongoing operation so as to avoid casualties among the local civilian population.
29. Ukraine is a long-standing and distinctive partner of the Alliance.  At our meeting here in Wales, we met with President Poroshenko and issued a joint statement. We highly value Ukraine's past and present contributions to all current Allied operations as well as to the NATO Response Force. We encourage and will continue to support Ukraine's implementation of wide-ranging reforms through the Annual National Programme, in the framework of our Distinctive Partnership. We have launched additional efforts to support the reform and transformation of the security and defence sectors and promote greater interoperability between Ukraine's and NATO forces. These efforts are designed to enhance Ukraine's ability to provide for its own security. We welcome Ukraine's participation in the Partnership Interoperability Initiative and Ukraine's interest in the enhanced opportunities within the Initiative, and look forward to its future participation.
30. Russia's illegitimate occupation of Crimea and military intervention in eastern Ukraine have raised legitimate concerns among several of NATO's other partners in Eastern Europe. Allies will continue to support the right of partners to make independent and sovereign choices on foreign and security policy, free from external pressure and coercion. Allies also remain committed in their support to the territorial integrity, independence, and sovereignty of Armenia, Azerbaijan, Georgia and the Republic of Moldova.
[…]
64. The Alliance reaffirms its long-standing commitment to conventional arms control as a key element of Euro-Atlantic security and emphasises the importance of full implementation and compliance to rebuild trust and confidence. Russia's unilateral military activity in and around Ukraine has undermined peace, security, and stability across the region, and its selective implementation of the Vienna Document and Open Skies Treaty and long-standing non-implementation of the Conventional Armed Forces in Europe Treaty (CFE) have eroded the positive contributions of these arms control instruments. Allies call on Russia to fully adhere to its commitments. Allies are determined to preserve, strengthen, and modernise conventional arms control in Europe, based on key principles and commitments, including reciprocity, transparency, and host nation consent.
Source:
NATO press release
Tags: NATO, Politics, Russian invasion, Wales