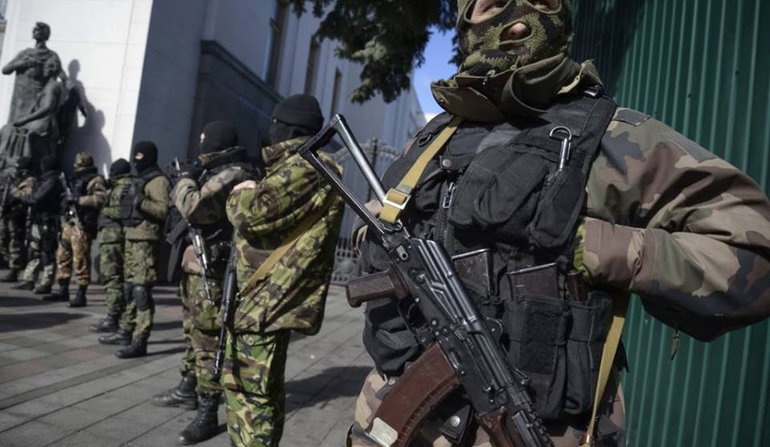 By Adam Lelonek
"The authorities in Kyiv were asleep at the wheel during two crucial moments when it might have been possible to prevent the annexation of Crimea," Anna Andriyevska said in an interview for Defence24.pl. Andriyevska is a Crimean journalist who has taken part in many projects in Crimea, including The Center of Investigative Journalism, and has also cooperated with the Ukrainian section of BBC. She is currently working on Radio Svoboda's project "Crimea. Reality." which addresses Crimean residents' daily life within the new Russian reality.
What did daily life in Crimea look like before the "little green men" appeared? Could you see preparations for the Russian invasion?
No one knew about preparations for the Russian operation except those who ordered and executed the plan. The pro-Russian political movements already existing on the peninsula did not have general support. Therefore, they weren't taken seriously. For example, Russian Unity, the party of main Crimean separatist Sergiey Aksyonov, only received 4% of the vote in the last election for Crimean Parliament. It should also be noted that the average resident of Crimea wasn't politically active and rarely expressed opinions about events in the peninsula or in the country publically, or even outside their own kitchen. Events on Maidan didn't change that situation either. Kyiv is far enough from Crimea that local people only knew what was happening there because of the major Ukrainian TV stations on their screens. At the same time, local authorities began an active campaign against Euromaidan named "Stop Maidan!". Only then did Crimean Supreme Council Chairman Volodymyr Konstantynov, later to be a separatist leader, begin publicly speaking about "buses of banderites" who were supposed to go to Crimea to kill its residents because they stood up against Maidan. Officials talked about that during all public events. These statements were published in newspapers controlled by Crimean authorities and, simultaneously, propaganda spots were broadcast by the public TV station Crimea, until Crimean residents really started to believe in "Banderites" and that each of them was directly threatened by Maidan. The invasion started on that foundation. Before the "little green men" appeared, the local people were shown an artificially created image of an external enemy – the mythological Banderites. At that time, hardly anyone received objective information.
Could authorities in Kyiv have prevented implementation of the Russian plan?
The authorities in Kyiv were asleep at the wheel during two crucial moments when the annexation of Crimea could have been prevented.
The first time was in February when Volodymyr Konstantynov and his partners started to declare secession of Crimea from Ukraine due to "Banderite authorities" that had shown up in Kyiv as a result of events on Maidan. Political scientists and experts claim that Konstantynov, being aware of his inevitable dismissal, was willing to negotiate with the leaders of Maidan about his future. But, at that point, the new Kyiv authorities were blinded by the victory of Euromaidan and completely underestimated the situation.
The second asleep-at-the-wheel moment was at the end of February, when the armed "little green men" took over the Crimean Council of Ministers. At the time, the Council was empty for two days. There were no hostages. And no one blocked the Crimean military. If they new authorities in Kyiv had quickly picked up on it, resistance would have been possible, including in the realm of information. And so, Crimea was given up without a fight or a single shot.
How do you assess the referendum in Crimea?
That "referendum" cannot be considered lawful because it was announced illegally (Crimean MPs voted for it in the presence of armed "little green men") and it was accompanied by a great number of violations. There weren't even any observers in many polling stations and the policemen, if they were present at all, didn't pay attention to the fact that voters were given two election cards, sometimes even without checking passports. It should also be noted that the election cards were printed on ordinary paper without protective holograms. Moreover, the voting took place under the conditions of a de facto occupation of Crimea, which means under Russian guns. A priori, such a "referendum" is incompatible with law and so, the Crimean "self-determination" was not accepted by the international community.
What changed for the residents of Crimea after the annexation?
Life for Crimea's residents has changed completely. These changes relate to all spheres of life. And, what's more important, these were not changes for the better. Yes, pensions and salaries have increased. But the latter has increased only for civil servants, employees of law enforcement, and military personnel – the groups that Putin's regime is based on in Russia (who bites the hand that feeds it?). At the same time, prices of goods and services have risen significantly due to inflation in Crimea. For that reason, there is no economic effect. Those suffering the most are the ones who make their money during the tourist season. As a result of the annexation, it has been interrupted. Vacationers from Ukraine, who made up 60% of the tourists in Crimea, haven't come to the peninsula this year and the number of those from Russian has also been reduced. First of all, due to problems with transportation and secondly, because many Russians go on vacation to domestic resorts and to those in Europe. Nobody wants to change to Crimea with its high prices and low level of services. What's more, all freedoms have been limited in Crimea and basic human rights are constantly violated. The local "Self-defence" [militia] has military powers and, according to law, is allowed to identify people, detain them, and even beat them. These kind of incidents have already happened in practice. The FSB and local law enforcement officers work together in various illegal actions against the local population.
What actions were and are being taken by Russian agencies against people who didn't support Russian politics?
The most active residents were kidnapped and tortured by local "Self-defence" and Berkut [special police force] officers. Crimean Tatar Reshat Ametov was kidnapped and beaten to death because he was the leader at one of the pickets at the Crimean Council of Ministers, even without any banners. His body was later found with signs of torture and abuse. Another victim of "Self-defence" was Andriy Shchekun, head of the Ukrainian House NGO, who was held captive for 11 days in March. He has spoken about the torture he was subjected to. After being released, he was forced to leave Crimea and now he lives in continental Ukraine. Other activists who publicly spoke against the annexation were arrested and were charged with being connected to Right Sector and preparing terrorist attacks. It has even reached a point where Crimeans are afraid to speak Ukrainian. They are also forced to change their citizenship and give up their Ukrainian passports. Otherwise, they have to apply for a residency permit. Which means that those who were born in Crimea and have lived here for many years, now have to ask the Russian authorities for permission to stay in their motherland. According to Russian law, an inhabitant of Crimea without a Russian passport or residency permit can be deported from his home. The economic situation has also gotten worse. After switching to Russian currency, the prices of goods and services have gone up due to inflation. Thousands of Crimeans were forced to leave their homes either because of imminent danger or refusal to change their citizenship or economic problems.
Do you think the peninsula could become an emigration destination for pro-Russian activists from eastern Ukraine, considering the online photos showing the separatist leader nicknamed Motorola vacationing in Crimea ?
Yes, many immigrants from the East head to Crimea now to use its "grey zone" status to hide from the justice system. Crimea has also become the latest Mecca for terrorists and separatists. They come here for guns and to relax and heal their wounds. Motorola is not the only example. It is well-known that Oleg Tsarov, a Ukrainian MP who supports the terrorists in eastern Ukraine, stays in Crimea periodically and another former separatist MP, Vadim Kolisnichenko, lives in Sevastopol and is a candidate for the Sevastopol Legislative Assembly. The Crimeans who are currently supporting local occupation authorities just don't understand the threat connected with these kinds of "neighbours". It's known that terrorists from eastern Ukraine who come from Russia are not let back in due to security reasons.
What do you think about Crimeans' access to information and opportunities for independent journalists to function?
Crimea's residents have broad access only to propagandic information now. Ukrainian TV station don't operate on the peninsula and only Russian media journalists are sent to official events. All journalists, including independent ones, work in conspiracy – they don't sign their texts with real surnames. Personally, I had to work that way as well until I left Crimea. The FSB is actively gathering information about "unofficial" media and their employees. Some local journalists, who haven't refused to inform on their colleagues for money, actively help the FSB with that. Thus, moral principles don't apply anymore.
In recent months, which events on the peninsula do you think deserve special attention?
All the events taking place in annexed Crimea deserve special attention. These are crucial events and this is something that threatens the security of the whole of Europe. First of all, because it enables aggressive Russia to de facto control a larger portion of Ukrainian territory than before (including land, sea and airspace). Second of all, it serves as a demonstrative pattern for the annexation of foreign territories. Who can guarantee that, at this time, there is no one in the world, except for Putin, who has similar plans?
Is there anything that current Ukrainian authorities can do to "softly" influence the residents of Crimea?
If we are talking about soft power, it should start in the sphere of information. The Ukrainian authorities should do everything possible for Crimeans to realize: there are no Banderites, the new authorities in Kyiv don't threaten residents of Crimea in any way, and life in Ukraine is not about fear and chaos, but the possibility of building life with one's own hands. Right now the Crimeans are generally isolated from the Ukrainian media space. That's why they are being subjected to brainwashing and they don't acknowledge Ukraine at all. The task for Ukrainian authorities is restoring faith in them to Crimeans and showing real improvement in Ukrainians' standard of living. We have to win this information war. So as not to lose our land and human life.
How do you see the chances for changing Crimea's formal status as Russian territory?
The formal status of Crimea is Ukrainian. It can't be any other way. Crimea was taken away illegally, by bandit methods, under the barrel of guns. If the European community is truly committed to the principles of legality, justice, and the integrity of other countries' territories, it cannot, under any circumstances make concessions towards Russia in this matter. Crimea is a territory not accepted by the international community, it is a so-called grey zone. This status can be gotten rid of only by being Ukrainian. So, tens of thousands of people will be able to return home, so separated families can be reunited again, so it won't be dangerous there anymore and the economy can grow, so people will start living a better life. Of course, those who have illegally taken something that does not belong to them, they must give it back.
Source:
defence24.pl
, Photo: mil.gov.ua
Translated by: Kuba Litwińczuk, edited by Elizabeth Martin
Tags: Crimea, Information war, International