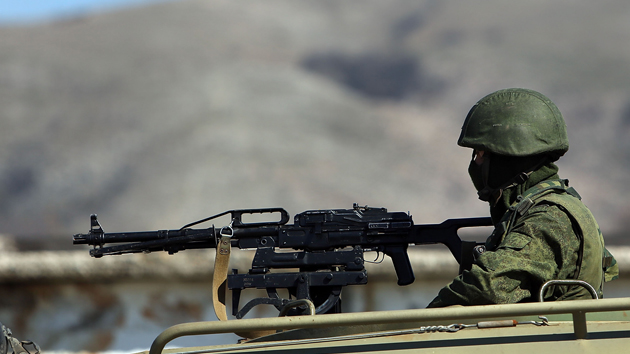 Several shooting incidents involving Russian military reconnaissance groups took place at the Russian-Ukrainian border last night. This information was provided by the press-center of RNBO (National Security and Defense Council of Ukraine).
According to RNBO's spokesman Andriy Lysenko, current situation at the border stays complicated. For example, a group of mercenaries assaulted the border patrol serving near the Pobeda town in Donetsk oblast. During the commencing gun fight the patrol forced the militants to retreat through the border.
Another shooting incident happened at 4 am near the border checkpoint "Uspenka". There a Russian reconnaissance group was trying to break through and was repelled by the border patrol with the help from reserve, arriving in armored vehicles.
The terrorists continue deploying radiocontrolled landmines. Two such landmines went off yesterday afternoon at "Krasna Talivka" border area, when a column of border troops was passing through it. After this incident the border patrol spotted and destroyed yet another group of terrorists carrying grenade launchers.
The OSCE observers stationed near Russian border checkpoint Gukovo reported that people in military uniforms cross the border every single day. This information is available in special committee's report published on OSCE website.  During last week alone the observers took notice of countless young men in military dress crossing the border back and forth. The observers also watched as  russian ambulances took the wounded DNR militants away from the border. Also, according to the OSCE report, russian military helicopters Mi-24 continue their flights near the Ukrainian border and now perform them more frequently. After nightfall the helicopters come very close to violating the border, but stay away from the border during daytime in the area, where OSCE observers can track them (which amounts to the zone immediately next to the checkpoint).
However, Russian military planes and helicopters did violate the airspace of Ukraine on several occasions over the last 24 hours. 
One such incident was reported by the border patrol serving at "Milove" chechkpoint in Luhansk oblast. They discovered two Mi-24 helicopters of Russian Military Forces taking a flight in Ukrainian airspace. Moreover, 4 instances of recon drones  collecting military data in Ukraine were reported. One of those drones was found at 21.20 near Yalta in Donetsk Oblast, hanging out at approximately 1500 meters.  The second one was detected flying along the coast from Mariupol to Yalta or Sedove. The third one was found flying into Kherson Oblast from occupied Crimea, and the last one was detected near the town of Shevchenko at the heigth of  2 kilometers.
Translated by Anna Palagina
Source:  Українська правда