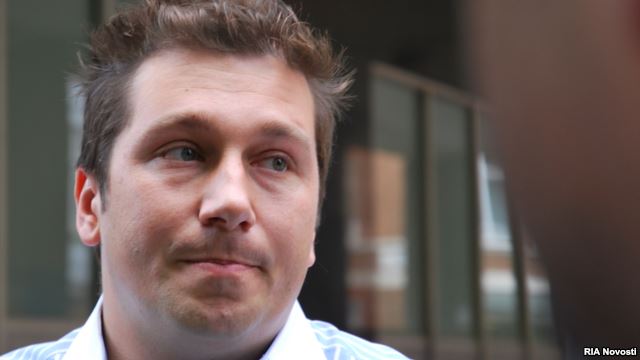 After the implementation of food bans, not hungry but expensive times lie ahead of Russia
Russian and western experts continue to evaluate the future of economical and political losses from the western sanctions imposed on Russia and the response Russian ban on western import of agricultural produce.
Former co-owner of Moscow-based business "Evroset" living in London Yevgen Chichvarkin, once leader of the Moscow department of opposition parter "Union of Right-Wing Powers," and then a political emigrant, opened an elite wine shop Hedonism Wine in a fashionable district of the British capital city in 2012, in which, according to himself, he invested "and 8-digit sum." In an interview to Radio Liberty Chichvarkin talks about the influence of mutual sanctions on business in Great Britain and shares his opinion on Russia's future:
Do Russia's sanctions have a negative effect on your business? 
No. There have been no sanctions that could have been felt on both side, to my mind. All the sanctions that have been imposed as of today look like warnings so far. As to the wine industry, nothing has changed – wine is still being imported to Russia. The bans did not touch on wine. I don't think Putin's regime would last long if they ban hard liquor, wine and tobacco from entering Russia. I think that some Russia-oriented companies in Poland might suffer; there are companies in the Baltic and in Greece, which might feel the sanctions. Britain will not be influence by Russian sanctions in this area in any way.
In your opinion, what is the attitude towards Russia and Putin among British businessmen? Has it changed recently? 
The attitude towards Putin used to be negative and cautious, and now it's negative.
Is it true that rich Russians residing in London and their families are taking their money out of Russia? 
The capital export process has been happening forever. These people live here and, as a rule, their money is also located here. The periods of escalation in Putin's policies slow down or speed up capital outflow, but the outflow itself never stopped, and has become more active throughout the past six years. But this process has been happening under Putin all the time.
What is your take on the results of the Russian bans? Will they not lead to hunger in Russia itself? 
No, hunger will not come. Expenses might. These sanctions will cause a serious jump in inflation. Item A can be replaced with item B. But it will be worse and cheaper.
How would you common on the current situation in Ukraine and Russia's part in this conflict? 
The war in the southeast of Ukraine was planned and provoked by Putin and his associates. It is being finned by Putin and his associates. It is a prolonged provocation that grew into war. I have no doubt that the terrorists that occupied Luhansk and Donetsk oblast were the ones who (by mistake or otherwise) downed the Malaysian airplane. I also have no doubt that Russian regular troops are opening fire at Ukraine from Russian territory. I also have no doubt that all of this is commandeered by specialists from the MIH and the FSB.
What is the solution you would offer to this conflict? 
The conflict may be solved in two days, if tomorrow the NATO sends the army there and allocates it along the border between Ukraine and Russia. Because Putin will not fight with the NATO, he knows that the Russian army is much weaker.
You as a businessmen were probably interested in the decision of the Hague court which obliged Russia to pay 50 billion dollars to YUKOS shareholders. Do you think Russia will pay? How serious is this sum for the Russian economy? 
50 billion dollars is a serious amount of money. It could pay for wonderful Olympic Games. I think Russia won't pay. After some time, having grown weary of the Russian side's machinations, the Hague tribune will start arresting Russia's foreign accounts. But I think there is still much to go before this – many months, maybe even years.
How do you imagine the situation will unfold in Russia? Where is the country going?
The country is headed towards its North Korean partner. And this results in isolation, aggressiveness, lawlessness, poverty. There will be no radical changes. For example, if food becomes 3-5% more expensive, it will lead to a serious jump in inflation which will affect Putin's rating. The question of if not Putin, then whom? is frequently posed. This is the favorite question of Putin and his PR associates. But for example, every other person who is part of the Russian top-100 Forbes list can do this job as well as Putin, or even better. A lot of effort had to be made to achieve such monstrous corruption, to create such a detrimental environment in the country, where a looming state of hopelessness reigns," thinks Russian businessman Yevgen Chichvarin.
Source: Radio Liberty
Translated by Mariya Shcherbinina