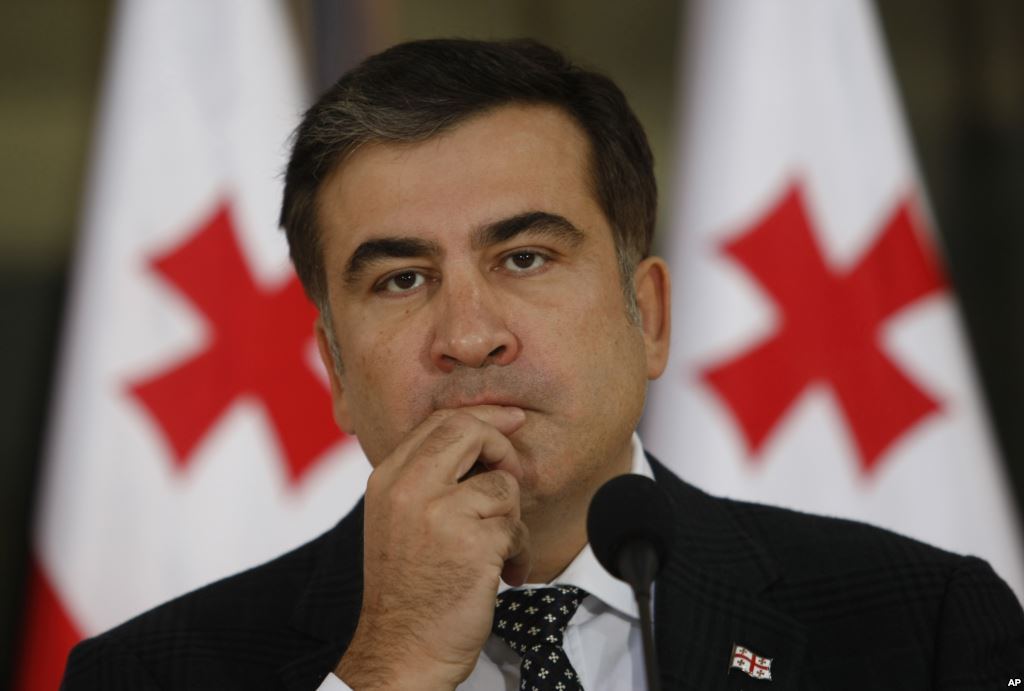 In Lviv, the former President of Georgia spoke about why Merkel and Sarközy were "physically" scared of Putin
On August 8, the former Georgian President Mikheil Saakashvili, during whose presidency the country survived invasion by the Russian army, paid his first full-day visit to Lviv.
He prayed for the fallen in the Russia-Georgia war in the Garrison Peter and Paul Cathedral and gave a lecture to Lviv citizens on Georgia's experience in reforming the country.
At the Lviv city council he talked about how the Georgian people survived Russia's invasion in 2008 with great pain and difficulty, how he managed to turn the most corrupt country in the post-Soviet space into one of the safest democratic states in the world, how Ukraine should be proud of its people, and what Europe will thank Ukraine for throughout centuries to come.
Saakashvili on Lviv
It is a great honor for me to be here in this historic building and in this wonderful, very beautiful city, the city of dreams. I am amazed and fascinated by the citizens of your city and your mayor, who carried out incredibly important reforms and created, in Lviv, a testing ground for reforms, which are now necessary all over Ukraine.
I was awed by the scale of these reforms. The most important thing there is in Lviv at the moment is the spirit of change, the understanding that there is now movement. You are at such an important stage, when the entire country needs such change, such renovations which can now be observed in Lviv.
On Ukraine
Ukraine is a grand country. I fell in love with this country the first moment I set foot on this soil, when I came to study at the Kyiv university.
Today, two hours were enough for me to understand how untrue Russia's propaganda is about this land being populated by fascists and Banderites exclusively. First, I don't consider Banderites to be an offensive word, in fact to the contrary. Second, Banderites and fascists cannot be compared. The most important thing is that, from the very first moment of making your acquaintance, Ukrainians make you forget that you are a foreigner. Besides the Unites States of America and, possibly, Canada, I don't know of any other country which is so able to integrate various ethnic groups in this way.
Ukraine has strict legislative traditions. Magdeburg rights existed in the majority of Ukraine. You were part of the European-style legislative tradition that developed in Europe, which never happened in Georgia. You directly border the countries of the European Union. You have a much bigger potential than even your closest neighbor, Poland. With all due respect to my Polish colleagues – they admit it themselves.
Personalities decide everything in politics
Many people think that personalities decide nothing in politics, but rather everything is decided by processes. This is complete nonsense. In reality, personalities decide everything. The main thing they decide on is that the world has to be changed for the better.
When asked what I miss from my presidency, I say that the only thing I miss about the opportunity to make decisions is that every day, every minute, every second, when you are making decisions, you can change the world around you, the lives of your citizens, and your country for the better. If you come to power with this goal, you will succeed in everything. If you came to power to have houses, apartments, and bank accounts, then everything will be wrong.
On the Ukraine-Russia war
The way you are now fighting for your state is a miracle and an example for the entire world. Yes, it is true that the army has been destroyed for years, that everyone took bribes, sold and robbed, that they committed treason, and lost qualifications. Putin counted precisely on this.
But when he decided to step on your territory, he did not understand that he was dealing with a population of 45 million and not just with certain officers and soldiers or the government of the country. He doesn't understand this at all.
I had 36 meetings with Putin. At almost each one he repeated that Ukraine is not a real state, but a territory. He was absolutely convinced that Ukraine has only 5 million people like Georgia. And the rest are simply an artificial organization of people. Ukrainians, to his mind, live in Ivano-Frankivsk, in Lviv, and in Volyn, and that's it.
I think that with its invasion in 2008 Russia somehow helped the Georgian nation consolidate.
I am not calling for you to place a monument to this horrible person in your beautiful city, but it should be noted, he has also consolidated your nation.
And he even united the Ukrainians that are living in the East and South of the country, without a doubt. They may not speak Ukrainian, but in Russian they are explaining to the occupants quite comprehensively why Ukraine is not Russia.
With baited breath we are watching you today, and all of Europe is watching you. If you win, we will win as well.
Today Ukraine is saving European civilization
I think that today is an absolutely unique instance of Ukraine saving European civilization from the 21st century barbarian. Ukraine has rescued Europe numerous times in history. But now it is more relevant than ever before.
You are saving the world from World War III with your own lives, your own blood by self-sacrifice. But centuries will go by and everyone will remember it. Everyone will say: there was a moment when complete annihilation threatened the European civilization. As this was and remains Putin's goal, he will go as far as he is allowed. I don't see any other obstacles for him in modern Europe, individual ones, had Ukraine not become such an obstacle today.
Russia has not seen such a fiasco for centuries
He has already lost. After his easy annexation of Crimea, he believed that he would push on and start an Anschluss; he would go to the East, then the South of Ukraine, Moldova, close the circle around Kyiv, isolate Western Ukraine from Kyiv and that would be it – the Ukrainian state would not longer exist.
First, he lost in the South. Very difficult events occurred in Odesa and here the line was drawn, here it was determined that Ukraine would not follow Putin.
Then Kharkiv, Dnipropetrovsk – there he lost right away, nobody followed him. And in Donetsk and Luhansk he decided to make in Ukraine a "bloody wound." He decided to wait for the Ukrainian economy to crash, to turn off your gas, to close off the market from you, to land a military blow, and wait until these armed people toppled the government in Kyiv, then civil war and chaos would break out. Russia clearly tried out this scenario in Georgia in the 90's.
It didn't work. Three quarters of the territories occupied by Russia were freed by the Ukrainian army – Russia has not suffered such a military defeat for many decades, if not centuries. Because this is a Russian military invasion in Ukraine and it has been for a long time.
Now Putin has a choice to either continue this tactic of encouraging the "bloody wound" or lose, as the Ukrainian army is advancing.
President Poroshenko did not make the mistake my predecessor, Eduard Shevarnadze, kept on making by constantly signing ceasefires with Russia. He signed four such agreements. Every time it ended with Russia once again occupying some part of Georgian territory and staying there. Poroshenko did not resort to this; Poroshenko was not afraid and the Ukrainian people were not afraid.
On Putin: "la-la-la" 
Putin does not need to be loved. The last time we saw each other was when he threatened us in a variety of ways at this meeting and at the end he said: your friends from the West promise you a lot of good things, but they never make good on their promises. I am not promising you anything good, on the contrary, many problems and troubles I can promise to you and I am a man of my word.
He does not believe in love. He does not need to be loved. He thinks that his ratings in Russia are based on fear and this is partially true. He needed Europe and America to be scared of him, for Sarközy to be physically afraid – and this was the case for some time: Bush was scared, Merkel was scared.
He brought two huge dogs to his first meeting with Merkel in Irkutsk because he knew she has a phobia of dogs. This is how he talks to the chancellor of a European state and this is the way he talks to an individual nation.
And suddenly the Ukrainian people emerged out of nowhere and they turned out to be much more numerous than he expected, plus they are not afraid of anyone. This is the worst thing that could have happened to the lord of lies and violence: when you fancy yourself so frightening that everyone is scared of you and suddenly they tell you that you are not scary, you are kh***o… this is when the end comes suddenly.
The fact that you are singing this little song that became a hit and it is constantly on the top lists of YouTube… this means that you are not afraid of him, you are laughing at him.
Putin is no Stalin 
Putin's great mistake is that he did not imprison the wives of all of his officials like Stalin did, as he thought that nothing good would come of his companions' wives.
All of Putin's nouveau riche have young and pretty wives. All of these women want to go shopping in "decaying" Europe. And when, suddenly, one of these beauties comes to understand that her bank card is not accepted in one of these countries, she will spend a long time on the phone shouting at her husband – who is at that moment busy occupying some part of some territory – that he has to stop this, as she cannot buy her diamonds in Europe.
The Russian Empire will fall soon
I am convinced that this prison will fall soon. Because the sanctions that were recently imposed are very serious. The Russian banking system is almost completely blocked. Panic has broken out there. They have 500 billion USD in oil funds, but also 800 billion USD in loans and obligations. Russia is a big gas station. It has no allies, no economy. Its allies are Venezuela, Nauru, South Ossetia and Abkhazia, which are desolate. And that's that.
Putin has been constantly pouring gasoline into European banks and taking money for it to finance terrorists. This is his nightly entertainment. And when this gas station is closed down, this man will be weakened.
We are on the brink of great historical change. The Russian Empire was first undermined by Georgian reforms, but Maidan in Kyiv is the beginning of the Russian Empire's end. Putin's end started there and it will finish when Russia finally loses the dirty war it is leading against you, and this is exactly what will happen. It is an obstacle he cannot overcome, he has underestimated the European Ukrainian nation.
Europe is Putin's disappointment
Putin has been constantly counting on Europeans being a cowardly people. This is a partial truth. He believes that Europeans are sellouts, and this is partially true. However Europeans are not complete sellouts and not complete cowards. After the annex of Crimea and the attack on the east of Ukraine, he infringed on fundamental European interests. And when fundamental Western interests are infringed on, the West consolidates. Now all European politicians have united around Ukraine, even though it might not seem that way.
I am very envious that you are creating such a country as Ukraine today. You are very lucky, especially the youth. There is no bigger honor and luck than having the opportunity to build a new country.
My compatriots were taken out of Russia on cattle cars
Exactly six years ago, Russia's 120-thousand strong army attacked Georgia, opening fire at us from two hundred airplanes. And the goal of this invasion was clear.
They did not beat us over Abkhazia and South Ossetia since Russia had control over these territories since 1999. Putin's problem was different: Georgia underwent radical reforms during the Rose Revolution, which created the bases for a modern European state in the most corrupt, most criminalized, most backwards and practically feudal  country in the post-Soviet state.
They did not expect this from the Caucasus.
It was expected that Caucasians kill each other, they are out of control, they are a hot-headed people, they are disorganized, they will be enemies to each other and it is easy to control and manipulate them.
This myth, this reality that took centuries to create, we destroyed it within a couple of years.
Not only did we ruin this myth by creating state institutions, but today Georgia is the safest country in the world. The most corrupt and criminalized country became the most safe and law-abiding in all of post-Soviet space.
We have the fastest customs procedures, the fastest speed of issuing documents, passports, and certificates. Georgia has the friendliest service, probably, among the majority of world countries, in a country where everything was different.
And this was regarded as fact not only in the Caucasus. Russians themselves started asking Putin: if Georgia managed it, why can't we?
And this is where big problems started for Putin. In order to solve them he started sending terrorists to us and they blew up police precincts, killed our soldiers, attacked various places, and blew up civilian structures.
He started a full fuel embargo on us as revenge for supporting the Orange Maidan. A month after the end of the Orange Revolution, they turned off gas and electricity in Georgia on the coldest night in January. We survived and became completely energy-independent.
Then they took our market, we were unable to sell anything to Russia. That year we only had 17% of growth, next year they were two-digit numbers.
Then they set up various provocations, bombings, and explosions. Georgians were openly arrested and deported on cattle cars, tens of thousands of my compatriots were transported on big transport jets. Georgia never changed its course. And when nothing worked, we started pressuring the separatists from all sides, when they no longer had any strength – Putin took off his mask and attacked Georgia with an army of 120 thousand.
The goal of the invasion was completely clear – to force Georgia to change its democratic course, ruin the Georgian state, ruin these reforms, and hang me by certain body parts as has been stated at the highest international level (obviously, he would be unable to reach these parts of my body physically), but this story ended successfully for us.
In 2008 my country survived. The democratic world came to help us. All the main construction projects to develop the infrastructure were done after 2008 thanks to investments. When I became president we had 100 thousand tourists and when I finished my presidency there were 6 million. When I became president we were listed at 176th place for ease of doing business and when I left – we took 8th place in the world.
Georgia managed to prove that it is possible to do the impossible. There could not have been any obstacles in our way: if something is necessary, it cannot be impossible.
Source:
Zaxid

Translated by Mariya Shcherbinina, edited by Elizabeth Martin
Tags: Georgia, International, Ossetia, Rose Revolution