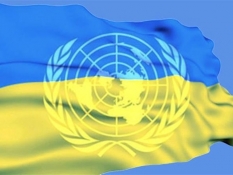 The UN Security Council will convene an urgent meeting on the situation in Ukraine on Friday, August 8.
According to the BBC, the meeting will be held in New York at 17.00 Kyiv time.
The United Nations insists on increasing the efforts of the Ukrainian authorities on humanitarian assistance to refugees. However, human rights activists also talk about serious human rights violations in eastern Ukraine, reads the statement.
The UN is also concerned about the problem of internally displaced persons, and the organization counted more than 6,000 refugees last week.
As Ukrinform reported, the UN called for the creation in Ukraine of a single registration system for 117,000 IDPs from the eastern regions.
Source: www.ukrinform.ua