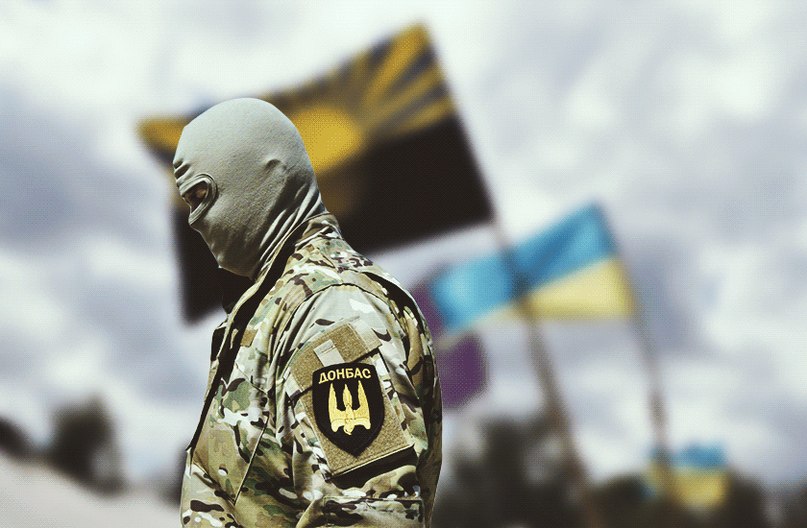 Russia's Communist Party is calling for Russia to officially recognize Ukraine's volunteer battalions as "terrorist organizations." The statement, issued by two Communist MPs, specifically names the the paramilitary-political party Right Sector, and the Dnipro, Donbas, and Azov Battalions in their complaint.
Azov Battalion recruits
The named volunteer units are some of the most notable formations fighting on Ukraine's front lines in the east, and the government has seen considerable success in its Anti-Terrorist Operation (ATO) thanks to the initiative of volunteer special forces that have been made up largely of local eastern Ukrainians. While autonomous in command they are subordinate to the Ministry of Internal Affairs, which also controls Ukraine's National Guard. The battalions also coordinate with and train at National Guard bases.
The appeal was brought forth by Russian State Duma deputies Valery Rashkin, the Deputy Chairman of the Communist Party's Central Committee, and Sergei Obukhov, its Secretary, who appealed to Russian Prosecutor General Yuri Chaika to recognize and include the groups as both foreign and domestic "terrorist organizations."
Obukhov believes that Ukrainian forces fighting Russian-sponsored terrorists and insurgents in the east must be recognized in turn by the Russian Federation as terrorist organizations themselves, and that the Russian Foreign Ministry should petition the UN to ban their funding at the international level.
"I am a supporter of the toughest measures for persons, organizations and even states representing a real threat to Russia's security and our citizens. No sanctions, protest notes and wailing about the "aggressiveness" of our country should worry us and make us detour from our path,"  said Rashkin.
The move appears to be an attempt to mirror calls by US Senators to classify the "Donetsk People's Republic" (DNR) as a "foreign terrorist organization," and expert opinion that Russia is acting as a state-sponsor of terrorism. A WhiteHouse.gov petition for the US to designate Russia as the latter collected over 105,000 signatures.
"In Russia, this is already being done – for example, through the identification and confiscation of assets of the sponsor terrorist tycoon [Ihor] Kolomoiskiy. But the Americans, in turn, discuss funding the Right Sector. Apparently, to "promote democracy" through punitive actions. If so, then the United States should in fact be defined as a state sponsor of terrorism," he Rashkin continued.
Ukrainian Volunteer Corps
The Communist statement also recalls that on March 3 a criminal case was brought against Right Sector leader Dmytro Yarosh for "public calls to extremist activity." The incident in question occurred when Russia alleged that Yarosh had made a posting on the Russian social media site VK appealing to Chechen leader Doku Umarov for support – a statement which Right Sector says was the result of the account being hacked.
Yarosh, a commander of the Right Sector 'Ukrainian Volunteer Corps' battalion, was recently put on a Interpol's wanted list at the request of Russian authorities.
Rashkin previously urged Russian special forces to "follow Mossad examples" and assassinate" Yarosh.
Tags: Azov Battalion, Communist party, Donbas Battalion, International, national guard, Right sector, Russia