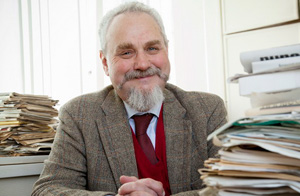 Anastasiya Ringis, Ukrainska Pravda Life
Historian Andrey Zubov is one of the first Russian intellectuals who openly spoke out against the annexation of Crimea. On July 1st, the professor who opposes the Kremlin's official line, was fired from his position at the Moscow State International Relations University. 
Nevertheless, on the website of Novaya Gazeta, Andrey Zubov launched an online history department. Together with his colleagues, he aims to explain the historical premises of the current situation in Russia, the danger of the superiority complex and the necessity of "decommunization" — to explain all the things Russian society finds difficult to accept. 
"If you see that a friend is delirious in his sleep, under no circumstances should he be woken up suddenly, you need to quietly start saying something pleasant to him, then the dream will change, and he will wake up in a good mood. This is what we are doing now in regard to our sick society," says the historian. 
Part of the lecture is dedicated to Ukraine. Historians explain how the Ukrainian national movement emerged, who "Banderites" are, how alternative forms of political world views were formed on the territory of our country.
Why is it important right now for the Russians to know who Banderites were?
In our common state, the Soviet Union, the technology of myth creation was developed at the highest level. Great historical stages and important facts were either silenced or distorted. We practically did not know real history.
It was done differently in different times: in the 1920s, some facts were distorted, in the 1940s others.  We are not used to the pricelessness of historical fact.
Until now, in Russia  history was not treated as knowledge that needs to be learned for the benefit it brings, but as ideology, which needs to be created.
In the Soviet Union, in order to smear something, especially after World War II, it was enough to call it fascism.  Thus, "Banderites" were called fascists even though it did not correspond with reality.
It was a typical nationalist organization of the war period with its own army, with its own terrorist wing. Many acted this way at the time. Of course, some leaders of the Ukrainian national movement were fascinated by the idea of Mussolini's corporativism. However Mussolini called Joseph Stalin his best disciple. I think that Stalin was a bigger fascist than Bandera and even Mussolini.
The Soviet army waged war against the powerful insurgent army on Ukrainian territory; what should this be called?
To have said that they were Ukrainian patriots would have been to effectively contradict themselves. The Soviet government prided itself on giving all people the right to their national revival.
Banderites were blamed for all things: the genocide of the Ukrainian people, the elimination of Jews, cooperation with Hitler and all conceivable cruelties. Banderites are an example of a great lie of the Soviet system.
From the point of view of history as a science it was a national liberation movement, an anti-communist one.
Stepan Bandera lived in an oblast bordering Poland and saw how during the Holodomor people dying of hunger threw themselves across the border to the Polish territory and how they were shot by Soviet border servicemen. And this is why he hated the Soviet government.
Any nationalism is a frightening thing, especially when armed. But Bandera was a hundred times less cruel than the Beriya's or Abakum's NKVD that fought against the Banderites.
Stepan Bandera was fighting with the totalitarian Soviet system that was eliminating all citizens for thinking differently, not with Ukraine.
Therefore any attempt to free themselves from this state already had an element of justice. And in this sense, the Banderite movement is more justified from a moral standpoint than the Stalin Soviet state.
This has to be explained consequentially and systematically.
For 70 years the myth about Bandera was very relevant. Suddenly the Russians started massively hating the Banderites. To this were added the myths about the Right Sector, Ukrainian killers. All these myths prevent Russians from thinking critically.
Soviet ideological settings are engaged here.  And this is understandable. For NKVD officers' descendants, their forefathers really did fight the Banderites. There is an especially big number of such descendants in Crimea, where former NKVD officers were sent to retire.
Is there an antidote to this ideological mechanism? 
We have to calmly explain what the Ukrainian national organization actually was, who Stepan Bandera is, who his fellows were. And why he was so hated by the Soviet government that they did not shy away from sending an agent in 1957 to kill him with a shot using a cyanide ampule.
Currently "Glory to Ukraine! To the heroes glory!" has come back into cultural circulation. The Ukrainian nationalists used to greet each other with these words — and now we do.  This doesn't scare you? 
Look, as it happens, now Tatars, Jews, Russians living on the territory of Ukraine call themselves Ukrainians.  I was happy to say these words in Moscow. For me, your revolution is a liberation of Ukraine from the Soviet, thieving regime.  It is a great achievement.
And moreover, in some way, it is an example for us.  Because Ukraine, for us, is a part of this huge former state. And it is now able to reach something more dignified and for us, it is a huge lesson. Ukraine is freeing itself from all things Soviet.
But, only a very small number of Russians think so. The majority, judging from government's ratings, wants us to return to the stables, under the influence of some myth about the "Russian World." 
A month and a half before your revolution started, one Ukrainian political scientist from Kharkiv gave a very clear distinction as to what is the difference between Ukraine and Russia.
"Here, bandits reign, and the SBU are on their premises;  you have the KGB and bandits are on their premises," he told me then. And I have to admit that it is an unfortunate truth.
You have a chance to break away from it.
You are headed for Europe now. I think that the Russian Federation should also go to Europe. There is no alternative to the European way.
Do you see any premises for this? It seems that Russia is confidently marching to the past. There is no free media, civil rights are being infringed on, yet, Putin's rating is still growing. How do you explain this? 
Everything is much more complicated. First, this is not a return to the USSR. All the property is not owned by the state but by a handful of people.
Everyone who cooperates with the government gets their share of the property.
Our regime is not socialist by economical standards. It is much more reminiscent of the regime of a fascist state, where private corporations were created under state control. It is not by accident that the fascist states were called corporative.
Such corporative capitalism is being built in Russia at the moment.
Will Putin manage to construct a fascist-type state? I don't think so, not in this global context. In the beginning of the century, after the fiasco of the Trilateral Union in World War I, everyone on the continent was fascinated with fascism.
The people of these countries had a complex that they were fooled, robbed, and that they needed to get revenge.
When it comes to revenge, a national leader and economical mobilization are always necessary. And from this, totalitarian regimes to one degree or another emerged all over Europe.
Then Europe considered nations to be akin to organisms.
And after 1945, the Western part of Europe came to a completely different concept – from "the individual is a cell in the national organism" to "the individual is of the greatest value."  This completely different mentality allowed the building of  a new democratic Europe.
Now, you are approaching this understanding.
Why is a different ideology still needed in Russia, in which the person is part of the state organism? Is the ideological field weaker?
Because we, as well as you, by the way, never had our consciousness "de-totalitarized."
In Germany, Austria, Italy, denazification and defascization of the consciousness was carried out. This process took many decades.
And relapses occurred even in the 90s when the famous argument broke out between historians in Western Germany with those who de facto justified nazism.
In the 90s, the process of de-communization began in the Baltic states and Bulgaria.  The same way precisely the communist period was deemed criminal, along with ideologists and leaders of communism, people who committed crimes —  and fighters against communism – heroes. Also, the property that was taken away by communists was returned.  This is an entire complex set of measures.
We never had this. And we remained the carriers of the Soviet mentality. What the world condemns is not considered even bad by us. And this affects perceptions of reality.
Starting 1993, I have been talking about the necessity of decommunization in Russia and generally on all post-Soviet territory.
That the Ukrainians started destroying Lenin memorials, can this be considered a demand for de-Sovietization? 
You intuitively began this process. But to approach this question systematically, we must learn from the experience of Eastern Europe.
You cannot limit yourselves to only memorials.  Currently, in your society lustration is being actively discussed. This is very good, but lustration should be not only for those who committed crimes under Yanukovych but those who committed crimes before 1990.
Yes, they are already old, but it is necessary to condemn their crimes. The issue of restitution must also be solved. This issue has already been settled in Poland, the Czech Republic, the Baltic states. Two years ago Serbia passed a law on the restitution of property rights.
Given the confiscation of private property by the Soviet system, you can't join Europe, where human rights are respected, including property rights.
Therefore, Ukraine faces the same tasks. If you do not set them out and work in this direction, you will have a Soviet relapse.
In Russia, it is the opposite; praises are being sung about all things Soviet. Is this the relapse you're talking about?
Yes, the same Soviet people are sitting in government offices. They want to justify the "Soviet" as a basis for the current course of the country.
And they, of course, are against all this talk of de-communization; instead, they celebrate Andropov. And this is why the myths of the Soviet-period  – the one about Banderites and the hand of the West – are relevant.
Crimea is also a Soviet relapse.
Those regions of Ukraine in which the Soviet mentality was retained the most – Eastern Ukraine and Crimea – it is they who are gathering around Lenin's memorials.
It would seem that Lenin destroyed you, killed you, took away the property and land of your forefathers. But people do not think critically; they are once again governed by Soviet cliches.
The myth was created that a  junta is ruling over Ukraine, but could not the regime ruling in Russia be more readily called a junta? 
Our elections of 2007, 2008, 2011 and 2012 were rigged. We have a ruling illegal illegitimate regime, we do not stop repeating this.
The regime that came to power in your case is revolutionary, of course. It was not totally legitimate. But you tried to return to full legitimacy as soon as possible by holding presidential elections in adherence to all rules and norms.
They called the Ukrainian politicians that have now come to power a junta just because they did want to deal with them. It was convenient for Russia to deal with Yanukovych, who represented the same thieving regime Russia has.
And to deal with politicians elected by the people and who have the goal of building a real democratic state in Ukraine is dangerous to the Kremlin regime.
It is dangerous to have such a state at its side, because Russia is different.
Ukraine has been different from Russia for many centuries. In Ukraine, during the Lithuanian-Polish state, the Magdeburg rights were affirmed.
This is another Russia,  more European, more cultured. In the XVII century, during the first Romanov Tzars, Ukraine was very fashionable. Ukrainian educated priests, Ukrainian boyars, pelicans came to Russia, created schools, taught the Tsar's children.  The other Russia gave a cultural vaccine to Muscovite Rus.
And now it may be repeated. Not in the sense that Russia will capture Ukraine. But in the sense that independent Ukraine, being quite close in terms of culture, language, religion, may give a lot after it survives this difficult road to European integration and the re-establishment of the cultural forms that were destroyed during the communist regime.
What do you think, how long will the "construction" of new Ukraine take? 
I am an old man, and I can tell you that I have been working on construction my entire life: writing, teaching, speaking. But this is our way. Be prepared that you will dedicate your entire working life to this.
Formal reforms will take you five years. But you will need more time to alter the structure of consciousness.
But you will be able, looking back, to say: "We built new Ukraine." You see how difficult it is at my age to turn back and see that we have not built anything yet.
And instead of building a future, we are constantly battling our past. You now have significant chances, continue acting.
Source: Ukrainska Pravda — Life
Translated by Mariya Shcherbinina
Edited by Olena Wawryshyn
Tags: History, Russian propaganda, Stepan Bandera