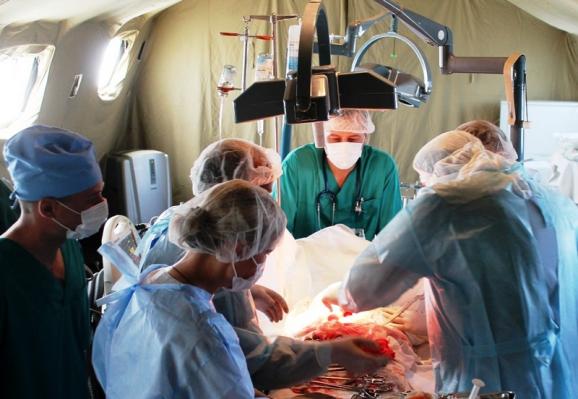 Doctors in the ATO zone (antiterrorist operation) in the Donbas have assisted more than 1,000 military under field conditions, Ukraine's  Ministry of Defense reports.
Members of the multifunctional mobile hospital of the Military Medical Clinical Center of the Central Region continue to provide first aid and qualified medical care to the ATO military forces in the field as well as to the civilian population.
During their period of deployment in the area, military doctors have delivered professional care to more than 1,000 soldiers in the field hospital as well as on an outpatient basis, Espreso TV reports, July 12, citing the Ministry of Defense.
The surgical staff performed about 140 surgical procedures of varying levels of complexity. More than 80 wounded soldiers were prepared for medical evacuation by MI-8 helicopters to hospitals of the Ministry of Defense of Ukraine.
"In order to provide timely professional help an ongoing (system of) procurement of medicines and equipment has been established," says Medical Colonel Oleksandr Stolyarenko, the deputy chief of the Military Medical Clinical Center of the Central Region. "Typically patients undergo comprehensive multifaceted  treatment for up to 10 days. For the military who receive gunshot, explosive, and shrapnel injuries while performing ATO assignments, the doctors employ anti-shock measures and perform surgical interventions. Subsequently the wounded are evacuated to stationary military medical facilities," he explains.
Translation: Anna Mostovych