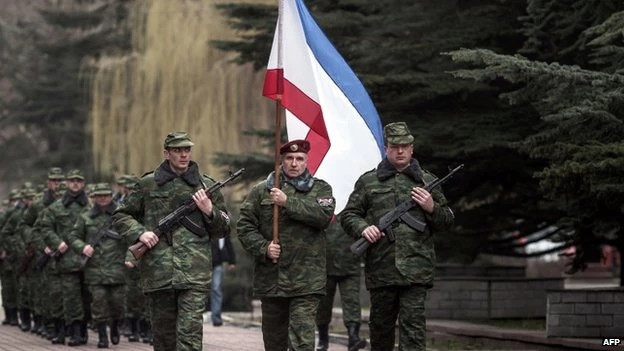 The Kremlin has created a base near Simferopol for training militants to be sent to Ukraine, said National Security Council spokesman Andriy Lysenko at a press briefing Wednesday, July 2, 2014, reports Ukrainska Pravda.
According to Lysenko, the Russian side is using Crimea to keep recruiting mercenaries for eastern Ukraine.
"A base is being set up near Simferopol to train saboteurs to carry out terrorist activities on Ukrainian territory," he said.
Additionally, he noted that the campaign to support terrorist activity in eastern Ukraine is continuing in Russia with the support of parliamentary and political entities as well as non-governmental organizations.
Lysenko also announced that Russia has closed three checkpoints on the border with Ukraine, effectively blocking any return by militants to the Rostov region. The border-crossing checkpoints are at: Gukovo, Donetsk, and Novoshakhtynsk in the Rostov Oblast in Russia, which the militants had been able to cross freely earlier, he said
According to Lysenko, the Russian side has reinforced these checkpoints with heavy armored vehicles. Militants trying to escape from Ukraine are now prohibited from leaving the country.
On at least two occasions, Russian border guards have fired at buses filled with militants trying to go back to Russia, Lysenko said.
photo: Ukrinform.ua
Translation: Anna Mostovych
Tags: Anti-Terrorist Operation (ATO), Donbas war (2014-present), Simferopol, Terrorists