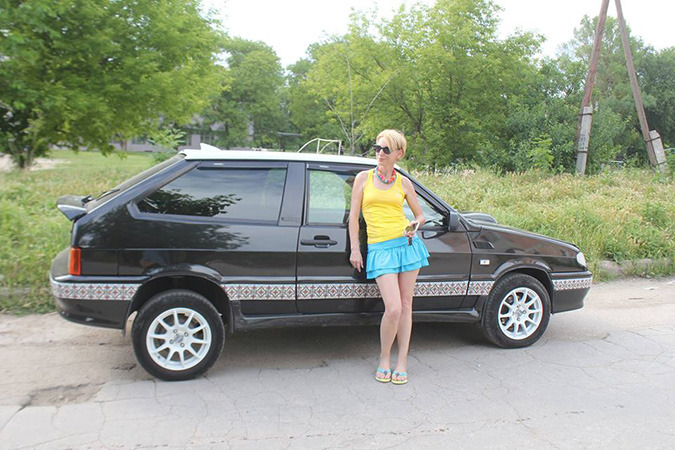 Liza Bogutskaya from Simferopol, the capital of Crimea, drives around the town in a car dressed in a vyshyvanka with a Ukrainian flag hanging on the windshield. Moreover, she puts on the rock-version of Ukrainian national anthem and purposely breaks the traffic code, to get the employees of the road patrol to notice her.
She wrote about this on her personal Facebook page:
"Every day I drive around Simferopol in my vyshyvanka car. I keep a Ukrainian flag hanging at the front in all its beauty. I am very open when driving, not shy at all. Besides, my style of driving turns even more attention to the vyshyvanka and the flag. I drive past the Federal Security Service building many times a day. Naturally, they see me. The employees of the road patrol turn their backs on me to spite me, no matter how much I would break rules in front of them. Even the rock-version of the Ukrainian national anthem doesn't attract their attention. I am the only one who behaves this way in the whole town. Maybe even in the whole Crimea. The self-defense casually walks past me, and I get the impression that their eyes are stuck shut with bubble gum or tied with a colorado ribbon. Or maybe they have developed a cataract condition after consuming a lot of questionable alcohol? I can't understand: am I invisible or something? Quite a pity. I try so hard, and no one pays attention to me. Russians give way to me, sometimes even against their wishes!
Earlier, I would take down the flag when parking because I feared that my car might get damaged. Nowadays, I leave the flag intact no matter where and for how long I park my car. Yesterday my friend told me that his Russian colleague complained that there is one crazy Ukrainian lady driving around Simferopol and forcing everyone to listen to the national anthem of Ukraine… Most likely that's me!
I was filming an empty platform on my phone at the train station. The police hid behind the advertisement board instead of approaching me and blatantly taking my phone. This is probably because my uniform induces fear in them: a yellow top and blue bottom, which they surely perceive as eternal damnation. The vyshyvanka pattern on my car is like deadly contamination coming from Ukraine.
All the Ukrainian witches and sorceresses of Crimea! Come hit the roads in protest against the mess that's going on. Am I supposed to be all alone here? Step it up, girls!
Tags: Crimea, Simferopol