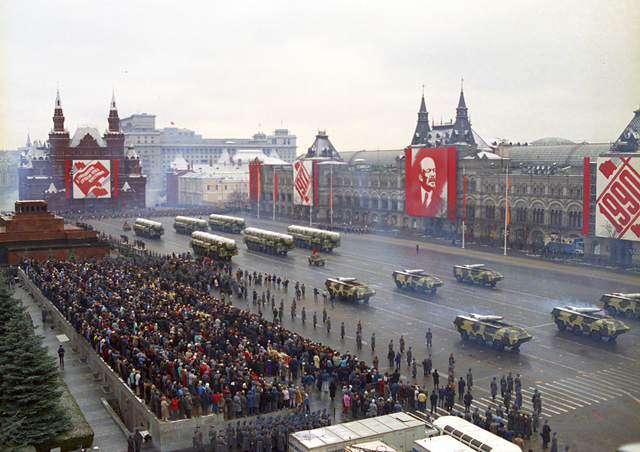 Military parade on Red Square in Moscow to celebrate an anniversary of the October Communist Revolution. November 7, 1990. (Image: TASS)
Vladimir Putin's restoration of many aspects of Soviet life is not only obvious but accelerating, as is clearly shown by a calendar of some but far from all of his most prominent decisions restoring Soviet symbols that "Profile" offers today.
July 25, 2000 – Restoration of Soviet hymn as Russian anthem
July 4, 2003 – Red stars return to banners of the Russian Armed Forces
June 16, 2007 – Red banners with hammer and sickle restored for historical parades
May 9, 2008 – Military parades with tanks and other heavy military equipment return to Red Square
January 25, 2012 – Red stars again put on Russian military planes
January 31, 2013 – Volgograd becomes "Stalingrad" again for holidays
January 29, 2013 – "Hero of Labor" restored as an award
March 24, 2014 – Ready for Labor and Defense Organization ("GTO") restored
May 14, 2014 – All-Russian Exhibition Center gets its Soviet-era name back (VDNKh)
June 4, 2014 – School uniforms reintroduced
October 29, 2015 – Russian Pupils' Movement created as an updated version of the Soviet Vladimir Lenin All-Union Pioneer Organization
Edited by: A. N.
Tags: homo sovieticus, international, Putin, Russia, Soviet mentality