A December poll by the Kyiv International Institute of Sociology (KMIS) has found that, despite the blackouts resulting from Russia's mass bombardment of civilian infrastructure, the overwhelming majority of Ukrainians are unwilling to give up territories to achieve peace with Russia as soon as possible.
For 85% of respondents, no territorial concessions are acceptable. Only 8% believe that in order to achieve peace and preserve independence, giving up some territories is possible. These results have been steadily high since May 2022.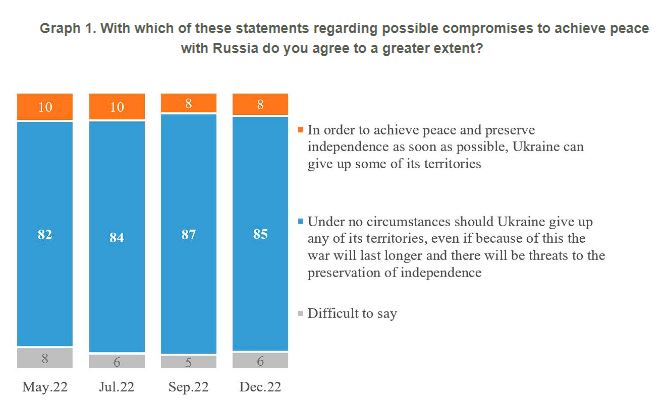 In all regions of Ukraine, the absolute majority of the population is against any territorial concessions. Even among residents of the East, which is currently undergoing intense fighting, 80% are against concessions (ready for concessions – only 9%), and among residents of the South – 82% are against concessions (ready – only 10%). Compared to September, the situation in all regions is more or less stable.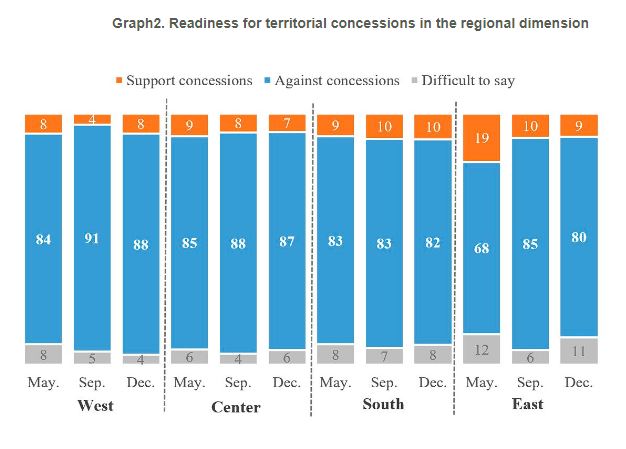 The results also hold true across linguistic categories of the population. The absolute majority of Ukrainian-speaking, bilingual, and Russian-speaking Ukrainians (respondents who consider themselves Ukrainians by nationality) are against any concessions, although the proportion of those willing to give up land to Russia is higher among Russian-speakers.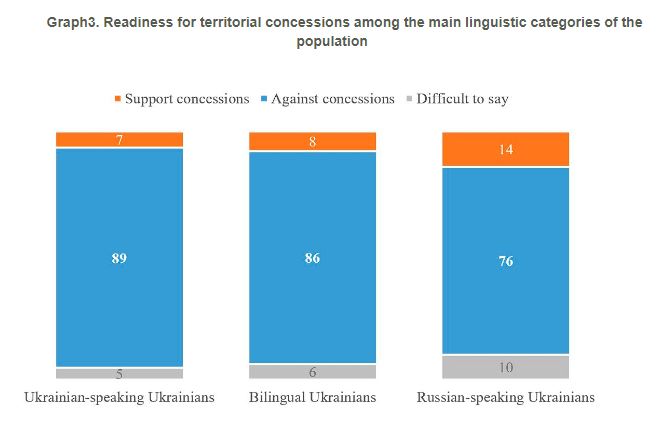 KMIS conducted this all-Ukrainian public opinion survey "Omnibus" during 4-27 December via computer-assisted telephone interviews (CATI) based on a random sample of mobile phone numbers (with random generation of phone numbers and subsequent statistical weighting), 2,005 respondents living in all regions of Ukraine (except the AR of Crimea) were interviewed. The survey was conducted with adult (aged 18 and older) citizens of Ukraine who, at the time of the survey, lived on the territory of Ukraine (within the boundaries controlled by the authorities of Ukraine until February 24, 2022). The sample did not include residents of territories that were not temporarily controlled by the authorities of Ukraine until February 24, 2022 (AR of Crimea, the city of Sevastopol, certain districts of the Donetsk and Luhansk oblasts), and the survey was not conducted with citizens who left the country after February 24, 2022. Read about the possible error and confinements of interviews during war on KMIS's website.
Related:
Tags: concessions, Poll, sociology