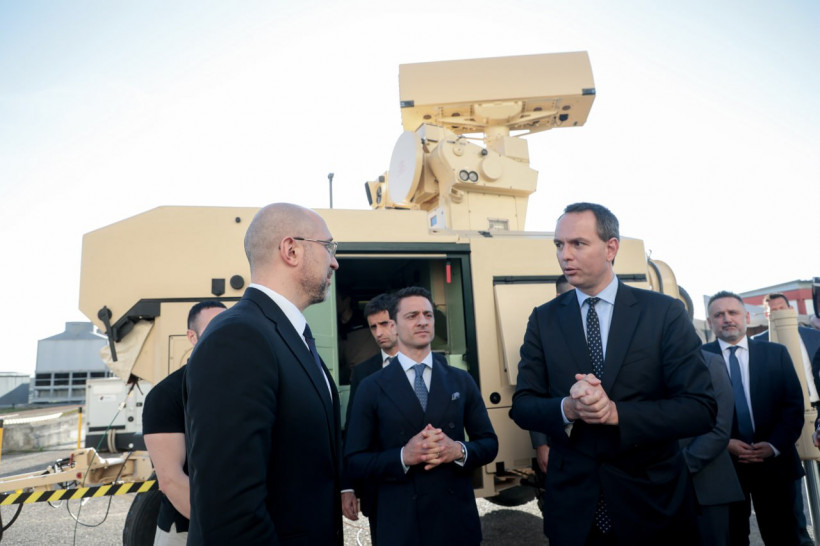 Denys Shmyhal visiting Rheinmetall Italia S.p.A. Source: government press service 
Ukraine's Prime Minister Denys Shmyhal visited Italy on 26 April 2023, meeting with Italian Prime-Minister Giorgia Meloni, Italian President Sergio Mattarella and visiting the defense enterprise Rheinmetall Italia.
During this visit, he said that Ukraine and Italy are considering the possibility of joint production of air defense systems that will protect infrastructure from enemy drone attacks.
"We are expanding the horizons of cooperation between Ukraine and Italy in the field of the military industry. We are considering the possibility of joint production of components of these systems. We are working on having more such effective air defense systems. They will create a reliable shield around our strategic infrastructure facilities," said Shmyhal.
Among Rheinmetall's products is the Skynex short-range air defense system, which Ukraine is interested in.
"We need such an effective weapon to protect against drones that are being used by Russia to attack Ukraine. This will save dozens of lives and important infrastructure for millions of people," Shmyhal also said.
The Ukrainian Prime Minister also thanked the Italian partners for their support. Italian Prime Minister Giorgia Meloni said on Wednesday at a meeting with Shmyhal in Rome that Italy will help Ukraine to fulfill the criteria necessary for full membership in the EU as soon as possible and speed up the process of starting accession negotiations. During the meeting with Shmyhal, Italian President Sergio Mattarella stressed that Ukraine joining the European Union as soon as possible.
In turn, the President of Ukraine, Volodymyr Zelenskyy discussed the continuation of defense cooperation with the Prime Minister of Italy, Giorgia Meloni, by phone.

https://twitter.com/ZelenskyyUa/status/1651322037040824320