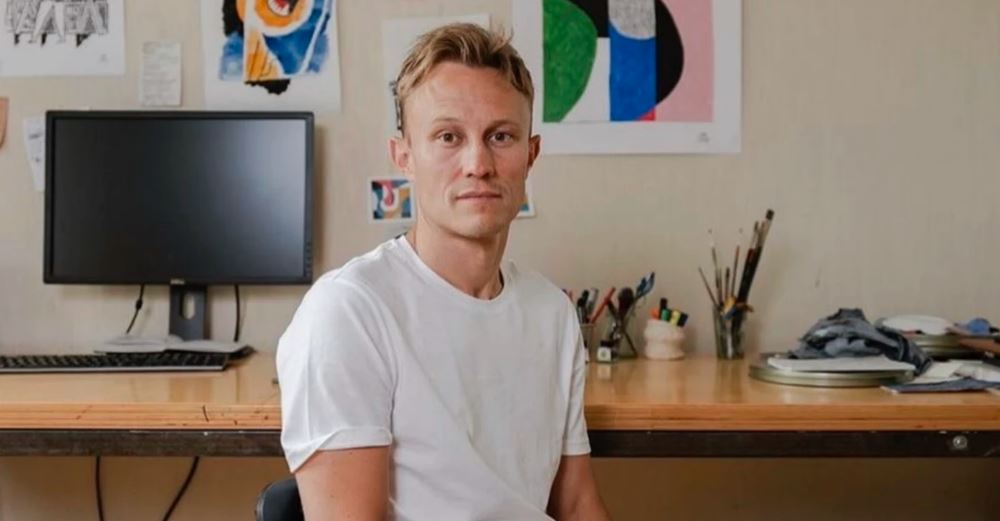 Photo: Serhiy Maidukov/Instagram 
Osnabrück is awarding the Remarque Prize to the Russian author Lyudmila Ulitskaya and the Ukrainian illustrator Serhiy Maidukov. The prize is intended as a gesture of reconciliation. The jury did not take into account what a burden this is for Maidukov.
The city of Osnabrück honors the Ukrainian artist Sergiy Maidukov with the Erich Maria Remarque Prize. It does so in a way that the honoree obviously feels attacked and abused rather than honored. Ukrainian media comment on the matter with the remark "typical Germany."
Indeed, the prize is awarded to Maidukov and to Russian writer Lyudmila Ulitskaya. "The last word must be the language of humanity, which also unites people of hostile states," said Susanne Menzel-Riedl, chairwoman of the jury and president of the University of Osnabrück, explaining the decision. Ulitskaya said the award was the most beautiful gift for her eightieth birthday.
Maidukov, 42, first wrote to the jury that he would not attend the award ceremony, saying, "Since I worry about my psyche, I avoid difficult feelings in these times. I have enough Russian presence in my life so far, so I would only come on a day other than the ceremony."
In the first letter, quoted on the award's website, he still said it would be an honor to receive the award in person. In the end, he decided not to travel to Osnabrück at all.
The scandal was pre-programmed; after all, the jury's decision was one of many attempts by the well-meaning German public to lure Ukrainian artists and intellectuals onto a stage with Russians for a dialogue of reconciliation.
This is fundamentally not a good idea, even if these Russians are proven opponents of the Putin regime.
This suggests that there is something like a shared experience and that the Ukrainian and Russian people are equally victims of the Putin regime.
This relativizes the aggression and distracts from the shared responsibility of Russian society for the war and the grievances in its own country.
Previous attempts to initiate such a dialogue failed not least because the Russian spokespersons were primarily concerned about the suffering in Russia and not about the destruction of Ukraine or even staged themselves as victims: of their own regime, of the indifferent West or even of the militant and unsolidary Ukrainians.
Maidukov's war-related illustrations
The German peacemakers wrongly assume that the dialogue cannot take place at all without their mediation. However, it is conducted continuously, not only privately but also publicly on social networks. And there it is not uncommon to come across comments like this one, made on Facebook by the famous Russian political scientist Ekaterina Schulmann in a discussion about Russia's responsibility toward Ukraine, which is currently causing a great stir:
"Our neighbor's house burned down and our sewer burst. Everyone believes that his tears are the saltiest. Only it is clear that the house of our neighbor will repair the whole world, us however one forbids even to plan repairs, and says, that was always so with us, and at all, we would have to concern ourselves first with it, where all comes, which swims there with us on the soil."
Schulmann is currently in Berlin; she is a Richard von Weizsäcker Fellow at the Robert Bosch Academy and a sought-after speaker, also on the subject of responsibility.
Certainly, not all Russian regime critics talk like Ekaterina Schulmann. But it is not the task of Ukrainian intellectuals and artists to check their potential Russian interlocutors for their attitude toward the war and Ukraine. They have learned from bitter experience to expect such statements at any time and do not want to legitimize them by participating in the conversation.
When invited to discussion forums with Russian participants, they usually quietly decline. They do not have this luxury if they are to be awarded a prize.
For example, in December, Ukrainian journalist Oksana Romaniuk had to forgo the Johann Philipp Palm Prize for Freedom of Expression and Press, which she received jointly with controversial Russian journalist Aleksei Venediktov. She could not imagine, she wrote on Facebook, physically standing on a stage with a Kremlin court liberal who repeatedly spread Kremlin propaganda and called Putin his "only boss."
Ukrainian turns down free speech award over joint nomination with Russian journalist
Significantly, it is the Ukrainians, not the Russians, who give up prizes or appearances, and then they still come off as aggressive troublemakers. Russian propaganda likes to pick up such cases. For example, the hate channel "Tsargrad" reported that the artist Maidukov refused the Remarque Prize out of "Russophobia." The awards also provide an opportunity to take another look at the Russian laureates and recall, for example, Ulitskaya's statements that Russia is waging war against itself, and that the line between Russians and Ukrainians is hard to draw.
Sometimes, however, the line is drawn very sharply. It has a funny taste, tweeted Eastern Europe expert Franziska Davies, that Ulitskaya gets the main prize of 25,000 euros and Maidukov the "special prize" of 5,000 euros. But it was significant: the "big" Russian literary figure, the "small" Ukrainian artist. She called the attempts at reconciliation insensitive and somewhat penetrating.
They are insensitive in any case, also because joint performances with Russians are very negatively received in Ukraine.
In September of last year, the writer Yuri Andrukhovych, one of the key figures of contemporary Ukrainian culture, was swept up in a tsunami of indignation after a panel discussion with his Russian colleague Mikhail Shishkin at a festival in Norway. Yet Shishkin has lived in Switzerland for over twenty years and has an impeccable reputation, even in Ukraine. For weeks there was debate about whether such performances were even permissible during wartime. The awarding of the Nobel Peace Prize to human rights activists from Ukraine, Russia, and Belarus triggered a similar debate. It was seen not only as a manifestation of the Russian imperial view that the three "brother nations" formed a unity but also as a devaluation of Ukrainian democracy: after all, it is not the same to defend human rights in a democracy or in dictatorships.
The impression that Ukraine is not taken seriously as a democracy was recently confirmed by the organizers of an event in Berlin, who wanted to bring participants from Russia, Belarus, and Ukraine on one stage. The invitation stated that it would be useful for opposition forces who had fled dictatorship and war to exchange views abroad.
As tragic as the situations in the three countries are, however, they are different at their core. The opposition in Ukraine is not a resistance but a natural part of political normality. And the only cause of flight is the Russian war of aggression, which affects all people in Ukraine completely regardless of their political views. Ukrainians are also not fighting against the war, but defending themselves against Russia or supporting their armed forces in doing so like Sergiy Maidukov, who transferred the money for his Remarque Peace Prize to a donation account for army cars. Ulitskaya can also contribute to peace by depositing her money into such an account.
This piece first appeared in Faz; it is translated here with permission.