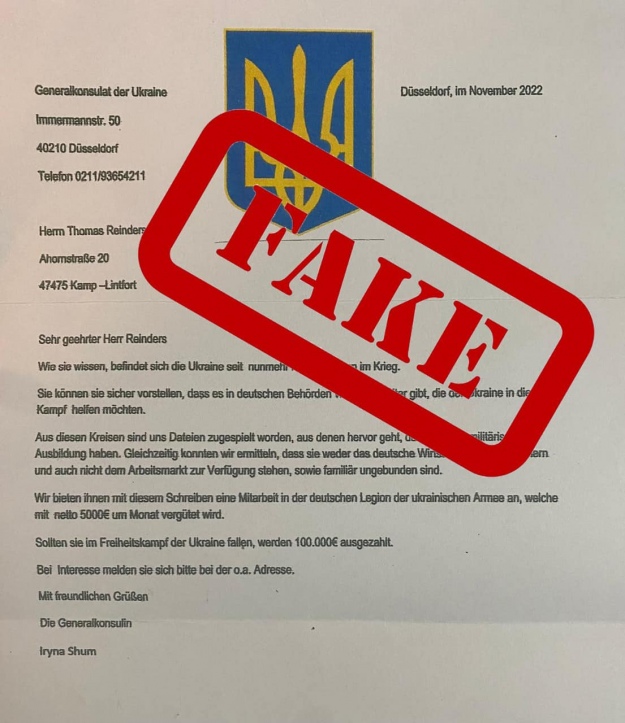 Forged letter dated November 2022 ostensibly from a Ukrainian consulate urging Germans to join Ukraine's Foreign Legion.  
Letters allegedly from the Consulate General of Ukraine in Düsseldorf, calling to join the International Legion of Ukraine for a cash reward have been sent out to German citizens, European Pravda reports referring to a Facebook post by the spokesman of the Ministry of Foreign Affairs of Ukraine, Oleh Nikolenko.
"The letters are fake. The Ukrainian consular institution did not send any letter like that. The consuls have already contacted the German police to conduct an investigation," the message reads.
The Ministry of Foreign Affairs has noted that they consider the fake letters as part of Russia's disinformation campaign aimed at discrediting Ukrainian diplomacy and undermining support for Ukraine from Germany and its citizens.
The massive campaign against the Ukrainian diplomatic institutions started in late November when an employee of the Ukrainian embassy in Madrid received minor injuries while trying to open a suspicious letter that contained an unidentified explosive device.
Spanish arms company received letter bomb similar to one sent to Ukraine embassy – Reuters
Later, the letter bombs were sent to targets including several Ukrainian diplomatic missions, Spanish Prime Minister Pedro Sanchez, government offices, a European Union satellite company, and the US Embassy between November 24 and December 2.
Some 6 Ukrainian embassies received threatening letters with blood and animal eyes
Then a number of packages containing animal eyes and blood were sent to a number of Ukrainian embassies and consulates in Hungary, the Netherlands, Poland, Croatia, Italy, and Czechia. The Minister of Foreign Affairs of Ukraine, Dmytro Kuleba, confirmed 31 cases of such threats to Ukrainian diplomatic institutions in 15 countries.
Read also:
Mail terrorism: Four Ukrainian embassies, Spanish institutions helping Ukraine receive letter bombs, threats
Spanish police believe origin of letter bombs was city of Valladolid in northwest Spain – Reuters
Tags: Germany, infoops, Russian propaganda