Dissimulating plans and intentions
Withdrawal of Ukrainian troops in the Donbas? Why? What happens after? What is the probability of the "gray zone" being occupied by enemy troops after the withdrawal? Organizing meetings in the Norman format? What for? What documents will be signed and what agreements will be made, generally speaking? Too many important questions that remain unanswered by the Presidential Office. Secrecy generates worry and concern in society, especially among actively involved and patriotic citizens.
President Zelenskyy asking us to trust him
If Zelenskyy's supporters are truly ready to trust him, then other Ukrainians will trust him only when he produces convincing arguments. How can you trust a talented showman, but an inexperienced politician? Especially when the enemy is so powerful and the leader of this enemy is a KGB man? In any case, the President must be accountable and controlled by society, not detached from it.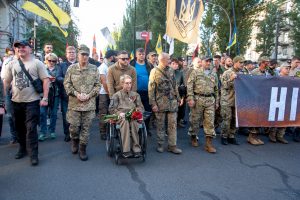 The Steinmeier Formula
According to different polls and surveys, most Ukrainians cannot understand the essence of the Steinmeier Formula, despite the fact that this formula is being discussed non-stop in the media. This means that Ukrainians are forced to evaluate this formula on the basis of other people's opinions – political and social experts, bloggers, politicians, etc. But, such personal evaluations carry negative connotations of threats and risks. So, no matter how often and how firmly the Presidential Office reassures us that the formula is "not a betrayal" and "not capitulation", it simply does not work! All the more so when most Ukrainians do not support granting special status to the Donbas, while the Steinmeier Formula actually provides for it. To avoid a PR crisis, the Presidential Office may shift the discourse from the Steinmeier Formula to other issues – for example, the Presidential Office may initiate a briefing on the so-called "Zelensky' formula" with a vision: when, how, under what conditions, what red lines, who will actually benefit when the occupied territories are returned?
Using abstract and incorrect phrases, such as "to end the war" and "to establish peace"
Wars are won or lost… or they continue. For example, World War 2 ended in a military victory and benefited the victors. Ukraine cannot achieve a military victory in the Donbas over a nuclear power with such a powerful army. We hope for a diplomatic victory, but please name the latest successful example of a diplomatic solution to a conflict in modern history. And finally, why would a more powerful aggressor country surrender to Ukraine in the Donbas?
Russia is not planning to leave the Donbas and has never withdrawn its troops from any conflict zone. The Donbas is a leash tied around Ukraine's neck, a leash that will keep Ukraine close to Russia's zone of influence. The only possible positive option for and "end to the war" is to continue defending Ukraine against the northern aggressor, even if this must be done for another ten years… and waiting for a change in Russia's political regime. The authorities should give society the example of East Germany, which waited almost 50 years to reunite with West Germany. Or the example of Cyprus, where the conflict between the northern and southern parts of the island has been ongoing for about 50 years, but this did not stop Cyprus from joining the EU. I believe that it's fair and honest to tell Ukrainians that all attempts to negotiate with the aggressor have been exhausted, that Ukraine must continue to defend itself, but one day it will succeed in regaining its lost territories.
Complete silence about the Kremlin's motives and strategy
Moscow's plans are obvious. The Kremlin speaks loudly through the mouth of different speakers…. Ukraine has capitulated. The NovoRossiya project failed in 2014, but no one has actually abandoned plans to further destabilize Ukraine.  Russia is not ready to return occupied Crimea, etc, etc.
We are dealing with an aggressor and an occupier who has not become "more generous", "more Compassionate". Putin 2014 and Putin 2019 are one and the same. Ukrainians must be constantly reminded of this fact. But, in order not to provoke Putin in the context of ongoing negotiations, the Ukrainian government fails to explain the Kremlin's real intentions, which leads to high expectations among Ukrainians about further successful negotiations with Putin. Of course, if negotiations fail, Zelenskyy can say" "At least I tried, but it didn't work". But, this will again lead to great disappointment in Ukrainian society.