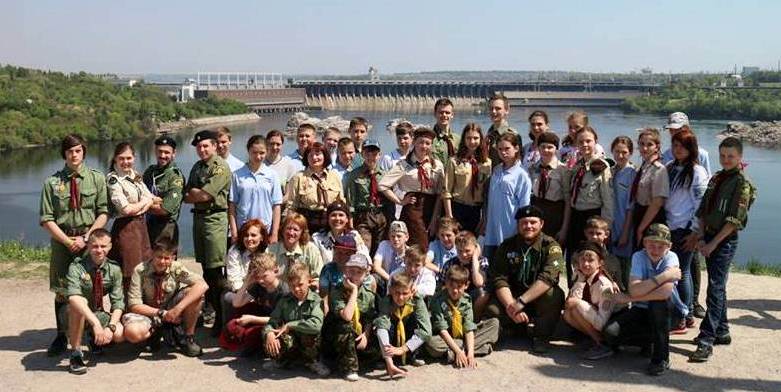 Plast Scout organization in Kramatorsk, Donetsk Oblast. Photo_FB Plast Kramatorsk 
Patriotic residents of towns and villages in Ukraine-controlled areas fear for their security and state that there is absolutely "no guarantee" that their lives and well-being will be protected in the event of a Ukrainian military disengagement, which has been described in the new agreements with Russia as a "withdrawal of mutual forces" (manpower and weapons) all along the 450-km frontline in the Donbas. 
Such statements were noted recently on Facebook by Maksym Potapchuk, participant of the 2014 winter-spring events in Donetsk, volunteer and head of Liberi Liberati (Ukrainian Foundation for Culture and Education, which focuses on implementing informal education for young people, projects on culture, art, education, science, physical and mental development; promotes philanthropy and charitable activities in Ukraine-Ed).
"The Ukrainian soldiers will depart and ORDLO will launch a wave of hatred and revenge – massacres, murders, arson… people will start killing each other. Residents are convinced that the police won't be able to deal with the chaos; only weapons and force will stop this aggression." says the activist.
Maksym has collected reports and testimonies from several frontline towns and villages.
Village of Toshkivka, Luhansk Oblast
On September 16, 2019, four teams from the State Emergency Service of Ukraine (SES), together with the Danish Demining Group (DDG), the specialized humanitarian mine action unit within the Danish Refugee Council (DRC), started humanitarian mine clearance near the village of Toshkivka, Luhansk Oblast. The teams are tasked with clearing the agricultural fields from landmines and explosive remnants of war (ERW) and passing them back to local farmers.
"We're scared for our lives. There's no guarantee that we won't be cut to pieces after the withdrawal of the Ukrainian army. Our people in Khutor Vilny are also terrified. We don't understand what will happen next…"
City of Krasnohorivka, Donetsk Oblast
The residents of Krasnohorivka, a town some 600 km south-east of Kyiv, are afraid and say they will rise up if the Ukrainian army is ordered to withdraw:
"Only work keeps us from falling to pieces. We don't know what will happen to people like us, people that support Ukraine. Russia advocates are already cheering, celebrating and waiting for their "guests" to arrive. Just imagine what will happen if those murderers come here to visit their relatives, mistresses or classmates! Just try to prove that they've been killing Ukrainians! They'll come here like some guardian angels, and not one of them will confess that he's carried a machine gun and killed his compatriots. But, after the first 100 grams of local moonshine, they'll start slaughtering us. Death will be everywhere!"
City of Zolote, Luhansk Oblast
Zolote consists of several villages that were merged to create one urban settlement. Currently, these villages are numbered in a sequence from Zolote-1 to Zolote-5. Before the creation of Zolote, they were named Karbonit, Rodina, Stakhanovets, Maryvka and Partyzansky.
At the beginning of the war, Ukraine lost control over parts of Zolote to the self-proclaimed "LNR". Zolote-5 (formally named Maryvka) came under full control of the "LNR". Zolote-4 (Partyzansky) and Zolote-3 (Stakhanovets) found themselves in the "gray zone" between the warring parties. On June 30, 2018, the Ukrainian army took full control of Zolote-4.
"We're categorically against the withdrawal of the Ukrainian army. It seems that this new policy is intended to favour the people who, for some reason or another, regularly cross the checkpoints. Nobody is really interested in the active Ukrainian community. The local police won't protect us because they're completely useless and are only afraid of the soldiers. Give us weapons and we'll protect ourselves …"
Potapchuk adds that he has spoken to well-known volunteer Yevheniay Levinstein (known as Zhenia Diss; Yevheniya's organization – Ukrayinski Rubezhi (Ukrainian Borders) has a branch in Zolote) regarding the withdrawal of Ukrainian troops. She affirms that her contacts along the front lines are also in a state of panic, because there are no safety guarantees for the pro-Ukrainian community.
"I'm willing to give our journalists all my contacts details of pro-Ukrainian communities. But, please hurry while these people living along the front lines still have some faith in Ukraine."
The co-ordinator of Odnodumtsi (Like-minded people), Liudmyla Dolhonovska, who started the volunteer movement in Luhansk Oblast in 2014, states that the authorities in Kyiv "must explain what is happening". Here is an excerpt from her Facebook post:
"What were the representatives of "LNR's" occupation administration Vladyslav Deynego and Olga Kobtseva doing in Ukraine-controlled territory, near the bridge of Stanytsia Luhanska? Who will protect the residents in the demilitarized zone? Will the state guarantee the protection of strategic objects (in particular, the Luhansk TPP in Shchastia)?

I'm proud to know some participants of the Luhansk Maidan and several civil servants who didn't betray their oath to Ukraine. These people have the right to know why individuals, who organized anti-Maidan movements and called on Putin for help, want to return to these regions.

I'm also proud to know many active citizens who refused to give up and, despite the hardships and danger, started to organize businesses, develop social entrepreneurship and engage in civic activities. These people have the right to know how the government in Kyiv sees the future of this region."
Disengagement zone Zolote-4, Luhansk Oblast
There are three disengagement points. Among them is Zolote-4, near the Zolote checkpoint. The Trilateral Contact Group was not able to agree on the final dates of disengagement during the talks in Minsk on September 18, but local residents live in daily fear of this actually happening. Ukrainian soldiers deployed in the area stress that Russia-controlled forces have no intention of withdrawing from their positions. They continue provoking the Ukrainians by opening fire at night, creeping up to their positions, and committing sabotage.
Soldier Ihor speaks skeptically about the disengagement:
"If our troops are forced to withdraw, it will be very bad for everyone. The locals are very scared. We'll leave, and the pro-Russian forces will immediately launch an offensive and move in."
The soldiers do not believe in any agreements or arrangements in settling the conflict. In addition, if the Ukrainian servicemen leave, they will be abandoning a specific populated area. This means that 526 people residing in Zolote-4 will find themselves in the so-called "gray zone".
Local resident and activist Maryna Danylkina speaks openly and strongly against the recently-announced disengagement policy:
"There can be no withdrawal of troops in Ukrainian territory. This is Ukrainian territory! Our troops should advance, and not retreat! If the Ukrainian troops are ordered to leave, our people will come out and protest. We'll stand next to them, and we won't let them leave Ukrainian territory.

There, you hear those blasts? The occupation troops are provoking us…. They'll wait until they get an answer…"
NOTE
On Septmeber 21, Defense Minister Andriy Zahorodniuk announced that the General Staff of the Armed Forces of Ukraine is currently working on a plan of disengagement (manpower and weapons) from the demarcation line in the Donbas.
"It's not a retreat; it's disengagement… Of course, it has to be done correctly, because our men are deployed at specific positions; there's a whole system of fortifications, dugouts, checkpoints, etc. We've talked to the soldiers, to the General Staff, and nothing will be done without due preparation … Of course, we'll make sure that the other side does the same thing." said the minister.
Tags: Russian aggression, withdrawal