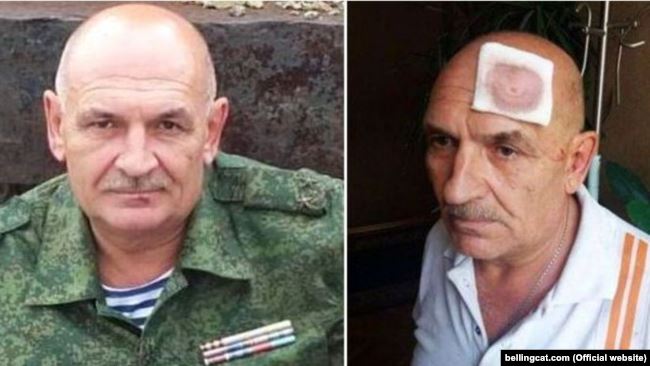 Volodymyr Tsemakh, anti-aircraft gunner with Russian-led "DNR" forces, is from Snizhne, a town near to the site of the fatal MH17 crash. Photo: RFE/RL 
When the first information of a possible prisoner exchange between Russia and Ukraine was recently reported by the media, everyone wanted to understand what was behind Vladimir Putin's actions, what trap the Russian president was planning to set for Volodymyr Zelenskyy and all of Ukraine.
First, it may be urgent and important for Putin to accelerate the lifting of sanctions and Russia's return to the Group of Seven, and improve relations with Kyiv. Second, he may not actually want to spend any more money on the Donbas. Third, he may have decided to indirectly acknowledge the verdict of the United Nations International Tribunal for the Law of the Sea, which requires Moscow to release all the Ukrainian sailors.
In the end, I could not find a single positive answer to any of these questions. Some Western leaders have raised the issue of Putin's return to the Group of Seven, even though they do not expect any concessions on his part. The Russian president is clearly not interested in improving relations with Ukraine. Finally, he has already demonstrated his indifference to international law, more than once, as it is.
The situation became more obvious when the Volodymyr Tsemakh's name started appearing in the media. Tsemakh is one of the most important suspects in the investigation into the downing of the Malaysian airliner (MH17) over eastern Ukraine on July 17, 2014. In fact, Tsemakh was mentioned as a key player in the possible prisoner swap.
The MH17 tragedy is something the Kremlin is really afraid of. Evidentiary facts and a conclusive verdict issued by an international court will turn many Russian leaders into war criminals. And, this will include not only Putin's closest allies and associates, but the President of Russia himself. However, there are not many direct witnesses or participants in this tragedy, except for Volodymyr Tsemakh, recently abducted from his home in occupied Snizhne, Donetsk Oblast in a daredevil raid by the SBU*.
(*In July 2019, the Ukrainian Security Service (SBU) arrested Ukrainian citizen Volodymyr Tsemakh in connection to the 2014 downing of Malaysian Airlines Flight 17 (MH17). Ukrainian agents knocked him unconscious and spirited him out of his home in occupied Snizhne. Tsemakh was previously known to have been the commander of a "DPR" air defense unit in Snizhne, the town nearest to the Buk missile launch site. Tsemakh had not been publicly linked to the events surrounding the downing of MH17 before, and had never been mentioned in any reports about the Russian-backed militants connected to the downing of MH17. However, newly-surfaced footage has revealed that he was probably an important eyewitness to these events-Ed).
Putin exploits Zelenskyy's promises
In response, the Russian special services organized their own special operation with the direct participation of Russia's "top Chekist" – Vladimir Putin himself. Putin took advantage of Volodymyr Zelenskyy's promise to seek the release of the Ukrainian POWs, as well as French President Emmanuel Macron's declaration that he was ready to help resolve the Donbas war.
First, in his telephone conversations with Zelenskyy, Putin allegedly agreed to start the exchange process. Second, during a private meeting with Emmanuel Macron at the Fort de Bregançon just ahead of the G7 summit in Biarritz, Putin announced that the Kremlin would be willing to compromise in order to resolve its many problems with the West and to settle the conflict in the Donbas.
However, Putin was probably playing a game and at the critical moment, he probably pulled out his trump card – no Tsemakh, no deal. In the meantime, expectations were running high in Ukraine, while French President Emmanuel Macron and German Chancellor Angela Merkel started preparations for the Normandy Four summit.
In any case, Putin will walk away a winner. If Tsemakh is released – that will be a great victory for the Kremlin. A valuable witness will be in Putin's hands, and feelings of deep distrust will spread between Ukraine and the West. Not to mention that President Zelenskyy will be even more distrusted by Ukrainian special services officers, who are proud of perhaps their most successful special operation in history.
On the other hand, if the Ukrainian hostages and sailors are not released, it will mean that Zelenskyy has deliberately deceived the people. But, is Tsemakh worth as much as Sentsov, Balukh, and the Ukrainian Navy sailor POWs? When all is said and done, no one will ever put Putin on trial in The Hague. What would be the point of refusing to exchange prisoners? This would suit Putin perfectly, as he wants and needs a weak Zelenskyy.
Putin's intentions vis-à-vis Ukraine
I am not saying that there are no levers of influence that can be used against the Russian president. However, if he does agree to an exchange without Volodymyr Tsemakh, it means that he wants someone or something else. Putin always has an ulterior motive.
In order not to fall into Putin's trap, we must have a clear understanding of what he wants for Ukraine. Putin does not want to improve his relations with Ukraine – all the more so when the main prize is the normalization of relations with the West. Putin also wants to avoid any responsibility for the downing of MH17; he needs to gain global recognition of the annexation of Crimea and return Ukraine to the Russian sphere of influence, even if it means launching another major conflict or dismantling Ukrainian statehood.
Of course, Putin would be thrilled if all the dirty work was done by the Ukrainian people themselves.
UPDATE
The Public Prosecution Office of the Netherlands has called on Ukraine not to transfer "DNR" militant Volodymyr Tsemakh to Russia.
According to Chief Prosecutor of the Joint Investigation Team Fred Westerbeke, it is of paramount importance for Tsemakh to remain in custody in Ukraine and be available for further questioning.
The letter was sent to the Prosecutor General's Office of Ukraine on August 30, 2019. Westerbeke writes that "based on recent information", the Prosecution Office considers Tseemakh a suspect.
Tags: Donbas war (2014-present), Kyiv Court of Appeal, Malaysia Airlines flight MH17, MH17, prisoner exchange, Russo-Ukrainian War (2014-present), Tsemakh, Ukrainian prisoners of war (POWs)