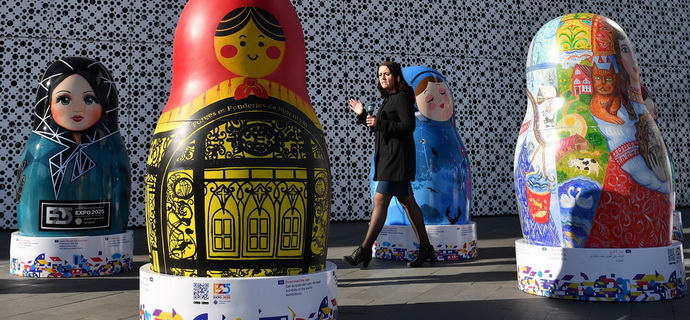 At Ekaterinburg, Russia. Source: ICDS.EE 
Diego Martin and Jacob Shapiro have analyzed 53 foreign influence efforts (FIE) which targeted 24 different countries from 2013 through 2018 in their report "
Trends in Online Foreign Influence Efforts
" published by Princeton's Empirical Studies of Conflict Center. The authors have found that Russia accounts for 72% of such foreign influence operations around the world.
As the paper highlights, information and communications technologies (ICTs) have created novel opportunities for foreign governments to use social media to influence politics in a range of countries by promoting propaganda, advocating controversial viewpoints, and spreading disinformation.
The report describes a new database of foreign influence operations (FIEs) defined as coordinated campaigns by one state to impact one or more specific aspects of politics in another state, through media channels, including social media, by producing content designed to appear indigenous to the target state.
Defined as an attacker-target-political goal triple, an alleged FIE had to meet all three criteria. For example, the Russian campaign to polarize American politics was distinct from the one intended to discredit conservative critics of President Trump.
Unlike traditional information operations when state-supported media promote specific narratives, foreign influence operations disguise the origin of the content.
The subject to analysis were more than 460 media reports in which the researchers were able to identify FIEs, track their progress, and classify their features.
The authors discovered 53 of such foreign influence efforts (FIEs) which took place in 2013-2018 and targeted 24 different countries around the world. Two of the cases were ongoing as of April 2019, including Russia undermining the Belarus government, and Russia working to reduce support for the Donbas conflict among Ukrainian citizens.
"The objective of such campaigns can be quite broad and to date have included influencing political decisions by shaping election outcomes at various levels, shifting the political agenda on topics ranging from health to security, and encouraging political polarization," the abstract reads.
The researchers found that Russia conducted 72% of the influence campaigns, while China, Iran, and Saudi Arabia accounted for most of the remainder. In five cases, the origin of the campaigns was not clear.
More than 40 additional cases in research met some but not all criteria of the influence operations. In 2016, for example, pro-Kremlin and Russian state-funded media wrote negative stories against NATO's operation in Estonia, but this distinct information operation didn't fall under the FIE definition because the content was not meant to appear as though it were produced in Estonia.
According to the paper, the 53 foreign operations since 2013 targeted 24 countries:
38% targeted the US;
9% Great Britain;
6% Germany;
Australia, France, Netherlands, and Ukraine 4% each;
Austria, Belarus, Brazil, Canada, Finland, Israel, Italy, Lithuania, Poland, Spain, South Africa, South Saudi, Sweden, Taiwan, and Yemen received each being targeted once.
The first FIE in the authors' database occurred in 2013 when Russian trolls launched a campaign to discredit Ukraine in the Polish Internet space.
Having analyzed the strategies and tactics used in the operations, actors and platforms involved, the authors conclude, "While Russia has been the most active user of this new form of statecraft, other countries are following suit. Iran and China have deployed similar tactics beyond their own borders and even democratic states such as Mexico have adapted these techniques for internal purposes."
The full report is available on the website of Princeton's Empirical Studies of Conflict Project (ESOC).
---
Read also: