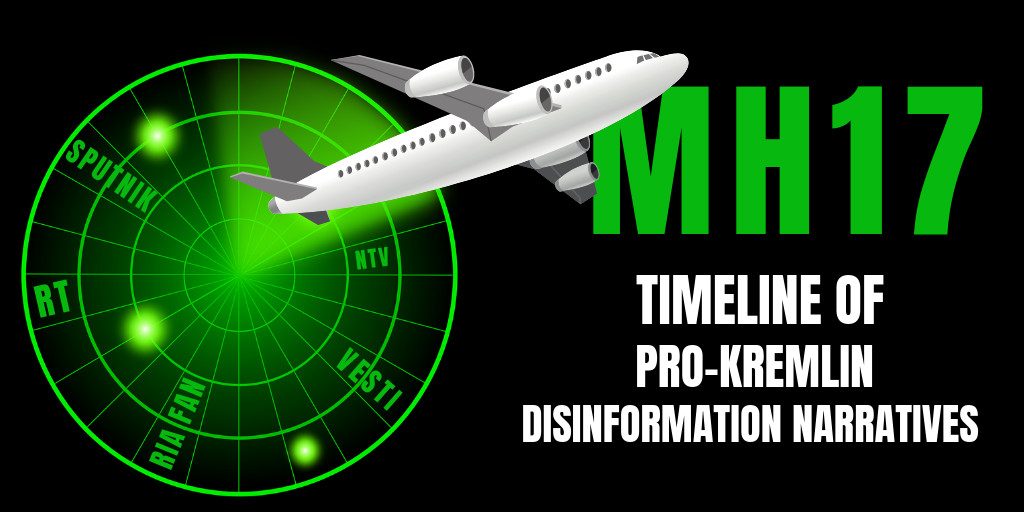 To illustrate the scope of the pro-Kremlin disinformation campaign regarding MH17, EUvsDisinfo has visualized the evolution of the narratives from the aftermath of the crash to the present day.
This Wednesday, 17 July, marked the five-year anniversary of the downing of Malaysian Airlines Flight 17 and the death of all 298 people on board.
An extensive international investigation – comprising Australia, Belgium, the Netherlands, Malaysia, and Ukraine – has determined that it was a Buk missile belonging to the Russian army that shot down the airliner over eastern Ukraine. Specifically, the Buk missile system belonged to the 53rd Anti-Aircraft Missile Brigade – a Russian army unit from Kursk. The system was transported illegally from Russia to territory in eastern Ukraine controlled by Russia-backed armed formations. After firing at the MH17 airliner, the system was transported back to the Russian Federation.
On 19 June 2019, the Joint Investigation Team charged four suspects for their role in the MH17 attack: three active or former agents of the Russian special services and one Ukrainian citizen, who led a separatist military combat unit in the city of Donetsk. Investigators said the men "formed a chain linking the DNR with the Russian Federation", and through this link obtained heavy equipment from Russia for use in eastern Ukraine. Their court trial will commence in March of 2020 in the Netherlands.
The evidence of Russia's role in the downing of MH17 is irrefutable. The Dutch chief prosecutor himself did not mince words about it, saying, "We now have proof Russia was involved in this tragedy, this crime. One day after 17 July [2014] they were in a position to tell us exactly what happened. They knew. The Buk was used in eastern Ukraine and they knew this. They didn't give us this information."
Since the very beginning, the Kremlin has been shameless in its denial of responsibility for the tragedy, instead claiming to be the victim of a Russophobic witch hunt. Responding to the JIT's latest announcement, the Russian Foreign Ministry again claimed that "absolutely groundless accusations are put forward against the Russian side, aiming at discrediting Russia in the eyes of the international community."
Accompanying these official denials, the pro-Kremlin disinformation machine has dutifully spun conspiracies and obfuscations to muddy the facts around the MH17 case, just as it did with Crimea and the Skripal poisoning.
To illustrate the scope of the pro-Kremlin disinformation campaign regarding MH17, the infographic below traces the evolution of the narratives from the immediate aftermath of the crash to the present day. Beginning with claims that MH17 had already been filled with dead bodies prior to take-off and that Putin's personal plane was, in fact, the real target, the disinformation strategy predictably devolved to blaming everyone but Russia for the tragedy, claiming that the truth can never be known (yes, it can), and that the JIT investigation was rigged against Russia from the start.
---
Read also: